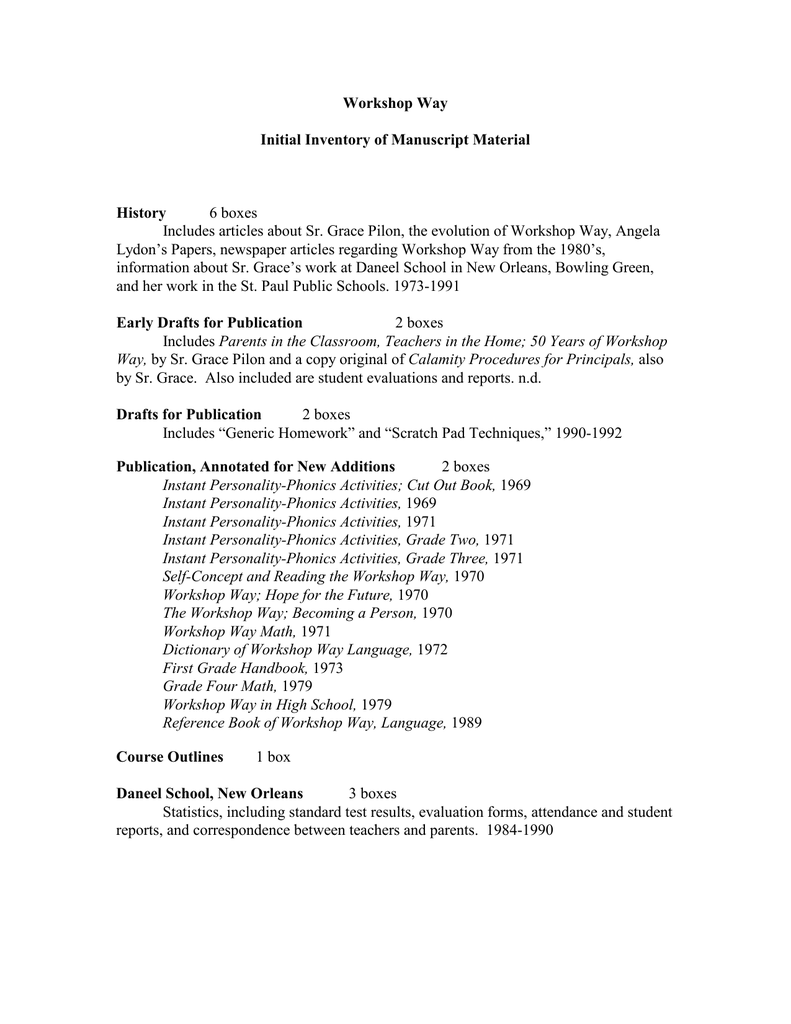 Workshop Way
Initial Inventory of Manuscript Material
History
6 boxes
Includes articles about Sr. Grace Pilon, the evolution of Workshop Way, Angela
Lydon's Papers, newspaper articles regarding Workshop Way from the 1980's,
information about Sr. Grace's work at Daneel School in New Orleans, Bowling Green,
and her work in the St. Paul Public Schools. 1973-1991
Early Drafts for Publication
2 boxes
Includes Parents in the Classroom, Teachers in the Home; 50 Years of Workshop
Way, by Sr. Grace Pilon and a copy original of Calamity Procedures for Principals, also
by Sr. Grace. Also included are student evaluations and reports. n.d.
Drafts for Publication
2 boxes
Includes "Generic Homework" and "Scratch Pad Techniques," 1990-1992
Publication, Annotated for New Additions
2 boxes
Instant Personality-Phonics Activities; Cut Out Book, 1969
Instant Personality-Phonics Activities, 1969
Instant Personality-Phonics Activities, 1971
Instant Personality-Phonics Activities, Grade Two, 1971
Instant Personality-Phonics Activities, Grade Three, 1971
Self-Concept and Reading the Workshop Way, 1970
Workshop Way; Hope for the Future, 1970
The Workshop Way; Becoming a Person, 1970
Workshop Way Math, 1971
Dictionary of Workshop Way Language, 1972
First Grade Handbook, 1973
Grade Four Math, 1979
Workshop Way in High School, 1979
Reference Book of Workshop Way, Language, 1989
Course Outlines
1 box
Daneel School, New Orleans
3 boxes
Statistics, including standard test results, evaluation forms, attendance and student
reports, and correspondence between teachers and parents. 1984-1990
St. Paul, Mn. Public Schools
7 boxes
Includes class performance records, standardized test results, student records,
assessment reports, and evaluations. 1971-1976
Self-Esteem Workshop
1 box
Report on workshop and proposal for workshop in the Soviet Union. 1988-1991
Sr. Grace Pilon, Speeches 4 boxes
Notes for her speeches. 1977-1991
Eightieth Birthday Cards for Sr. Grace
1 box 1989
Sr. Grace, Get Well Cards 1 box 1991
Publications With Articles About Sr. Grace
1 box
Newsletter, Wayne State University, College of Education, October 1983
New Orleans Gambit, July 26, 1988
Who's Who In American Education, 1988-1989
New Orleans Magazine, January 1990
NAACP 77th Anniversary, New Orleans Branch, April 25, 1992
Early Workshop Way Research 4 boxes
Includes research articles, Sr. Angela Marie's original pictures, and teaching aids,
including game cards and phonics cards. n.d.
Sr. Grace, Realia
2 boxes
Includes photographs of Sr. Grace, her Bible, and her cap and gown. n. d.
St. David
2 boxes
Includes research, test materials, and records. 1974-1977
Trip to Belize, Memorabilia
1 box
Gifts Sr. Grace received on her trip to Belize. 1984
Photographs
2 boxes
n.d.
Various Materials 1 box
Includes Sr. Grace's vita, some of her personal files, designs for future Workshop
Way schools, and a curriculum guide for Dr. James L. Mosely of Wayne State University.
n.d.