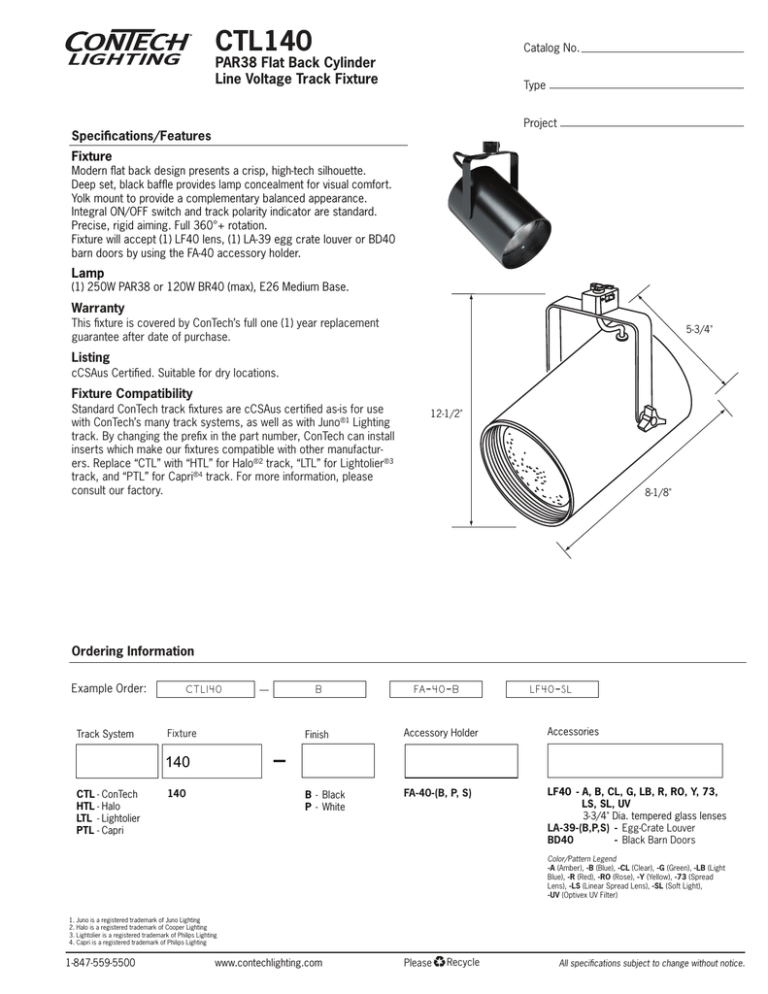 CTL140
Catalog No.
PAR38 Flat Back Cylinder
Line Voltage Track Fixture
Type
Project
Specifications/Features
Fixture
Modern flat back design presents a crisp, high-tech silhouette.
Deep set, black baffle provides lamp concealment for visual comfort.
Yolk mount to provide a complementary balanced appearance.
Integral ON/OFF switch and track polarity indicator are standard.
Precise, rigid aiming. Full 360°+ rotation.
Fixture will accept (1) LF40 lens, (1) LA-39 egg crate louver or BD40
barn doors by using the FA-40 accessory holder.
Lamp
(1) 250W PAR38 or 120W BR40 (max), E26 Medium Base.
Warranty
This fixture is covered by ConTech's full one (1) year replacement
guarantee after date of purchase.
5-3/4"
Listing
cCSAus Certified. Suitable for dry locations.
Fixture Compatibility
Standard ConTech track fixtures are cCSAus certified as-is for use
with ConTech's many track systems, as well as with Juno®¹ Lighting
track. By changing the prefix in the part number, ConTech can install
inserts which make our fixtures compatible with other manufacturers. Replace "CTL" with "HTL" for Halo®² track, "LTL" for Lightolier®³
track, and "PTL" for Capri®4 track. For more information, please
consult our factory.
12-1/2"
8-1/8"
Ordering Information
Example Order:
Track System
CTL140
Fixture
B
FA-40-B
LF40-SL
Finish
Accessory Holder
Accessories
B - Black
P - White
FA-40-(B, P, S)
LF40 - A, B, CL, G, LB, R, RO, Y, 73,
LS, SL, UV
3-3/4" Dia. tempered glass lenses
LA-39-(B,P,S) - Egg-Crate Louver
BD40
- Black Barn Doors
140
CTL - ConTech
HTL - Halo
LTL - Lightolier
PTL - Capri
140
Color/Pattern Legend
-A (Amber), -B (Blue), -CL (Clear), -G (Green), -LB (Light
Blue), -R (Red), -RO (Rose), -Y (Yellow), -73 (Spread
Lens), -LS (Linear Spread Lens), -SL (Soft Light),
-UV (Optivex UV Filter)
1. Juno is a registered trademark of Juno Lighting
2. Halo is a registered trademark of Cooper Lighting
3. Lightolier is a registered trademark of Philips Lighting
4. Capri is a registered trademark of Philips Lighting
1-847-559-5500
www.contechlighting.com
Please
Recycle
All specifications subject to change without notice.