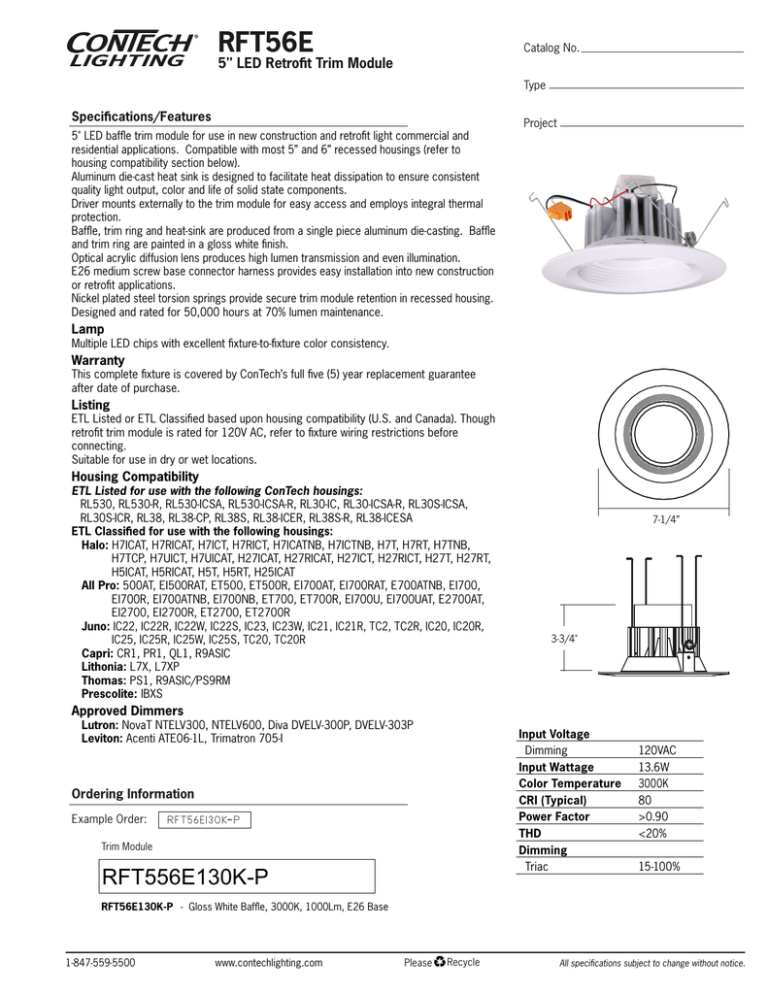 RFT56E
Catalog No.
5" LED Retrofit Trim Module
Type
Specifications/Features
5" LED baffle trim module for use in new construction and retrofit light commercial and
residential applications. Compatible with most 5" and 6" recessed housings (refer to
housing compatibility section below).
Aluminum die-cast heat sink is designed to facilitate heat dissipation to ensure consistent
quality light output, color and life of solid state components.
Driver mounts externally to the trim module for easy access and employs integral thermal
protection.
Baffle, trim ring and heat-sink are produced from a single piece aluminum die-casting. Baffle
and trim ring are painted in a gloss white finish.
Optical acrylic diffusion lens produces high lumen transmission and even illumination.
E26 medium screw base connector harness provides easy installation into new construction
or retrofit applications.
Nickel plated steel torsion springs provide secure trim module retention in recessed housing.
Designed and rated for 50,000 hours at 70% lumen maintenance.
Project
Lamp
Multiple LED chips with excellent fixture-to-fixture color consistency.
Warranty
This complete fixture is covered by ConTech's full five (5) year replacement guarantee
after date of purchase.
Listing
ETL Listed or ETL Classified based upon housing compatibility (U.S. and Canada). Though
retrofit trim module is rated for 120V AC, refer to fixture wiring restrictions before
connecting.
Suitable for use in dry or wet locations.
Housing Compatibility
ETL Listed for use with the following ConTech housings:
RL530, RL530-R, RL530-ICSA, RL530-ICSA-R, RL30-IC, RL30-ICSA-R, RL30S-ICSA,
RL30S-ICR, RL38, RL38-CP, RL38S, RL38-ICER, RL38S-R, RL38-ICESA
ETL Classified for use with the following housings:
Halo: H7ICAT, H7RICAT, H7ICT, H7RICT, H7ICATNB, H7ICTNB, H7T, H7RT, H7TNB,
H7TCP, H7UICT, H7UICAT, H27ICAT, H27RICAT, H27ICT, H27RICT, H27T, H27RT,
H5ICAT, H5RICAT, H5T, H5RT, H25ICAT
All Pro: 500AT, EI500RAT, ET500, ET500R, EI700AT, EI700RAT, E700ATNB, EI700,
EI700R, EI700ATNB, EI700NB, ET700, ET700R, EI700U, EI700UAT, E2700AT,
EI2700, EI2700R, ET2700, ET2700R
Juno: IC22, IC22R, IC22W, IC22S, IC23, IC23W, IC21, IC21R, TC2, TC2R, IC20, IC20R,
IC25, IC25R, IC25W, IC25S, TC20, TC20R
Capri: CR1, PR1, QL1, R9ASIC
Lithonia: L7X, L7XP
Thomas: PS1, R9ASIC/PS9RM
Prescolite: IBXS
7-1/4"
3-3/4"
Approved Dimmers
Lutron: NovaT NTELV300, NTELV600, Diva DVELV-300P, DVELV-303P
Leviton: Acenti ATE06-1L, Trimatron 705-I
Input Voltage
Dimming
Input Wattage
Color Temperature
CRI (Typical)
Power Factor
THD
Dimming
Triac
Ordering Information
Example Order:
RFT56E130K-P
Trim Module
RFT556E130K-P
120VAC
13.6W
3000K
80
>0.90
<20%
15-100%
RFT56E130K-P - Gloss White Baffle, 3000K, 1000Lm, E26 Base
1-847-559-5500
www.contechlighting.com
Please
Recycle
All specifications subject to change without notice.
RFT56E
Catalog No.
5" and 6" LED Retrofit Trim Module
Type
Photometrics
Project
RFT56E130K-P
Designed for 50,000 Hour Lamp Life*
Light Output (Fixture Delivered Lumens): 1000
Total Watts@120V: 13.6
Lumens Per Watt: 74
Color Rendering Index (CRI)1: 80
Color Temperature (CCT)2: 3000K
0
Candela Curve
Candlepower Summary
90°
75°
120
60°
240
45°
480
0°
15°
30°
FROM 0
0
5
15
25
35
45
55
65
75
85
95
1. Accuracy of rendering colors
2. Color appearance of light source
1-847-559-5500
Intensity Distribution
LUMENS
44
116
168
194
182
117
49
20
6
0
BEAM
DIAMETER
(FT.)
DISTANCE
(FT.)
FOOTCANDLES
(FC)
2'
119.6
4.0
4'
29.9
8.0
6'
13.3
11.9
8'
7.5
15.9
10'
4.8
19.9
12'
3.3
23.9
Beam Distribution: 90°
Spacing Criteria: 2.0
*Dependent on surrounding temperatures
www.contechlighting.com
Please
Recycle
All specifications subject to change without notice.