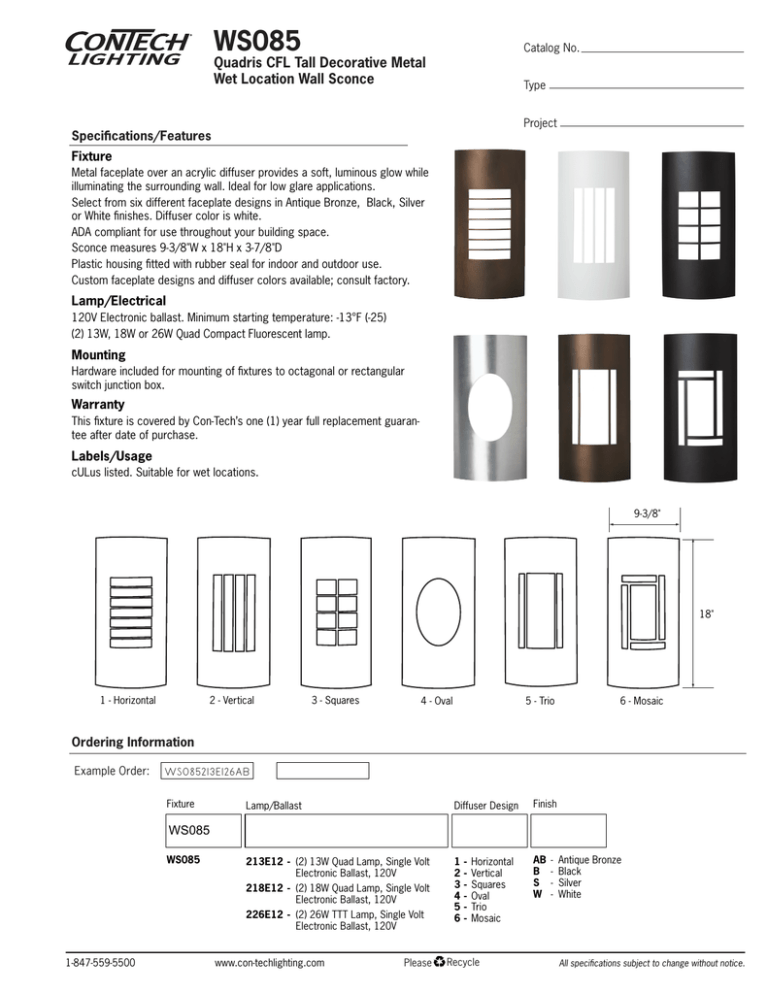 WS085
Catalog No.
Quadris CFL Tall Decorative Metal
Wet Location Wall Sconce
Type
Project
Specifications/Features
Fixture
Metal faceplate over an acrylic diffuser provides a soft, luminous glow while
illuminating the surrounding wall. Ideal for low glare applications.
Select from six different faceplate designs in Antique Bronze, Black, Silver
or White finishes. Diffuser color is white.
ADA compliant for use throughout your building space.
Sconce measures 9-3/8"W x 18"H x 3-7/8"D
Plastic housing fitted with rubber seal for indoor and outdoor use.
Custom faceplate designs and diffuser colors available; consult factory.
Lamp/Electrical
120V Electronic ballast. Minimum starting temperature: -13°F (-25)
(2) 13W, 18W or 26W Quad Compact Fluorescent lamp.
Mounting
Hardware included for mounting of fixtures to octagonal or rectangular
switch junction box.
Warranty
This fixture is covered by Con-Tech's one (1) year full replacement guarantee after date of purchase.
Labels/Usage
cULus listed. Suitable for wet locations.
9-3/8"
18"
2 - Vertical
1 - Horizontal
3 - Squares
4 - Oval
5 - Trio
6 - Mosaic
Ordering Information
Example Order:
WS085213E126AB
Fixture
Lamp/Ballast
Diffuser Design
Finish
213E12 - (2) 13W Quad Lamp, Single Volt
Electronic Ballast, 120V
218E12 - (2) 18W Quad Lamp, Single Volt
Electronic Ballast, 120V
226E12 - (2) 26W TTT Lamp, Single Volt
Electronic Ballast, 120V
1
2
3
4
5
6
AB
B
S
W
WS085
WS085
1-847-559-5500
www.con-techlighting.com
Please
-
Horizontal
Vertical
Squares
Oval
Trio
Mosaic
Recycle
-
Antique Bronze
Black
Silver
White
All specifications subject to change without notice.