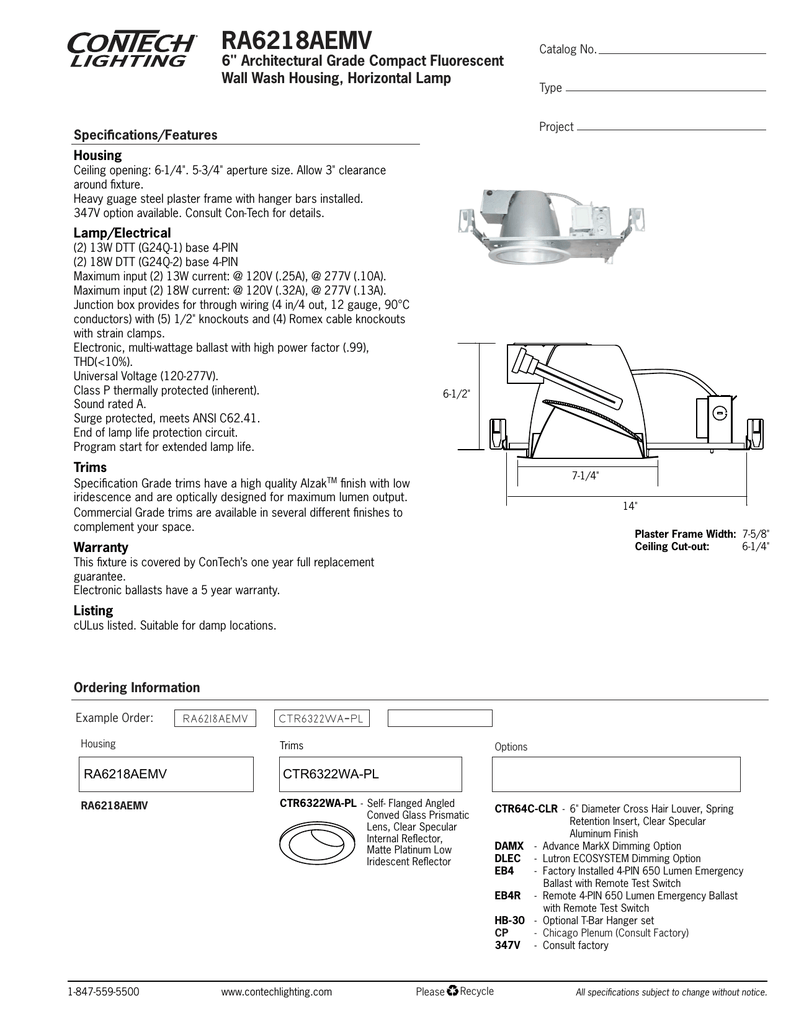 RA6218AEMV
6" Architectural Grade Compact Fluorescent
Wall Wash Housing, Horizontal Lamp
Catalog No.
Type
Project
Specifications/Features
Housing
Ceiling opening: 6-1/4". 5-3/4" aperture size. Allow 3" clearance
around fixture.
Heavy guage steel plaster frame with hanger bars installed.
347V option available. Consult Con-Tech for details.
Lamp/Electrical
(2) 13W DTT (G24Q-1) base 4-PIN
(2) 18W DTT (G24Q-2) base 4-PIN
Maximum input (2) 13W current: @ 120V (.25A), @ 277V (.10A).
Maximum input (2) 18W current: @ 120V (.32A), @ 277V (.13A).
Junction box provides for through wiring (4 in/4 out, 12 gauge, 90°C
conductors) with (5) 1/2" knockouts and (4) Romex cable knockouts
with strain clamps.
Electronic, multi-wattage ballast with high power factor (.99),
THD(<10%).
Universal Voltage (120-277V).
Class P thermally protected (inherent).
Sound rated A.
Surge protected, meets ANSI C62.41.
End of lamp life protection circuit.
Program start for extended lamp life.
6-1/2"
Trims
7-1/4"
Specification Grade trims have a high quality AlzakTM finish with low
iridescence and are optically designed for maximum lumen output.
Commercial Grade trims are available in several different finishes to
complement your space.
14"
Plaster Frame Width: 7-5/8"
Ceiling Cut-out:
6-1/4"
Warranty
This fixture is covered by ConTech's one year full replacement
guarantee.
Electronic ballasts have a 5 year warranty.
Listing
cULus listed. Suitable for damp locations.
Ordering Information
Example Order:
RA6218AEMV
CTR6322WA-PL
Housing
Trims
RA6218AEMV
CTR6322WA-PL
RA6218AEMV
CTR6322WA-PL - Self- Flanged Angled
Conved Glass Prismatic
Lens, Clear Specular
Internal Reflector,
Matte Platinum Low
Iridescent Reflector
1-847-559-5500
www.contechlighting.com
Options
Please
Recycle
CTR64C-CLR - 6" Diameter Cross Hair Louver, Spring
Retention Insert, Clear Specular
Aluminum Finish
DAMX - Advance MarkX Dimming Option
DLEC - Lutron ECOSYSTEM Dimming Option
EB4
- Factory Installed 4-PIN 650 Lumen Emergency
Ballast with Remote Test Switch
EB4R - Remote 4-PIN 650 Lumen Emergency Ballast
with Remote Test Switch
HB-30 - Optional T-Bar Hanger set
CP
- Chicago Plenum (Consult Factory)
347V - Consult factory
All specifications subject to change without notice.