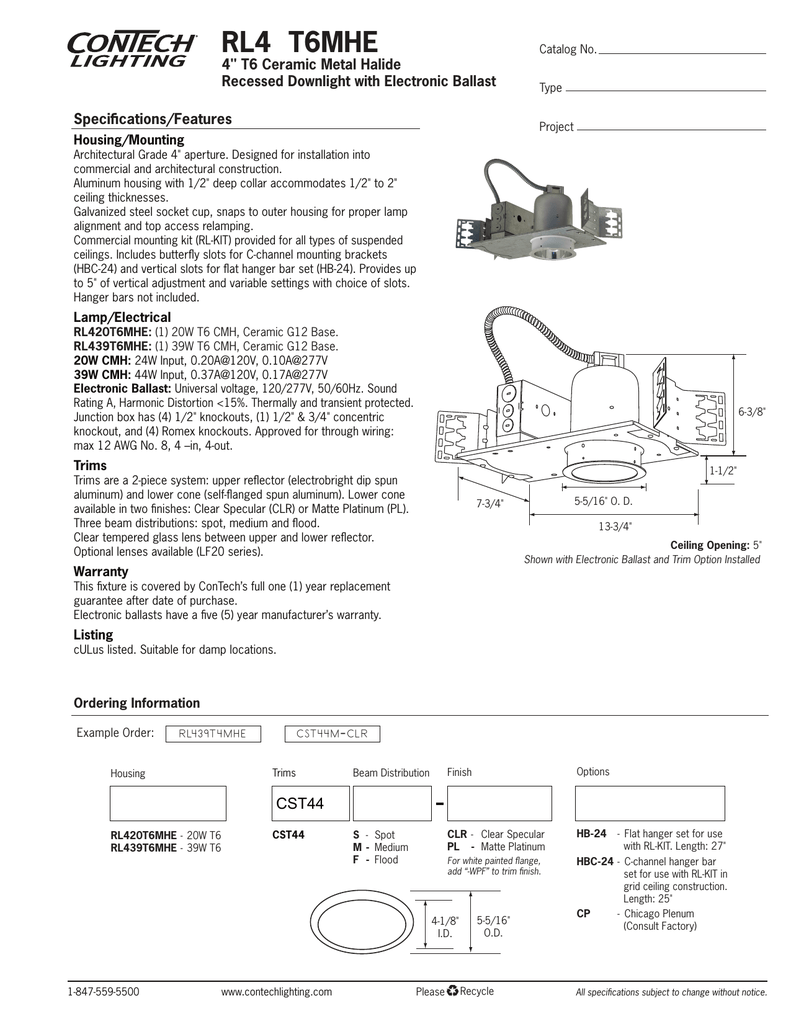 RL4 T6MHE
4" T6 Ceramic Metal Halide
Recessed Downlight with Electronic Ballast
Specifications/Features
Catalog No.
Type
Project
Housing/Mounting
Architectural Grade 4" aperture. Designed for installation into
commercial and architectural construction.
Aluminum housing with 1/2" deep collar accommodates 1/2" to 2"
ceiling thicknesses.
Galvanized steel socket cup, snaps to outer housing for proper lamp
alignment and top access relamping.
Commercial mounting kit (RL-KIT) provided for all types of suspended
ceilings. Includes butterfly slots for C-channel mounting brackets
(HBC-24) and vertical slots for flat hanger bar set (HB-24). Provides up
to 5" of vertical adjustment and variable settings with choice of slots.
Hanger bars not included.
Lamp/Electrical
RL420T6MHE: (1) 20W T6 CMH, Ceramic G12 Base.
RL439T6MHE: (1) 39W T6 CMH, Ceramic G12 Base.
20W CMH: 24W Input, [email protected], [email protected]
39W CMH: 44W Input, [email protected], [email protected]
Electronic Ballast: Universal voltage, 120/277V, 50/60Hz. Sound
Rating A, Harmonic Distortion <15%. Thermally and transient protected.
Junction box has (4) 1/2" knockouts, (1) 1/2" & 3/4" concentric
knockout, and (4) Romex knockouts. Approved for through wiring:
max 12 AWG No. 8, 4 –in, 4-out.
6-3/8"
Trims
1-1/2"
Trims are a 2-piece system: upper reflector (electrobright dip spun
aluminum) and lower cone (self-flanged spun aluminum). Lower cone
available in two finishes: Clear Specular (CLR) or Matte Platinum (PL).
Three beam distributions: spot, medium and flood.
Clear tempered glass lens between upper and lower reflector.
Optional lenses available (LF20 series).
5-5/16" O. D.
7-3/4"
13-3/4"
Ceiling Opening: 5"
Shown with Electronic Ballast and Trim Option Installed
Warranty
This fixture is covered by ConTech's full one (1) year replacement
guarantee after date of purchase.
Electronic ballasts have a five (5) year manufacturer's warranty.
Listing
cULus listed. Suitable for damp locations.
Ordering Information
Example Order:
RL439T4M H E
Housing
CST44M-CLR
Trims
Beam Distribution
Finish
Options
S - Spot
M - Medium
F - Flood
CLR - Clear Specular
PL - Matte Platinum
HB-24
CST44
RL420T6MHE - 20W T6
RL439T6MHE - 39W T6
CST44
For white painted flange,
add "-WPF" to trim finish.
4-1/8"
I.D.
1-847-559-5500
www.contechlighting.com
Please
5-5/16"
O.D.
Recycle
- Flat hanger set for use
with RL-KIT. Length: 27"
HBC-24 - C-channel hanger bar
set for use with RL-KIT in
grid ceiling construction.
Length: 25"
CP
- Chicago Plenum
(Consult Factory)
All specifications subject to change without notice.