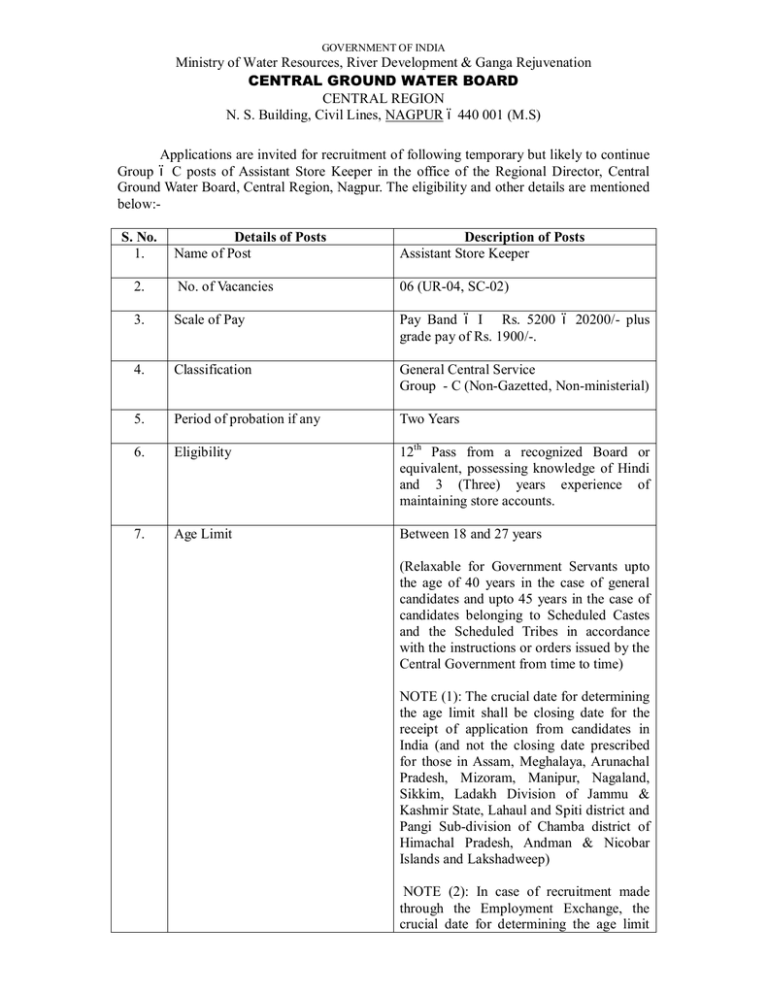 GOVERNMENT OF INDIA
Ministry of Water Resources, River Development & Ganga Rejuvenation
CENTRAL GROUND WATER BOARD
CENTRAL REGION
N. S. Building, Civil Lines, NAGPUR – 440 001 (M.S)
Applications are invited for recruitment of following temporary but likely to continue
Group – C posts of Assistant Store Keeper in the office of the Regional Director, Central
Ground Water Board, Central Region, Nagpur. The eligibility and other details are mentioned
below:S. No.
1.
Details of Posts
Name of Post
Description of Posts
Assistant Store Keeper
2.
No. of Vacancies
06 (UR-04, SC-02)
3.
Scale of Pay
Pay Band – I Rs. 5200 – 20200/- plus
grade pay of Rs. 1900/-.
4.
Classification
General Central Service
Group - C (Non-Gazetted, Non-ministerial)
5.
Period of probation if any
Two Years
6.
Eligibility
12th Pass from a recognized Board or
equivalent, possessing knowledge of Hindi
and 3 (Three) years experience of
maintaining store accounts.
7.
Age Limit
Between 18 and 27 years
(Relaxable for Government Servants upto
the age of 40 years in the case of general
candidates and upto 45 years in the case of
candidates belonging to Scheduled Castes
and the Scheduled Tribes in accordance
with the instructions or orders issued by the
Central Government from time to time)
NOTE (1): The crucial date for determining
the age limit shall be closing date for the
receipt of application from candidates in
India (and not the closing date prescribed
for those in Assam, Meghalaya, Arunachal
Pradesh, Mizoram, Manipur, Nagaland,
Sikkim, Ladakh Division of Jammu &
Kashmir State, Lahaul and Spiti district and
Pangi Sub-division of Chamba district of
Himachal Pradesh, Andman & Nicobar
Islands and Lakshadweep)
NOTE (2): In case of recruitment made
through the Employment Exchange, the
crucial date for determining the age limit
shall be last date upto which the
Employment Exchange is asked to submit
the names.
8.
Place of posting
Any where in India
9.
Description of Duties
1. To assist Store Keeper in proper upkeep,
receipt and issue of stores.
2. To take the physical custody of stores at
site under over all supervision of
Driller-Incharge at drilling site.
3. Responsibility for proper receipt, issue
and upkeep of stores.
4. Maintenance of Store accounts and
submit periodical statements / returns.
5. Any other work assigned by his
superiors.
10.
Last date of receipt of application
Within 30 days from the date of publication
of advertisement
News
Papers /
Employment News.
Interested candidates who fulfill the above requirements and are willing to serve
anywhere in India may apply to the Regional Director, Government of India, Ministry
of Water Resources, River Development & Gagna Rejuvenation, Central Ground Water
Board, Central Region, New Secretariat Building, Civil Lines, Nagpur – 440 001 in
PRESCRIBED APPLICATION FORMAT given below so as to reach this office within 30
days from the publication of advertisement in Employment News. The envelop containing the
Application should be marked, superscripted as "Application for the post of Assistant Store
Keeper". Suppression of Educational Qualification/Employment will be disqualified.
Applications which are incomplete/ineligible/unsigned not supported with requisite
documents received after the due date or otherwise deficient in any manner will be out rightly
rejected.
Mere fulfilling the prescribed qualification and experience will not vest any right of a
candidate for being called for the interview / trade test. A Screening Committee will
scrutinize all the applications received for the post(s) and only short-listed candidates will be
called for interview/trade test. The decision of the screening committee will be final and no
correspondence will be entertained in this regard. The exact date & time for Interview/Trade
Test will be communicated to the short listed candidates separately. No TA/DA for the
recruitment test will be paid. SC/ST candidates called for interview shall be paid second class
railway/bus fare for the shortest route and as per the admissible rule. The department will not
be responsible for postal delay in receipt of application. Candidates already employed in
Central/State/Public Sector Undertakings should submit their applications through proper
channel with obtaining NO Objection Certificate from the Employer.
The Regional Director reserves the right to cancel the vacancy without assigning any
reason.
(D. Subba Rao)
Regional Director
FORMAT OF APPLICATION
APPLICATION FOR THE POST OF ASSISTANT STORE KEEPER
Affix latest
passport size
photograph duly
attested by a
Gazetted Officer
1.
2.
3.
4.
5.
6.
7.
8.
9.
Name in Full (in BLOCK LETTERS)
Father's Name
Date of Birth as per HSC/SSC
Sex
Nationality
Category (General/OBC/SC/ST)
Permanent Address
Correspondence Address
a. Educational / Other qualification
b. Percentage of marks in 12th Standard
c. Experience Certificate : (to be enclosed)
10. Knowledge in Hindi (Yes/No)
11. Employment Exchange Regd. No. and Date
and place of Registration
12. Whether ready to serve anywhere in India
Write (Yes or No)
13. List of Enclosures (attested copies of all
certificates should be enclosed)
a. Educational qualification (Attested
copy of marks sheet of 10th & 12th Std.)
b. Proof of Date of Birth
c. Caste Certificate (if applicable)
d. Employment Registration card
e. Any other details
:
:
:
:
:
:
:
:
:
:
:
:
:
DECLARATION
I hereby declare that all the statement made in the application are true, complete and correct
to the best of my knowledge and belief. In the event of any information being found false / incorrect
or ineligibility being detected at any stage, my candidature or appointment may be cancelled or
terminated without any notice.
Signature of the applicant
Place:
Date:
--------------------------------------------------------------------------------------------------------------------------Note: 1.
Candidates already employed in Central/State/PSU should submit their applications
through proper channel with obtaining NOC from the present employer.
2. The candidate shall produce all Original Certificates at the time of interview.