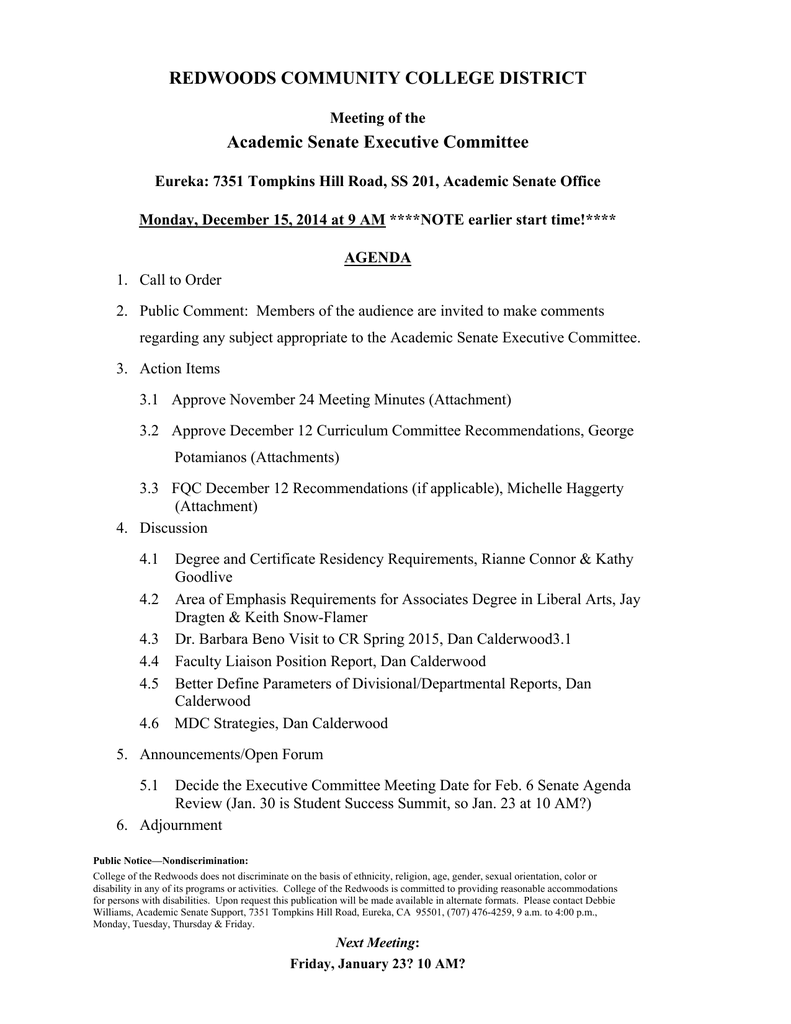 REDWOODS COMMUNITY COLLEGE DISTRICT
Meeting of the
Academic Senate Executive Committee
Eureka: 7351 Tompkins Hill Road, SS 201, Academic Senate Office
Monday, December 15, 2014 at 9 AM ****NOTE earlier start time!****
AGENDA
1. Call to Order
2. Public Comment: Members of the audience are invited to make comments
regarding any subject appropriate to the Academic Senate Executive Committee.
3. Action Items
3.1 Approve November 24 Meeting Minutes (Attachment)
3.2 Approve December 12 Curriculum Committee Recommendations, George
Potamianos (Attachments)
3.3 FQC December 12 Recommendations (if applicable), Michelle Haggerty
(Attachment)
4. Discussion
4.1
4.2
4.3
4.4
4.5
4.6
Degree and Certificate Residency Requirements, Rianne Connor & Kathy
Goodlive
Area of Emphasis Requirements for Associates Degree in Liberal Arts, Jay
Dragten & Keith Snow-Flamer
Dr. Barbara Beno Visit to CR Spring 2015, Dan Calderwood3.1
Faculty Liaison Position Report, Dan Calderwood
Better Define Parameters of Divisional/Departmental Reports, Dan
Calderwood
MDC Strategies, Dan Calderwood
5. Announcements/Open Forum
5.1
Decide the Executive Committee Meeting Date for Feb. 6 Senate Agenda
Review (Jan. 30 is Student Success Summit, so Jan. 23 at 10 AM?)
6. Adjournment
Public Notice—Nondiscrimination:
College of the Redwoods does not discriminate on the basis of ethnicity, religion, age, gender, sexual orientation, color or
disability in any of its programs or activities. College of the Redwoods is committed to providing reasonable accommodations
for persons with disabilities. Upon request this publication will be made available in alternate formats. Please contact Debbie
Williams, Academic Senate Support, 7351 Tompkins Hill Road, Eureka, CA 95501, (707) 476-4259, 9 a.m. to 4:00 p.m.,
Monday, Tuesday, Thursday & Friday.
Next Meeting:
Friday, January 23? 10 AM?