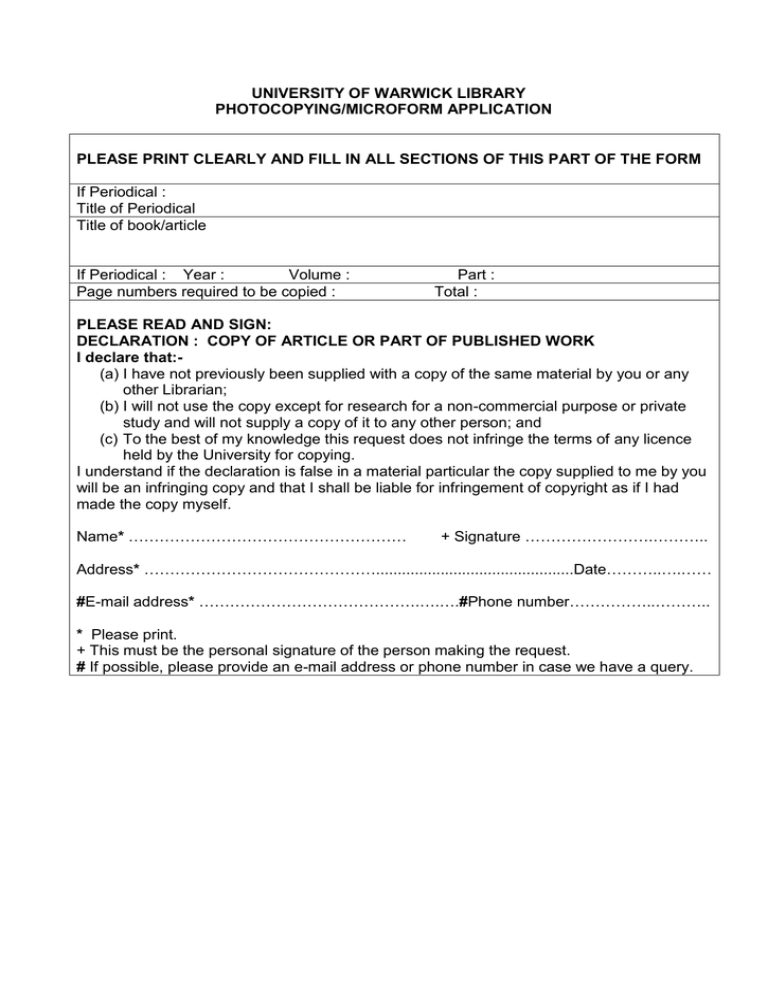 UNIVERSITY OF WARWICK LIBRARY
PHOTOCOPYING/MICROFORM APPLICATION
PLEASE PRINT CLEARLY AND FILL IN ALL SECTIONS OF THIS PART OF THE FORM
If Periodical :
Title of Periodical
Title of book/article
If Periodical : Year :
Volume :
Page numbers required to be copied :
Part :
Total :
PLEASE READ AND SIGN:
DECLARATION : COPY OF ARTICLE OR PART OF PUBLISHED WORK
I declare that:(a) I have not previously been supplied with a copy of the same material by you or any
other Librarian;
(b) I will not use the copy except for research for a non-commercial purpose or private
study and will not supply a copy of it to any other person; and
(c) To the best of my knowledge this request does not infringe the terms of any licence
held by the University for copying.
I understand if the declaration is false in a material particular the copy supplied to me by you
will be an infringing copy and that I shall be liable for infringement of copyright as if I had
made the copy myself.
Name* ………………………………………………
+ Signature …………………….………..
Address* ………………………………………..............................................Date………..….……
#E-mail address* …………………………………….….….#Phone number……………..………..
* Please print.
+ This must be the personal signature of the person making the request.
# If possible, please provide an e-mail address or phone number in case we have a query.