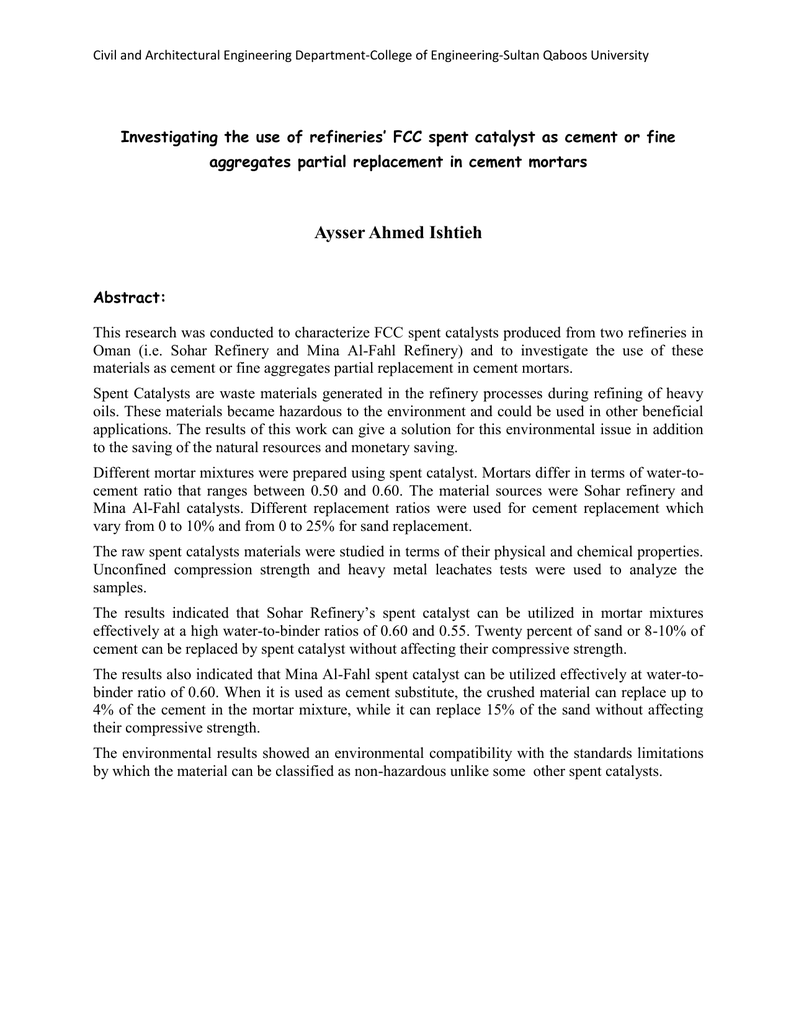 Civil and Architectural Engineering Department-College of Engineering-Sultan Qaboos University
Investigating the use of refineries' FCC spent catalyst as cement or fine
aggregates partial replacement in cement mortars
Aysser Ahmed Ishtieh
Abstract:
This research was conducted to characterize FCC spent catalysts produced from two refineries in
Oman (i.e. Sohar Refinery and Mina Al-Fahl Refinery) and to investigate the use of these
materials as cement or fine aggregates partial replacement in cement mortars.
Spent Catalysts are waste materials generated in the refinery processes during refining of heavy
oils. These materials became hazardous to the environment and could be used in other beneficial
applications. The results of this work can give a solution for this environmental issue in addition
to the saving of the natural resources and monetary saving.
Different mortar mixtures were prepared using spent catalyst. Mortars differ in terms of water-tocement ratio that ranges between 0.50 and 0.60. The material sources were Sohar refinery and
Mina Al-Fahl catalysts. Different replacement ratios were used for cement replacement which
vary from 0 to 10% and from 0 to 25% for sand replacement.
The raw spent catalysts materials were studied in terms of their physical and chemical properties.
Unconfined compression strength and heavy metal leachates tests were used to analyze the
samples.
The results indicated that Sohar Refinery's spent catalyst can be utilized in mortar mixtures
effectively at a high water-to-binder ratios of 0.60 and 0.55. Twenty percent of sand or 8-10% of
cement can be replaced by spent catalyst without affecting their compressive strength.
The results also indicated that Mina Al-Fahl spent catalyst can be utilized effectively at water-tobinder ratio of 0.60. When it is used as cement substitute, the crushed material can replace up to
4% of the cement in the mortar mixture, while it can replace 15% of the sand without affecting
their compressive strength.
The environmental results showed an environmental compatibility with the standards limitations
by which the material can be classified as non-hazardous unlike some other spent catalysts.