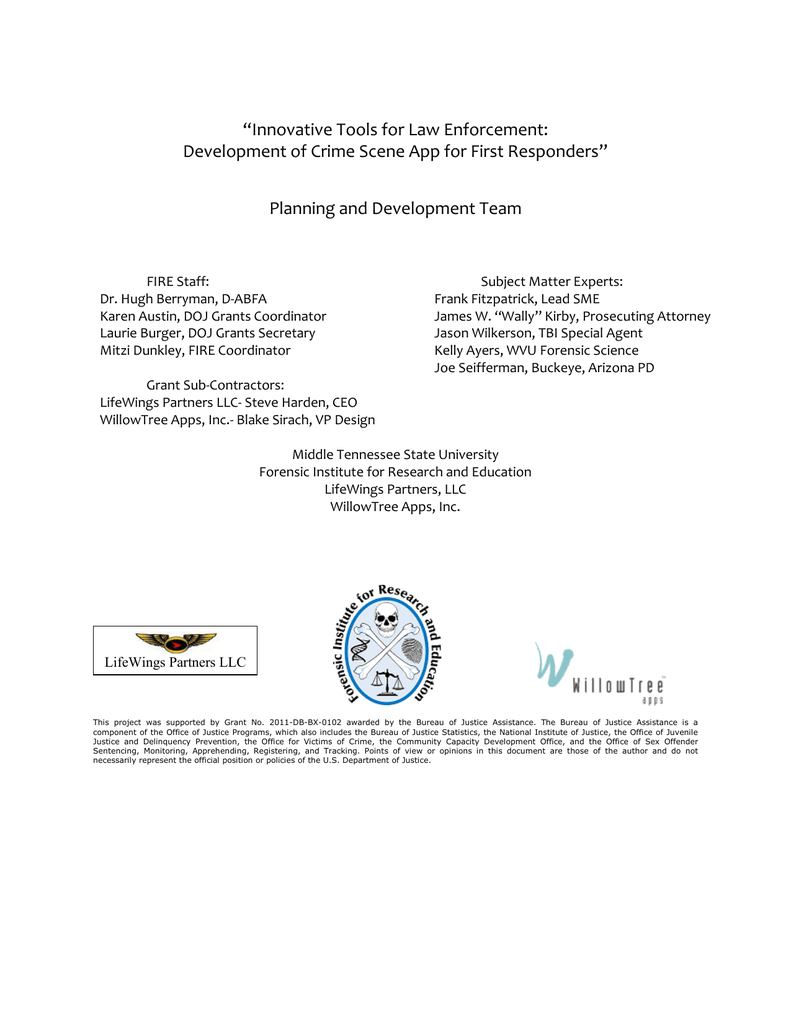 "Innovative Tools for Law Enforcement:
Development of Crime Scene App for First Responders"
Planning and Development Team
FIRE Staff:
Dr. Hugh Berryman, D-ABFA
Karen Austin, DOJ Grants Coordinator
Laurie Burger, DOJ Grants Secretary
Mitzi Dunkley, FIRE Coordinator
Grant Sub-Contractors:
LifeWings Partners LLC- Steve Harden, CEO
WillowTree Apps, Inc.- Blake Sirach, VP Design
Subject Matter Experts:
Frank Fitzpatrick, Lead SME
James W. "Wally" Kirby, Prosecuting Attorney
Jason Wilkerson, TBI Special Agent
Kelly Ayers, WVU Forensic Science
Joe Seifferman, Buckeye, Arizona PD
Middle Tennessee State University
Forensic Institute for Research and Education
LifeWings Partners, LLC
WillowTree Apps, Inc.
LifeWings Partners LLC
This project was supported by Grant No. 2011-DB-BX-0102 awarded by the Bureau of Justice Assistance. The Bureau of Justice Assistance is a
component of the Office of Justice Programs, which also includes the Bureau of Justice Statistics, the National Institute of Justice, the Office of Juvenile
Justice and Delinquency Prevention, the Office for Victims of Crime, the Community Capacity Development Office, and the Office of Sex Offender
Sentencing, Monitoring, Apprehending, Registering, and Tracking. Points of view or opinions in this document are those of the author and do not
necessarily represent the official position or policies of the U.S. Department of Justice.