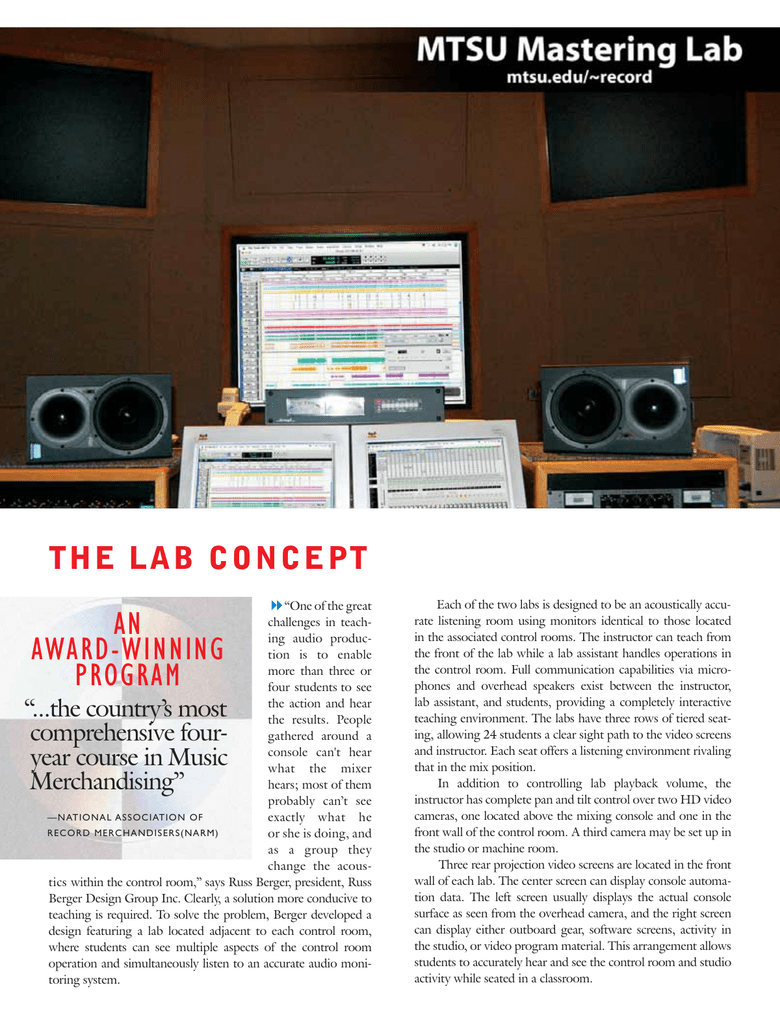 THE LAB CONCEPT
"One of the great
challenges in teaching audio production is to enable
more than three or
four students to see
the action and hear
the results. People
gathered around a
console can't hear
what the mixer
hears; most of them
probably can't see
— N ATI O N A L A S S O C I AT I O N O F
exactly what he
RE CORD M E R C H A N D I S E R S ( NARM)
or she is doing, and
as a group they
change the acoustics within the control room," says Russ Berger, president, Russ
Berger Design Group Inc. Clearly, a solution more conducive to
teaching is required. To solve the problem, Berger developed a
design featuring a lab located adjacent to each control room,
where students can see multiple aspects of the control room
operation and simultaneously listen to an accurate audio monitoring system.
AN
AWARD-WINNING
PROGRAM
"...the country's most
comprehensive fouryear course in Music
Merchandising"
Each of the two labs is designed to be an acoustically accurate listening room using monitors identical to those located
in the associated control rooms. The instructor can teach from
the front of the lab while a lab assistant handles operations in
the control room. Full communication capabilities via microphones and overhead speakers exist between the instructor,
lab assistant, and students, providing a completely interactive
teaching environment. The labs have three rows of tiered seating, allowing 24 students a clear sight path to the video screens
and instructor. Each seat offers a listening environment rivaling
that in the mix position.
In addition to controlling lab playback volume, the
instructor has complete pan and tilt control over two HD video
cameras, one located above the mixing console and one in the
front wall of the control room. A third camera may be set up in
the studio or machine room.
Three rear projection video screens are located in the front
wall of each lab. The center screen can display console automation data. The left screen usually displays the actual console
surface as seen from the overhead camera, and the right screen
can display either outboard gear, software screens, activity in
the studio, or video program material. This arrangement allows
students to accurately hear and see the control room and studio
activity while seated in a classroom.
VIDEO SCREENING ROOM
Video projection systems in all classrooms
VIDEO and AUDIO SYSTEMS: JBL 5.1 monitor
system, QSC power amplifiers, Sony VPH 1041Q
video projector, Pioneer DVD/LD player, Pioneer
preamp Dolby Digital decoder, Tascam 112 cassette,
Mitsubishi VHS
MASTER CLASSROOM
A/V SYSTEM: EAW speakers, Fostex D-5 DAT,
Mitsubishi receiver, NEC data projector, Elmo video
presenter, Mac and PC computers w/Internet
connections
TESTING/
MAINTENANCE
TEST EQUIPMENT: Audio Precision System One,
Audio Precision Portable 1, Techron TEF 20, Bruel
and Kjaer 2230 Integrating SPL meter w/Bruel and
Kjaer 1625 1/3 octave filter set, Bruel and Kjaer 4007
test microphone, Neutrik Audiograph 3300 acoustic
analysis
LAB STATIONS: Tenma 72-3060 20MHz oscilloscope, Tenma 72-4045A power supply, Tenma 21-17A
solder station, Tenma 72-6170 multimeter
CH ECK O U T EQ U I PM EN T
PREAMPS: Neve, Hardy M1, Studer Valve, Avalon
Tube Vt737 w/EQ and compressor, Curtis Tube
OUTBOARD: GML 8200 EQ, Aphex Dominator,
Aphex Compellor, Aphex Aural Exciter
REMOTE RECORDING: Tascam DAP 1 DAT
w/Sony EMC 99 shotgun and C76 stereo microphones, Sony DC 10 DAT w/Sony DC MS5 stereo
microphone
MTSU, a Tennessee Board of Regents university, is an
equal opportunity, non-racially identifiable, educational
institution that does not discriminate against individuals
with disabilities. AA210-0308
"The recording studios
are world class…"
R A N DY WA C H T L E R
FOR INFORMATION:
Admissions: 615/898-2111
Department of Recording Industry
Phone: 615/898-2578 Fax: 615/898-5682
or
800/929-6878
E-mail: [email protected]
www.mtsu.edu/~record
P. O. Box 21
Murfreesboro, TN 37132
P R E S I D E N T,
6 1 5 M U S I C P RO D U C T I O N S
Department of
Recording
Industry
Teaching& Production
Facilities&Equipment
C O L L E G E
O F
M A S S
C O M M U N I C A T I O N
MIDDLE TENNESSEE STATE UNIVERSITY, MURFREESBORO
FA C I L I T I E S A N D E Q U I P M E N T AT M T S U

The state-of-the-art teaching and production facilities that house the MTSU Depart-
ment of Recording Industry are the result of input from industry professionals, awardwinning consultants, faculty members, alumni, and students. The department, based in the
$15-million Bragg Mass Communication complex, supports the innovative Bachelor of Science
in Recording Industry degree with its Production and Technology, Music Business, and
Commercial Songwriting concentrations. In addition, outstanding programs in Digital Communication, Electronic Media, Advertising, Public Relations, Graphic Communication, Media
Management, and Journalism are housed in the building. The 90,000-square-foot building
includes two audio recording studios, a post-production laboratory, mastering laboratory,
MIDI laboratory, listening laboratory, digital editing/dubbing room, 5.1 surround film mixing
laboratory, television studio with associated video and audio control rooms, video postproduction rooms, video edit suites, digital imaging and animation lab, electronic newsroom, mobile teleproduction laboratory, central machine room, maintenance and testing areas,
computer writing laboratories, online computer laboratory, and well-equipped lecture and
seminar rooms. The acoustic spaces in the Bragg building were designed by renowned studio
designer Russ Berger, head of the Russ Berger Design Group, and the systems design was
overseen by Richard Zwiebel of Peak Audio. The MTSU Department of Recording Industry
offers the innovative Bachelor of Science in Recording Industry degree and a new Master of
Fine Arts in Recording Arts and Technologies. It is part of MTSU's College of Mass
Communication, which also offers outstanding programs in digital communication, electronic
media, advertising, public relations, graphic communication, media management, and journalism. The equipment and facilities described herein were designed for the education of students.
Facilities are in use 24 hours a day most of the year. Access is almost exclusively for students
enrolled in Recording Industry classes. A hands-on approach to teaching and learning is fundamental. Learning the business, art, and technology of the recording industry is exciting at MTSU,
thanks in part to world-class facilities.
D I G I TA L S T U D I O A
DIGITAL MIXING SYSTEM: Studer D-950 Digital
Console, 24 I/O strips, 96x96 D-I/0, 72x72 A-I/0
MONITOR SYSTEMS: Coastal Acoustics Boxer 5.1
monitor system,Yamaha NS-10 speakers, Bryston, Hafler,
and Yamaha power amplifiers
DIGITAL AUDIO WORKSTATION: Pro Tools
HD2 with 192ios and Sync, Apple G5, Cinema display.
Plugins include: McDSP, Autotune,Vocalign, Focusrite,
Waves Gold, Lexicon Lexiverb, Line 6 Amp Farm
SURROUND SYSTEMS: Dolby SEU4 and SUD4
Surround Sound encode/decode, Technics SHAC500D
Dolby Digital and DTS decoder
DIGITAL RECORDERS/PLAYERS: Studer D-827
and A-827, Tascam DTRS, Sony PMC 7010 DATs, Alesis
Masterlink
ANALOG RECORDERS: Studer A-827 24-track,
Otari MX 55 w/Dolby 363 SR N/R
SYNC SYSTEM: Lynx Time Code modules
"The facility is
impressive and first
rate...The program
is excellent...The
students and faculty
are enthusiastic"
— S O C I E T Y O F P RO F E S S I O N A L AU D I O
R E C O R D I N G S E RV I C E S ( S PA R S )
V I S I T I N G T E A M R E P O RT
STUDIO COMPLEX A
 This
complex was designed to
accommodate the needs of audio for
video and film as well as traditional
music production and includes a studio,
control room, mastering/observation
lab, and machine room. Recording
floor A is a large (38' x 50') room
equipped with a lighting grid. Masonry
low-frequency diffusing series are coupled with a balance of absorbent and
reflective surface finishes. Interconnect
panels around the perimeter allow connection of mic, line, headphones, speakers, and MIDI tie lines to the control
room.
Control Room A features a Studer
digital mixing system with all film
sound panning formats, Coastal Acoustics, Boxer, and 5.1 channel monitor
systems, near-field monitors, Dolby
surround encoder and decoders, a MIDI
station, a ProTools digital audio workstation with multiple audio interfaces,
and numerous outboard signal processing units. A Studer digital 24-track, a
Studer analog 24- track, and Tascam
DTRS recorders are located in the adjoining machine room. Master recorders include two-track analog with Dolby
SR and a Masterlink. While the main
loudspeakers are supported on pedestals, their enclosures are suspended from
an independent system of beams and
columns, and both the pedestals and enclosures are isolated from the room's
floating floor, walls, and ceiling. A masonry low-frequency diffusing series
was constructed along the entire rear
wall of the control room as a framework
for the high frequency acoustical diffusers by RPG Diffuser Systems.
Mastering/Observation Lab A does
dual service as an observation classroom
for Studio A (see the Observation Lab
Concept) and the location for an eightchannel SADiE hard disk editing, mastering, and CD preparation system. This
lab also sports a Boxer/Coastal Acoustics monitor system. Studio Complex
A is equipped to teach Dolby Surround
encoding procedures. Control Room A
and Mastering/Observation Lab A are
equipped with complete Dolby Surround and Dolby Digital playback systems and 5.1 channel speaker systems.
The Mastering Lab is further equipped
with a Dolby Digital encoder and decoder.
VIDEO SYSTEM: JVC XV-SA70 DVD, Sony
SLV-679HF VHS, Samsung 36" monitor
MIDI SYSTEM: Mark of the Unicorn MTPAV, Yamaha
MOTIF ES8, AKAI S1000, and Kurzweil K2500RS
samplers, Alesis D4. Software: MOTU Digital Performer,
MOTU
OUTBOARD PROCESSING: Yamaha Pro R3, SPX
90, REV 7, and YDD 2600, Lexicon PCM 70, Sony R
201, Publison Infernal Machine 90, Eventide DSP 4500,
Klark Teknik DN 410, Ensoinq DP4+, DBX 160, Aphex
Dominator and Compellor, Alesis 3630, TubeTech CL2A
and MP1A, Millennia HV-3D and STT-1, T.C.Electronics
M6000, Drawmer DS201, GML 8200
MICROPHONES: Neumann TLM 170, M147, KM 140,
and TLM 103, Schoeps CMC 5/6, AKG C414, C460, and
D12,Yamaha MZ 204, Sennheiser MD421, E602, E604,
and MKH 40, Shure 520DX, SM 81, SM98,VP88,
SM 98, and SM 57, Audiotechnica ATM4033, Realistic
PZM, Countryman and Whirlwind DI Boxes
MUSICAL INSTRUMENTS: Kawai grand piano,
Hammond B-3 w/Leslie, Wurlitzer electric piano, Pearl
drums, Fender Bassman
M A S T E R I N G L A B O R AT O R Y A
DIGITAL AUDIO WORKSTATION: SADiE w/
Apogee Digital I/O, CEDAR Noise Reduction, Dual 20"
monitors
MONITOR SYSTEM: Coastal Acoustics Boxer 5.1
system, Mackie HR-824
SURROUND SYSTEMS: Dolby SUD4 Surround
Sound decoder, Martin Sound MultiMax
DIGITAL RECORDERS/PLAYERS: Plextor CD-R,
Tascam DA-78 HR DTRS, Tascam DA-45HR DAT,
Pioneer DV-45A DVD-A and SACD
ANALOG RECORDER/PLAYERS: Studer A721
cassette, Sony PSLX510 turntable
OUTBOARD PROCESSING: Manly stereo limiter
compressor, Millennia NSEQ-2
VIDEO PROJECTION SYSTEM: Sony DXC 101
video cameras, Sony VPH 1270Q and VPH 10410 video
projectors, Grass Valley Performer video switcher,
Sony SLV-N77 VHS
D I G I TA L S T U D I O B
CONSOLE: 48-channel SSL Duality
MONITORS: Discrete Research Boxer IV Main
monitors, Adams 3A studio monitors, Urei 809 A studio
monitors, Minimus 7, Bryston 4B power amps, Hafler
P500 power amps, Dorrough 40 meters
RECORDERS: Pro Tools HD2 with 192io converters,
Studer D-827 DASH
ANALOG RECORDERS: Studer 827 A 24-tracks,
Otari MTR 12, Dolby 363 SR N/R
STUDIO COMPLEX B
L I S T E N I N G L A B O R AT O RY B
 Studio
MONITOR SYSTEM: Coastal Acoustics Boxer IV
system, Powered headphone distribution system,
Banner RTA, Dorrough meters
B is primarily designed for
music production. It consists of a large
main recording space, a large drum
room, an isolation booth, a piano
alcove, the control room, an observation lab, and a machine room. The
same type of interconnect panels and
low frequency diffusers found in Studio
A are in Studio B. Control Room B is
PLAYBACK SYSTEM: Bryston Preamp,
DVDA/SACD VHS
PROJECTION SYSTEM: Sony DXC 101 video
cameras, SonyVPH 1270Q, and VPH 1041Q video
projectors, Grass Valley Performer video switcher
M I X I N G S T U D I O C
MIX SYSTEM: SSL AWS900+ with Total Recall
automation
DIGITAL AUDIO WORKSTATION: Pro Tools HD2
with 192ios, Macintosh G5
PLUGINS: McDSP, Autotune, Waves Gold, TC EQ, TC
Sonic Maximizer, TC Megaverb, TC Chorus
MONITOR SYSTEM: Costal Acoustics Boxer IV
system, Adam S3As, Hafler power amplifiers
MIDI SYSTEM: Macintosh G5, 42" LCD, MOTU
MTPAV, Yamaha MOTIF ES8, AKAI S-1000, and Kurzweil
K2500RS samplers, Proteus I, Alesis D4
OUTBOARD PROCESSING: AMS RMX-16, Lexicon
480L, GML 8900, GML 8200 EQ, API 550B EQ, Millennia
Media TCL dynamics, Millennia Media NSEQ-2 EQ, TCL2
Compressor, TC 2290, Hardy Ml pre amp,Yamaha REV 7,
SPX 90, Lexicon PCM 70, Aphex Compellor, Dominator, RTA, Alesis 3630, Eventide H3000, Drawmer MX50,
Yamaha ProR3, Millennia Media HV3B preamp, Empirical
Labs Distressors
MICROPHONES: Neumann KM84, TLM170, TLM103,
KM84, M147, AKG C414, C451, AudioTechnica AT4033,
Yamaha MZ204, Sennheiser MD421, MKH 40, and
MD504, Electro Voice RE20, Shure SM7B,VP88, 520DX,
SM57 and 58, Stewart, Whirlwind, and Countryman Dl
boxes
SYNC SYSTEMS: Time Line Lynx Time Code
Modules
PLUG-INS: McDSP, Antares Autotune, SynchroArts
Vocalign, Focusrite D2 Red EQ, Waves Gold, Lexicon
Lexiverb, Line 6 Amp Farm, many others
OUTBOARD PROCESSING: Millenia HV-3D,
Millenia Origin, Calrec mic module (2), John Hardy mic
pre (4), Lexicon 480L w/ LARC, Eventide H3000 SE,
Yamaha REV 7, Ensoniq DP/4+,Yamaha Pro R3, Yamaha
SPX 90II, Ursa Major SST 282, Orban spring reverb,
Echo Plate II, Empirical Labs Distressor (2), Aphex
Dominator, Aphex Compellor, DBX 165 (2), Drawmer
Noise Gates(4) Drawmer De-esser, Vally People Gain
Brain (2), Keypex (6), Commander (2) and Dyna Mite
410, Klark Teknik DN410 EQ, Antares Auto-tuner
MUSICAL INSTRUMENTS: Yamaha C5 grand
piano, Pearl Master Series drum kit w/ Zildjian cymbals,
Fender Deluxe Twin guitar amplifer
MICROPHONES: Neumann TLM 170, TLM103, and
KM140; Sennheiser MKH 40, MD421, and E604; Schoeps
CMC 5/6; Audio Technica AT4033; AKG 460 CK61,
C414BULS, D12E, D112, and Solidtube; Electro-Voice
RE 20; Yamaha MZ 204; Countryman Isomax Uni, Shure
SM57, SM58, SM81, and VP88; Countryman and Stewart
DI boxes
physically and acoustically identical to
Control Room A. It features an SSL
Duality mixing console with moving
fader automation and a variety of outboard signal processing units and has
Boxer IV main monitors. Recorders
include a Pro Tools HD2 system with
192io converters, Studer D827 24track, Studer analog 24-track, and a
Tascam DTRS. Master recorders include two-track analog with Dolby SR,
Otari DAT, and an Alesis Masterlink.
D I G I TA L A U D I O L ABO RAT ORY
Nine Macintosh G5s; ProTools Digi002 recording
systems; Acoustic Systems isolation booth
Listening Lab
MI XING
S TUDIO
C
 Mixing
Studio C was designed
by TEC award-winning designer Bob
Todrank with assistance from Chris
Haseleu, then director of the Center for
Recording Arts and Sciences. The complex includes a control room, machine
room, and isolation booth. Serving
as a mix and overdub room, Studio C
is equipped with a Solid State Logic
AWS 900+ console with Total Recall
automation. Boxer main monitors are
complemented with Adam S3A nearfields. The machine room holds a Pro
Tools HD2 system and a Studer 24track analog machine. A full complement of plugins rounds out this hybrid
console/mixing suite.
S T U DIO S
make use of this lab include
those involving softwarebased MIDI sequencing,
electronic sound design,
analog and digital synthesis, digital sampling, and
MIDI studio applications.
The stadium seating lab
contains nine Macintoshbased stations loaded with
MOTU Digital Performer.
In addition, each station
includes a keyboard controller, state-ofthe-art MIDI modules, and digital control surface. Also in the lab is a MIDI
controlled lighting system, a wide variety of digital and analog synthesizers,
and numerous sample and effects CDs.
The instructor can audibly monitor student progress on headphones or
on studio monitors. In addition, the
instructor's computer monitor can be
projected onto a screen at the front of
the lab allowing the students to see and
follow along from their seats.
Designed to bridge the gap between
T H E
MID I
LA B
 The MIDI lab affords students
the opportunity to become conversant
in virtually any concept integrating
computers and sound. Courses that
MIX SYSTEM: Sony DMXR-100 digital console
with moving fader and Total Recall Automation
DIGITAL AUDIO WORKSTATION: Pro Tools
HD2 with 192 Digital ios
DIGITAL RECORDERS/PLAYERS: Tascam
DA-45 HR DAT, Tascam CDRW-700
MONITOR SYSTEM: Genelec 1030a,
Genelec 1038a
MIDI SYSTEM: Yamaha MOTIF ES8
OUTBOARD PROCESSING: Lexicon PCM91,
TC M2000, Eventide Eclipse, Drawmer DS201,
Yamaha ProR3, Millennia Media HV3D preamp,
RNC compressors
MICROPHONES: Neumann KM184, TLM103,
AKG C414, C451, Sennheiser MD421, 602s, Shure
SM81, Shure SM57s, Stewart, Whirlwind, and Countryman Dl boxes
M I D I L A B O R AT O RY
MAIN STATION: Macintosh G5,Yamaha 01X,
Pro Tools Digi002, ZIP drive, Mark of the Unicorn
MIDI Time Piece 1&2,Yamaha ES8, Kurzweil MIDI
Board, KAT drum Kat, Kit Kat and Hat Kat, Cascio
M6 510 guitar, ARP 2600,Yamaha TX216 FM
synthesis,YS200, AKAI S-1000, and Kurzweil
K2500RS samplers, Proteus I, Alesis D4, Lexicon 1
and 5, Leprecon LM-850 MIDI light board. Software:
Mark of the Unicorn Digital Performer, Reason,
Mach5
STUDENT STATIONS (8): Macintosh G5,
Yamaha 01X, Pro Tools Digi002, Mark of the Unicorn MIDI Time Piece AV, AKAI S-1000, and Kurzweil K2500RS samplers, Alesis D4, Lexicon 1 and
5. Software: Mark of the Unicorn Digital Performer,
Reason, Mach5 software sampler.
D& E
the modern, all-digital project studio
and the large-scale commercial facilities
of yesteryear, Studios D and E are built
around Sony DMXR-100 digital consoles and the Pro Tools HD2 recording
systems. With identical designs, equipment, and layout, these studios are
outfitted with a primary tracking space
and a complement of outboard and
built-in processing. With Genelec main
and near field monitors, external preamps, EQs, and dynamics processors
by Millennia, RNC, TC Electronics,
Lexicon, and others, these are the perfect studios for introductory recording
classes to get acquainted with the commercial studio of tomorrow.
S Tand
U DDPI 569
O Sencoder
D & E
MONITOR SYSTEM: Urei 809 monitors, Crown
200 power amplifier
VIDEO SYSTEM: NEC video projector
D I G I T A L A U D I O
L A B O R A T O R Y

This nine-station laboratory represents the cutting edge of project
studio development. Each station is
equipped with a Macintosh computer
with ProTools hardware and software.
Plenty of plug-in software packages
including Autotune, McDsp, and and
Waves Gold bundles are provided at
each station. All computers are networked and Web accessible. A video
projection system allows students to
observe the instructor's computer during class. The lab includes an Acoustics
Systems isolation booth for recording
vocals and other acoustic sources.
POSTPRODUCTION
CONSOLES: Digidesign 24 fader Dcommand
RECORDING SYSTEMS: Pro Tools HD2
MIDI SYSTEM: Vintage Keyboards Kurzweil
K2500RS, Roland JV-1080, MOTU MIDI Time Piece
AV MIDI/Time Code interface
ANALOGUE KEYBOARDS: Moog MemoryMoog, Roland SH-2
SURROUND/MONITORING SYSTEMS:
Dolby SEU4 ProLogic Encoder, Carver amplification,
PMC Near-field monitors, Sony STR825 ProLogic
decoder
VIDEO PLAYBACK/MONITORING: Sony DV
deck, Misubishi VHS recorder, JVC VHS recorder,
Sony 27" monitor, Panasonic 20" monitor, Sony
VPH 1041Q video projectors
Digital Audio Lab
P O S TPRO D UC T ION
L A B O RATORY
DIGITAL EDIT ROOM
 Designed to teach advanced techniques in hard disc recording, editing
and mixing, especially as it relates to
sound for picture, this lab features
a Mac Pro computer equipped with
flat screen monitors and includes a
full ProTools HD2 system with 5.1
surround capability.
For recording, an isolation booth
is available, and a wide selection of
microphones, preamplifiers, and outboard processing can be used. The
main monitor system is a Meyer 5.1
system complimented by Yamaha nearfield monitors. Software provides for
Dolby Surround Sound encoding while
hardware provides professional decoding. DASH and DTRS digital tape systems support the hard disc platforms.
The Postproduction Lab also includes
a collection of vintage analog synthesizers as well as digital synthesizers.
ProTools Digi002 system for editing.
This room also provides for dubbing
from or to most any 2-track format.
The room also contains a Disc Makers
automated duplication system for CDR and DVD.
 The Edit room is equipped with a
TH E C O M P U TER
RESOU RCES RO O M
 In support of all concentrations,
the Computer Research Room has 16
computer stations. Two stations are
dedicated to Recording Industry students and are outfitted with $20,000
worth of specialized music business
software. Most stations have access to
the Internet, Walker Library and Center
for Popular Music catalogs, and the
Lexis/Nexus databases.
THE CINEMA MIX
 A 63-seat theater uses video projection to display DVD, Laser Disc,
VHS tape, and cable TV sources.
The sound is provided with a 5.1
channel, 10-speaker JBL system. A
preamp includes Dolby Pro Logic,
DTS, and Dolby Digital decoding.
This room is the site for instruction
in sound design and multi-channel
audio.
CL ASSRO O M S
The
The Maintenance Lab provides space for learning
by doing.
Bragg Mass Comm facilities include five classrooms with
superb media support systems. Two
are lecture halls, each with a seating
National Academy
of Recording Arts
and Sciences
(NARAS/Grammy)
Student Music
Award
capacity of 72. The remaining three
are seminar rooms which seat 40 students in a semicircle. All are designated as Master Classrooms and contain
custom-designed audio/visual/computer systems.
AUDIO MAINTENANCE
LABORATORY
The Audio Maintenance Laboratory
provides both technical maintenance
services and instructional support.
Advanced test equipment complements
student test and repair stations.
PHOTOGRAPHY: Tom Jimison, Asso ciate
Professor, Electronic Media Com munication Department; Nathan Adam,
Associate Chair, Depar tment of
Recording Industry; MTSU Photo graphic Services
DESIGN: adapted from a concept by
Elvis Wilson / Hound Dog Studios
A very special thanks to Richard Zweibel for permission to use his original
material throughout this brochure.