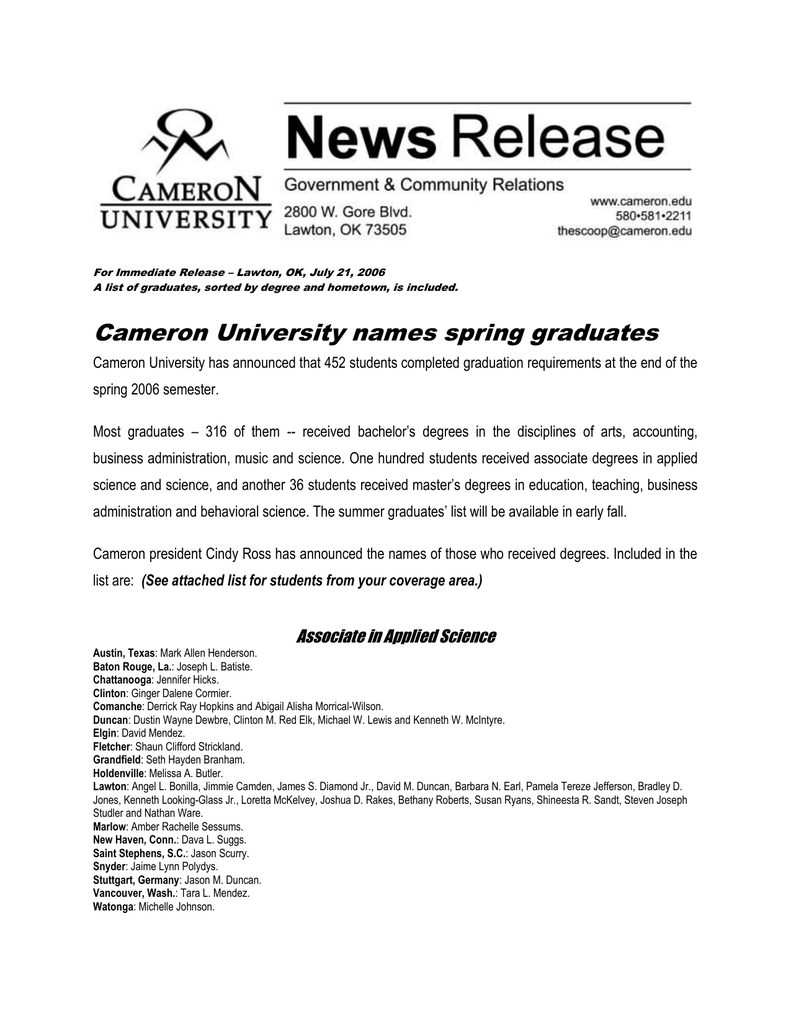 For Immediate Release – Lawton, OK, July 21, 2006
A list of graduates, sorted by degree and hometown, is included.
Cameron University names spring graduates
Cameron University has announced that 452 students completed graduation requirements at the end of the
spring 2006 semester.
Most graduates – 316 of them -- received bachelor's degrees in the disciplines of arts, accounting,
business administration, music and science. One hundred students received associate degrees in applied
science and science, and another 36 students received master's degrees in education, teaching, business
administration and behavioral science. The summer graduates' list will be available in early fall.
Cameron president Cindy Ross has announced the names of those who received degrees. Included in the
list are: (See attached list for students from your coverage area.)
Associate in Applied Science
Austin, Texas: Mark Allen Henderson.
Baton Rouge, La.: Joseph L. Batiste.
Chattanooga: Jennifer Hicks.
Clinton: Ginger Dalene Cormier.
Comanche: Derrick Ray Hopkins and Abigail Alisha Morrical-Wilson.
Duncan: Dustin Wayne Dewbre, Clinton M. Red Elk, Michael W. Lewis and Kenneth W. McIntyre.
Elgin: David Mendez.
Fletcher: Shaun Clifford Strickland.
Grandfield: Seth Hayden Branham.
Holdenville: Melissa A. Butler.
Lawton: Angel L. Bonilla, Jimmie Camden, James S. Diamond Jr., David M. Duncan, Barbara N. Earl, Pamela Tereze Jefferson, Bradley D.
Jones, Kenneth Looking-Glass Jr., Loretta McKelvey, Joshua D. Rakes, Bethany Roberts, Susan Ryans, Shineesta R. Sandt, Steven Joseph
Studler and Nathan Ware.
Marlow: Amber Rachelle Sessums.
New Haven, Conn.: Dava L. Suggs.
Saint Stephens, S.C.: Jason Scurry.
Snyder: Jaime Lynn Polydys.
Stuttgart, Germany: Jason M. Duncan.
Vancouver, Wash.: Tara L. Mendez.
Watonga: Michelle Johnson.
Associate in Science
Alliance, Ohio: Angela M. Triplett.
Apache: Sandra King.
Bayamon Pr.: Marjorie Zoe Negron Munoz.
Belle Glade, Fla.: Michael A. Robinson Sr.
Bray: Kristal Lea Maxwell.
Cache: Kristina Hall.
Comanche: Danna Jo Morris.
Danville, Pa.: Jessica Kay Weber.
Duncan: Liliana Alvarado, Linda Bryant, Tamera Lynn Byrd, Jamilyn Deamber Cobb, Deanna L. Halstead, Stephanie Jacobson, Delisa Renee
Jones, James M. Rankin and Tasha Nicole Tole.
Lawton: Cherie Ann Bomgardner, Stefanie Pamela Border, Kyle Fre Legend Donnelly, Tyrone Orlando Finney, Sherri Christine Fuentez,
Sandra E. Heard, Stephen Mike Isbell, Lauri Ladawn Hire, Heather Renee Keyser, Patricia A. Lytle, Philip N. Mayer, Diana Marie Nesmith,
Deborah S. Ousley, Kawanna S. Prince-Paige, Sheila Ann Rogers, Ragan Rollins, Crystal Dawn Smith, Christopher M. St. John, Inga M.
Soodan and Megan Wolf.
Louisville, Ky.: Ellen T. Arnold.
Loveland, Colo.: Colleen M. Rudolph.
Marrero, La.: Melissa Ann Butterfield.
Miami, Fla.: Michael Houston.
New Kent, Va.: Kelvin L. Paige.
Onarga, Ill.: Angela R. Johnson.
Orlando, Fla.: Tania Amada Rosa-Morris.
Richardson, Texas: Laurence Edward Ross.
Shawnee: Christopher M. Stone.
Stillwater: Stacia Adele Powers.
Sumter, S.C.: Andrew Murray Thompson.
West Hills, Calif.: Debra Ann Powers.
Wichita, Kan.: Towanda Kaye Herron.
Bachelor of Arts
Altus: Amber Garcia and Kenneth Allen Scarle.
Apache: Daniella Thompson.
Bayamon, Pr.: Marjorie Zoe Negron Munoz.
Cache: Charles Hough Jr., Kathleen E. Kelly and Brett Colby Stephens.
Cody, Wyo.: Emma May Stossel Cox.
Denison, Texas: Sarah Kristen Collins.
Denver: Jillian Kay Bassett.
Devol: Camilla Lochard.
Downey, Calif.: Anthony Garcia.
Duncan: Silvia Heredia and Lisa Snider.
Elaine, Ark.: Latonya Lachelle Melvin.
Elgin: Robert D. Green.
Grandfield: Joan B. Hagy.
Hancelville, Ala.: Michael R. Chandler.
Hollis: Zachary D. Finley.
Lake Stevens, Wash.: Christina A. Frye.
Lawton: Loren L. Bailey, Gail Elaine Castlebury, Celeste A. Corrente, Lionel Allen Dabbs, Holly Dale Dirickson, Regan J. Frizzelle, Joe C.
Howard Jr., Andrew Lavendusky, Alejandro Marrero, Cheryl L. Nevaquaya, Kanoelani A. Patterson, Paris C. Rodriguez, Brittany Ross, Jason
Andrew Shelley, Lauren Tamson Slate, Emiley Karin Smalley, Waylon Austin Stricklin, Carol Gean Torres, Meghann F. Wade, Ryan E. Weber,
Kai Rae Williams and Yalonda Cordat King Wright.
Loco: Amelia Celeste Minor.
Mandeville, La.: Gregory Paul Beben.
Mannford: Zachary Nathaniel Fort.
Marlow: Justin Ray Stuart.
Minco: Chad Kirkegard.
Republic Of Panama: Sharon I. Rivera.
Ridgeland, S.C.: Joe L. Harvey.
Saraggossa, Spain: Nicolas Imad Raad.
Stamps, Ark.: Doris Marie Shelton.
State Center, La.: Anthony M. Drella.
Sterling: James Robert Jones.
The Colony, Texas: Marcus Girtmon.
Bachelor of Accounting
Abidjan, Cote-d'Ivoire: Jean-Paul Atte.
Altus: Jonathan Taylor and Sherri Lynn Tockey.
Brooklyn, N.Y.: Debra Green.
Cache: Christopher G. Bishop and Matthew Gilland.
Duncan: Melissa R. Funk.
Elgin: Lillian M. Burrow.
Hobart: Keith Gray.
Indiahoma: Dominic Pawlowski.
Killeen, Texas: Nathalia Cecilia Moreno Valencia.
Lawton: Zoe Ann Berry, Sheryl L. Cramer, Stephen Michael Johnson, Courtney Dianne Kerr-Davis and Lisa K. Wolfe.
Natrona Heights, Pa.: Kathlene I. Moore.
Oak Ridge, Tenn.: Jodi Lynn West.
Mexico: Diana Jimenez.
Walters: Tammy M. Woods.
Bachelor of Business Administration
Altus: Todd Richard Witzlsteiner.
Buffalo, N.Y.: Patricia A. Jessie.
Chicago: Rory Brutus Brown.
Collinsville: Joshua D. Rakes.
Comanche: Heather Sladek.
Duncan: Krista Parker.
Frederick: Miranda Le'Ann Billy and Jenny Lynn Jackson.
Fort Belvoir, Va.: Michael Edward Richard.
Grayslake, Ill.: Isela Boehm.
Greenville, Miss.: Willie L. Peterson.
Killeen, Texas: Xiomarys Rodriguez-Garcia.
Lawton: Tara Collins, Brittany A. Cooksey, Jessica Cumbey, Fred T. Fox III, Daniel Winston Gilbert, Carrie E. Gillian, Cary Lynn C. Greenwall,
Angela Suzanne Landrum, Marianne Reeves, Jennifer Mary Sandel, Steven R. Shaner, Lottie Delores Sledge, Leo A. Turner II and Melissa
Ann Webber.
Marlow: Dustin B. Lorenzen.
Moline, Ill.: L. Kristine Biegert.
Ohio: Kori J. Cyr.
Pittsburgh: Matthew S. Finnie.
Republic Of Panama: Sharon I. Rivera.
Rush Springs: Christopher D. Long.
St. Thomas, Virgin Islands: Jeanniene C. Warner.
Tulsa: Bridget L. Smith.
Saint Lucia: Marie-Claire J. Michel, Sheldon Rogers, Karim Sifflet and Guillaume Simon.
Vietnam: Tu Van Nguyen.
Yokohama, Japan: Ayumi Hirai.
Bachelor of Fine Arts
Apache: Tsapaha Ambra Komardley.
Carrollton, Texas: Heidi Jo Sredensek.
Clinton, La.: Deborah Ann Ward.
Duncan: Tonya N. Allen Pagels and William Allen Taylor.
Frederick: Clint Tillman Reid.
Lawton: Megan Marple, Alex Joel Pena and Tammy Patricia Regan.
Surrey, British Columbia, Canada: Corey Gregory Stang.
Bachelor of Music
Altus: Karyn Lee Schafer.
Duncan: Andrea J. Dumas.
Temple: William Ralph Spannagel.
Bachelor of Science
Addis Ababa, Ethiopia: Ferida M. Abubeker.
Altus: Kathy E. Andersen, Kim Ann Marie Cates, Joanne Lee and Jonathan Taylor.
Alvin, Texas: Morgan L. Meyer.
Amarillo, Texas: Alicia Maiwald Wood.
Anadarko: Matthew A. Pulis.
Anchorage, Alaska: Shariah K. Gibbs.
Anderson, Ind.: Portia Danielle Nelson.
Apache: Megan Ann McCarron and Andi Jo Ferrell Smith.
Baton Rouge, La.: Joseph L. Batiste.
Baytown, Texas: Somalia Audon Biringanine.
Beaver Falls, Pa.: Jo Ellen Musguire.
Binger: Melinda Gail Farrow.
Brocton, N.Y.: Katrina Gayle King Garza.
Butler, Ala.: Cheryl R. Potts.
Cache: Shirley Ann Kaulaity, Briana G. O'Malley, Tracy Lynn Price, and Jonique Nicole Leigh Ricard.
Chandler: Leonard R. Presley.
Chattanooga: Steven Devon Campos, Adam Gretsinger, Jennifer Hicks and William Kenneth Walker III.
Chicago: Meikole Lynear Andrews Arrington.
Choctaw: Viann Upton Neal.
Clinton: Ginger Dalene Cormier.
Comanche: Kristin Cobbs, Kelly Dollarhite, Melinda C. Kinnaird, Virginia Ellen Lokey and Abigail Alisha Morrical-Wilson.
Conroe, Texas: Linda Fay Brown.
Cyril: Kenna Lynn Garrard and Emily Renee Pollard.
Detroit: Amber Nicole Smith.
Duncan: Elaine Suzanne Barber, Wendy Bohannan, Jonna Brown, Jill C. Cobb, Erin M. Pipkin, James M. Rankin, John Riddles, Kelly Von
Simms and Melia Renee Truelock.
Edmond: Richard Todd Robinson.
El Centro, Calif.: Bessie M. Conner Jones.
Elgin: John Vincent Deluca, Eddie M. Gorbett and Micah Alan Mattingly.
Erie, Pa.: Kimberly A. Crum.
Ethelsville, Ala.: Keily Delaine Carlson.
Fletcher: Shaun Clifford Strickland and Jesse Wayne Wilson.
Fort Sill: Cheri J. Gebhart.
Fort Cobb: Sean Edward Buchanan.
Geronimo: Harold M. Edwards and Jesse D. Nash.
Grandfield: Seth Hayden Branham.
Guymon: Jason Kerry Collins.
Hampton, Va.: Genevieve Bouvie Hughes.
Hollis: Eden Chase Thompson.
Honolulu: C. J. Nelson.
Houston: Justin Riley Miles.
Idaho Falls, Idaho: Michelle Anne Gallup.
Indianapolis: Angela S. Thompson.
Iowa Park, Texas: Shane Eugene Bagley.
Joliet, Ill.: Stephanie L. Casillas.
Kingsport, Tenn.: Gary Bruce Crumbley Jr.
Lagos, Nigeria: Sandra Olubunmi Pope.
Lawton: Nicole Marie Alexander, Rosalinda Andersen, Stephanie Louise Anderson-Dayus, Vanessa R. Baca, Don C. Becker, Donald L.
Blazer, Deann Bowden, Kevin Douglas Brady, Delois Marie Byrd, Johnie L. Cantrell Jr., Elizabeth Marie Cargile, Richell Chapman, Nicholas J.
Chelenza III, Tammie A. Clifton-Phanson, Anne Chappell Cutchin, Latoyka Danielle Dailey, Ladd Dickinson, Tara L. Dye, Barbara N. Earl,
Shannon R. Estes, Tyrone Orlando Finney, Erik R. Flood, James M. French, Tyrone Lydell Gipson, Adrian Lauren Gohl, Debra GordonWilliamson, Jeffrey L. Halye, Courtney Dawn Hill, Brian Keith Hobbs, Ballah Howard, Kristina D. Kilpatrick, Carlo A. Lamonica, Connie M.
Layton, Maury Ledesma, Krista Renee Lemley, Valarie Longhair, Patricia A. Lytle, Loretta McKelvey, Shean Robert McKnight, Latoria
McWilliams, Alexander Miller, Duane Arron Miller, David O. Monroe III, Nicole M. Mulligan, Frank Myers, Martha Christina Phillips, Tanya
Pilcher, Robert Scott Reece, John H. Remson Jr., Bethany Roberts, Ricardo A. Roman, Vanessa Sargent, Carrie Ann Scales, Misty C. Sissom,
Hope Michelle Smith, Leslie Smith, Ragina C. Smith, Megan T. Spray, Susan Lee Tetreault, Regina M. Thornton, Bonnie S. Towne,
Christopher Van, Joan Lesley Wallis-Gutierrez, Nathan Ware, Janice Marie Watkins and Michael A. Zeleniak.
Madrid, Spain: Rafael Enrique Zurita Aguado.
Marlow: Amber Rachelle Sessums.
Marshall, Texas: Ketrina Lewis.
Mesquite, Texas: Justin Bradley Harris.
Midlothian, Texas: Carolyn Renee Russell.
Mobile, Ala.: Valerie Toodle.
Montgomery, Ala.: Melissa A. Bates.
Muskogee: Sylvia Henry-Miller.
Napier, New Zealand: Arthur Trousdell.
New Orleans: James Erwin Jones.
New York City: Derron Maxwell.
Oklahoma City: Charles Adrian Avery, Casey D. Reser, Judith M. Sheehan and David K. Steiner.
Omaha, Neb.: Clinton L. Hopkins.
Oxnard, Calif.: Adriana R. Chiquito.
Paramaribo, Suriname: Norma Carolina Vera-Vera.
Philadelphia: Dominique Lydell Mitchell.
Pine Grove, Pa.: John F. Hlavaty.
Ridgeland, S.C.: Joe L. Harvey.
Saint Stephens, S.C.: Jason Scurry.
San Diego: Tamara Jayne Knaust.
Saraggossa, Spain: Nicolas Imad Raad.
Snyder: Kaci Laureen Michael.
Spring Valley, N.Y.: Vincent L. Moscatello Jr.
Sterling: Luke Ray Kuhlman, Brenna G. Kuntz and Ashley Dawn Sullivan.
Stuttgart, Germany: Jason M. Duncan.
Temple: Bobby Charles Warren.
Tipton: Charles E. Roberts.
New York: Sherly Estevez-Dejesus.
Velma: Kristi Dawn Williams.
Walters: Trina Glenn and Crystal Lynne Keys.
Wichita Falls: Glenn Carlton Tupper.
Master of Arts
Lawton: Stephanie Renee Ballou, Morgan Mae Laughlin, Madonna Mae Stark and Kenisha B. Williams-Turner.
Ohio: Jessica Loring Lambert Graham.
Walters: Domingo Samuel Pequeno.
Master of Business Administration
Elgin: Jennifer L. Motes.
Laramie, Wyo.: Jodi M. Standish.
Port Arthur, Texas: Najla Muhammad Jannah.
St. George's Grenada: Clint Nicholas Burton Horsford and Jennifer R. Viechweg-Horsford.
Stuart, Va.: Jackie Setliff Pfuntner.
Tecumseh: Aaron D. Morris.
Master of Education
Altus: Dolores Ann Cameron.
Elgin: Dusty Rene Strange.
Fayetteville, N.C.: April Davis Railey.
Lawton: Diana Lynne Garnett, Marty L. Gwin and Brenda E. Morton.
Master of Science
Clovis, N.M.: Johnnie O. Judah.
Duncan: Dewey Michael Ivey and Debra Ann Lyons.
Frederick: Joseph Kevin Stropes.
Jacksboro, Texas: James Edward Morris Jr.
Lawton: Kimberly Champion Conklan, Belinda Teressa Culley, Teresa Marie Donahue, M. Lorenzo Heller, Christal M. Stevenson and Kimberly
J. Stormer.
Marlow: Carol Alane Phipps.
– 30 –
PR#06-115
Editors and Broadcasters: For details, contact CU Government & Community Relations at 580.581.2211.