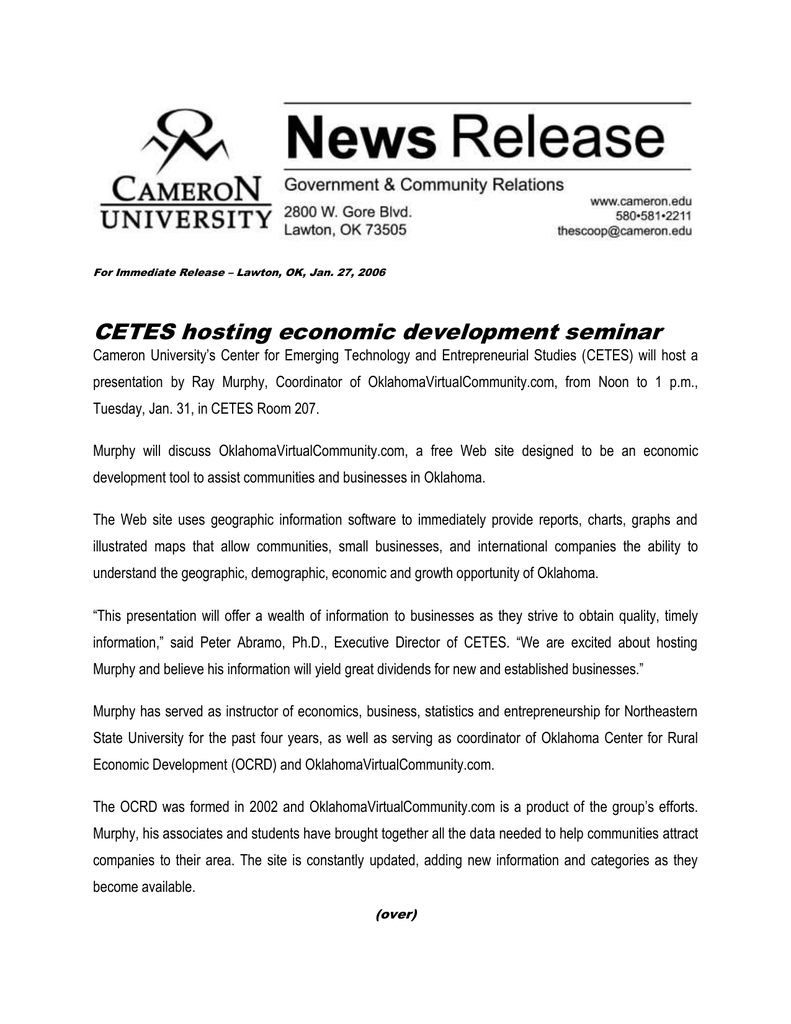 For Immediate Release – Lawton, OK, Jan. 27, 2006
CETES hosting economic development seminar
Cameron University's Center for Emerging Technology and Entrepreneurial Studies (CETES) will host a
presentation by Ray Murphy, Coordinator of OklahomaVirtualCommunity.com, from Noon to 1 p.m.,
Tuesday, Jan. 31, in CETES Room 207.
Murphy will discuss OklahomaVirtualCommunity.com, a free Web site designed to be an economic
development tool to assist communities and businesses in Oklahoma.
The Web site uses geographic information software to immediately provide reports, charts, graphs and
illustrated maps that allow communities, small businesses, and international companies the ability to
understand the geographic, demographic, economic and growth opportunity of Oklahoma.
"This presentation will offer a wealth of information to businesses as they strive to obtain quality, timely
information," said Peter Abramo, Ph.D., Executive Director of CETES. "We are excited about hosting
Murphy and believe his information will yield great dividends for new and established businesses."
Murphy has served as instructor of economics, business, statistics and entrepreneurship for Northeastern
State University for the past four years, as well as serving as coordinator of Oklahoma Center for Rural
Economic Development (OCRD) and OklahomaVirtualCommunity.com.
The OCRD was formed in 2002 and OklahomaVirtualCommunity.com is a product of the group's efforts.
Murphy, his associates and students have brought together all the data needed to help communities attract
companies to their area. The site is constantly updated, adding new information and categories as they
become available.
(over)
Murphy, ADD ONE
"When a company contacts a city, chamber of commerce or economic development group about the
possibility of relocating to their city, our Web site can help provide all the pertinent information quickly, and
free of charge," Murphy said.
Murphy has worked for more than 20 years developing information data systems for corporate marketing
and product development for such companies as McDonald's Corporation, Harley-Davidson and Goodman
Motorcycles, Ltd.
He has worked with Tulsa-based MPSI Systems, Inc. for 15 years serving as vice present of the company's
restaurant division and product development. In 1991 he co-founded Dakota Marketing Inc. in Minneapolis.
The marketing company helped to develop McDonald's geographic information system, Quintillion, and
market the system worldwide. Murphy's career spans nearly 30 years of experience in developing
electronic information data systems for use in corporate identification, marketing and product development.
For additional information about OCRD, call 918.458.9687 or email [email protected]
or [email protected] To make reservations for the seminar please call 580.581.5447 or email Tracy
Davis at [email protected]
– 30 –
PR# 06-012
Editors and Broadcasters: For more information, contact CU Government & Community Relations at
580.581.2211.