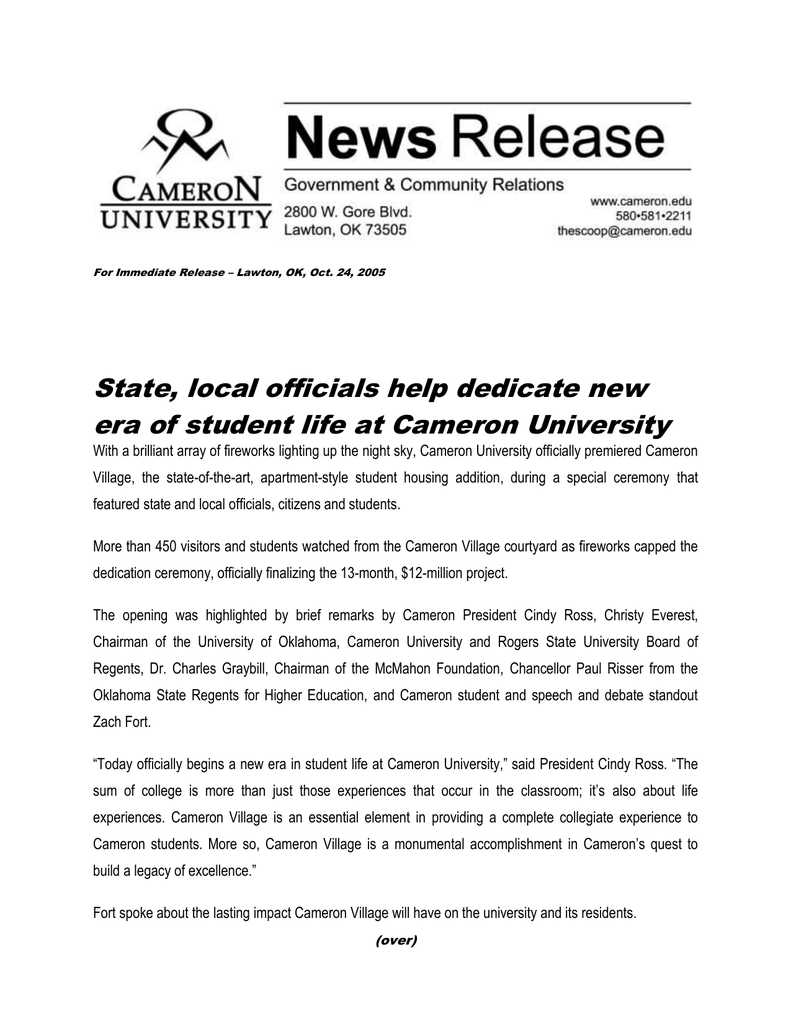 For Immediate Release – Lawton, OK, Oct. 24, 2005
State, local officials help dedicate new
era of student life at Cameron University
With a brilliant array of fireworks lighting up the night sky, Cameron University officially premiered Cameron
Village, the state-of-the-art, apartment-style student housing addition, during a special ceremony that
featured state and local officials, citizens and students.
More than 450 visitors and students watched from the Cameron Village courtyard as fireworks capped the
dedication ceremony, officially finalizing the 13-month, $12-million project.
The opening was highlighted by brief remarks by Cameron President Cindy Ross, Christy Everest,
Chairman of the University of Oklahoma, Cameron University and Rogers State University Board of
Regents, Dr. Charles Graybill, Chairman of the McMahon Foundation, Chancellor Paul Risser from the
Oklahoma State Regents for Higher Education, and Cameron student and speech and debate standout
Zach Fort.
"Today officially begins a new era in student life at Cameron University," said President Cindy Ross. "The
sum of college is more than just those experiences that occur in the classroom; it's also about life
experiences. Cameron Village is an essential element in providing a complete collegiate experience to
Cameron students. More so, Cameron Village is a monumental accomplishment in Cameron's quest to
build a legacy of excellence."
Fort spoke about the lasting impact Cameron Village will have on the university and its residents.
(over)
Cameron Village Premiere, ADD ONE
"Research has shown that Individuals who live on campus experience more academic success and are
better equipped to achieve their college and career goals," said Fort, a national debate champion and
Residents Advisor at Cameron Village. "Additionally, on-campus living gives students the opportunity to
become more involved in campus life and organizations. Students becoming more involved in activities
outside the classroom will continually cultivate the kind of positive social environment that is crucial in
producing well-rounded graduates who will leave Cameron equipped, not only with the knowledge of their
discipline, but also the necessary social and leadership skills that are vital to success."
The dedication ceremony was followed by a community reception in the McMahon Center great room and
pizza and a movie under the stars for CU students in the Cameron Village courtyard.
This 9,000-square-foot McMahon Center sits west of Cameron Village's main residential buildings on
University Drive. The center's great room is a special commons area for Village residents complete with
big-screen television, a pool table, game center and a fire place. The McMahon Center also houses a
seminar room, a computer lab, a classroom and library, as well as a faculty-in-residence apartment.
The McMahon Center is quickly becoming the social and educational hub on campus.
"The McMahon Center is such a bonus to living in Cameron Village," said Jenny Jackson, senior business
administration management major from Fredrick, who lives in Cameron Village. "Not only does the
McMahon Center meet our educational needs by providing an around-the-clock computer lab and library,
but it ties the Village community together."
The McMahon Center was made possible by $1.25 million gift from the McMahon Foundation in March
2004. The gift is the largest cash donation in the university's 97-year history and is the focal point of the
Cameron Village project.
"The McMahon Center is what sets Cameron Village apart from other student housing," Ross said. "The
facility's innovative design provides a venue that meets both the educational and social needs of our
students. The McMahon Center truly makes Cameron Village a one-of-a-kind living, learning complex."
(more)
Cameron Village Premiere, ADD TWO
Since construction began in September 2004, Cameron University students, faculty and staff have watched
a bare field at the south end of CU's main campus in Lawton grow into Cameron Village.
The Village features six residential buildings of two- and four-bedroom apartments, totaling 72 units for 240
occupants. The facility provides Cameron with apartment-style living for the first time in the university's
history.
Cameron Village is a gated facility requiring key-card access to enter the grounds, as well as key-card
access for each apartment and individual locks for each room within the apartment.
"Part of the reason I chose to live in Cameron Village was because of how safe it is," said Marisa Brantley,
a freshman resident of the Village. "Plus I love living right on campus and being involved in all of the
campus activities. I have made so many new friends and I have had so many wonderful experiences since
moving in this fall."
Every apartment consists of a fully-furnished kitchen and living room. Residents have their own bedroom
and share a bathroom with only one other student. The courtyard formed by the residential buildings and
the McMahon Center is also fully functional and features an outdoor fire place, an arbor and a beach
volleyball pit.
Cameron Village residents moved into their apartments this Fall, and currently the facility has more than a
90-percent occupancy rate, far surpassing the average rate for first-year housing additions.
– 30 –
PR# 05-245
Editors and Broadcasters: For more information, contact CU Government & Community Relations at
580.581.2211.