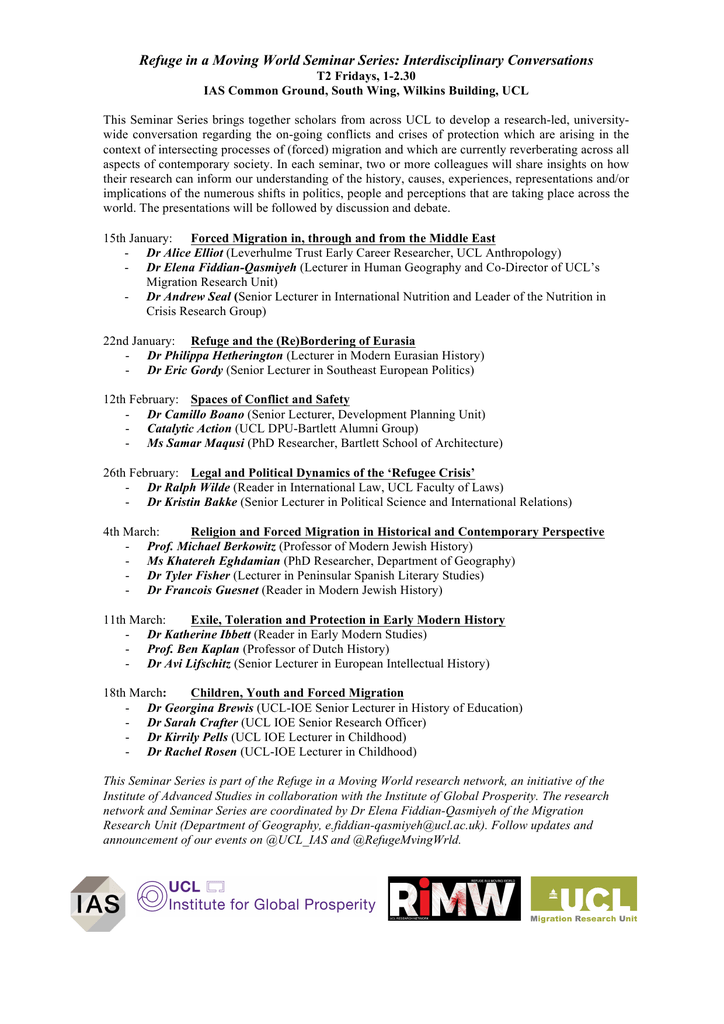 Refuge in a Moving World Seminar Series: Interdisciplinary Conversations
T2 Fridays, 1-2.30
IAS Common Ground, South Wing, Wilkins Building, UCL
This Seminar Series brings together scholars from across UCL to develop a research-led, universitywide conversation regarding the on-going conflicts and crises of protection which are arising in the
context of intersecting processes of (forced) migration and which are currently reverberating across all
aspects of contemporary society. In each seminar, two or more colleagues will share insights on how
their research can inform our understanding of the history, causes, experiences, representations and/or
implications of the numerous shifts in politics, people and perceptions that are taking place across the
world. The presentations will be followed by discussion and debate.
15th January: Forced Migration in, through and from the Middle East
- Dr Alice Elliot (Leverhulme Trust Early Career Researcher, UCL Anthropology)
- Dr Elena Fiddian-Qasmiyeh (Lecturer in Human Geography and Co-Director of UCL's
Migration Research Unit)
- Dr Andrew Seal (Senior Lecturer in International Nutrition and Leader of the Nutrition in
Crisis Research Group)
22nd January: Refuge and the (Re)Bordering of Eurasia
- Dr Philippa Hetherington (Lecturer in Modern Eurasian History)
- Dr Eric Gordy (Senior Lecturer in Southeast European Politics)
12th February: Spaces of Conflict and Safety
- Dr Camillo Boano (Senior Lecturer, Development Planning Unit)
- Catalytic Action (UCL DPU-Bartlett Alumni Group)
- Ms Samar Maqusi (PhD Researcher, Bartlett School of Architecture)
26th February: Legal and Political Dynamics of the 'Refugee Crisis'
- Dr Ralph Wilde (Reader in International Law, UCL Faculty of Laws)
- Dr Kristin Bakke (Senior Lecturer in Political Science and International Relations)
4th March:
Religion and Forced Migration in Historical and Contemporary Perspective
- Prof. Michael Berkowitz (Professor of Modern Jewish History)
- Ms Khatereh Eghdamian (PhD Researcher, Department of Geography)
- Dr Tyler Fisher (Lecturer in Peninsular Spanish Literary Studies)
- Dr Francois Guesnet (Reader in Modern Jewish History)
11th March:
Exile, Toleration and Protection in Early Modern History
- Dr Katherine Ibbett (Reader in Early Modern Studies)
- Prof. Ben Kaplan (Professor of Dutch History)
- Dr Avi Lifschitz (Senior Lecturer in European Intellectual History)
18th March:
Children, Youth and Forced Migration
- Dr Georgina Brewis (UCL-IOE Senior Lecturer in History of Education)
- Dr Sarah Crafter (UCL IOE Senior Research Officer)
- Dr Kirrily Pells (UCL IOE Lecturer in Childhood)
- Dr Rachel Rosen (UCL-IOE Lecturer in Childhood)
This Seminar Series is part of the Refuge in a Moving World research network, an initiative of the
Institute of Advanced Studies in collaboration with the Institute of Global Prosperity. The research
network and Seminar Series are coordinated by Dr Elena Fiddian-Qasmiyeh of the Migration
Research Unit (Department of Geography, [email protected]). Follow updates and
announcement of our events on @UCL_IAS and @RefugeMvingWrld.