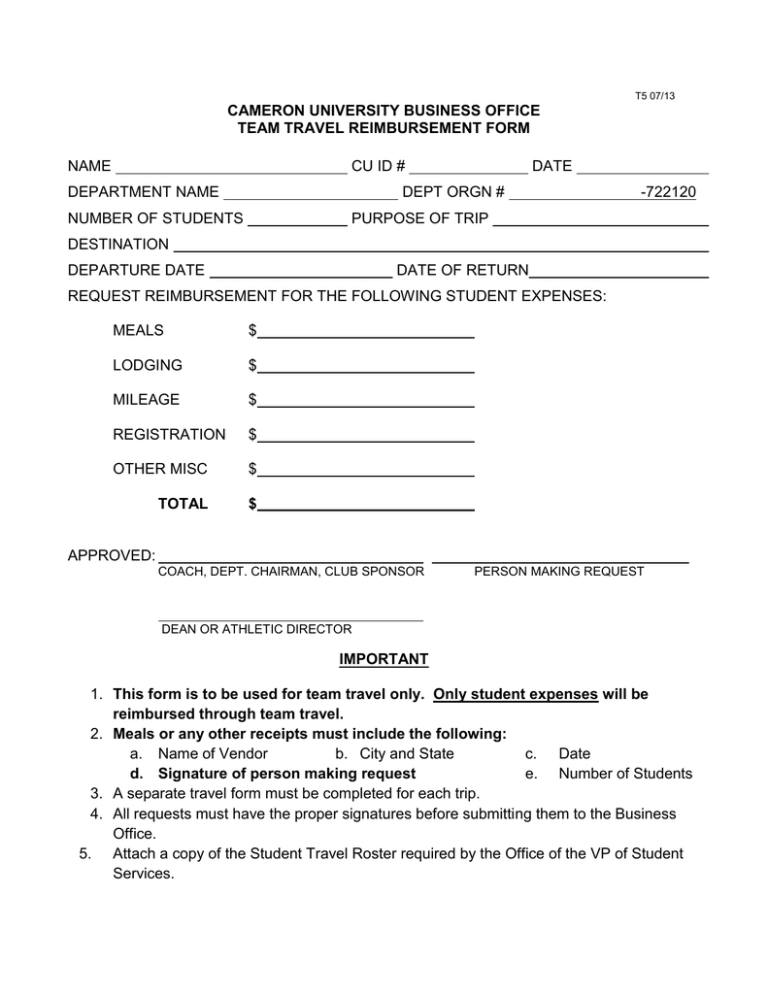 T5 07/13
CAMERON UNIVERSITY BUSINESS OFFICE
TEAM TRAVEL REIMBURSEMENT FORM
NAME
CU ID #
DEPARTMENT NAME
DATE
DEPT ORGN #
NUMBER OF STUDENTS
-722120
PURPOSE OF TRIP
DESTINATION
DEPARTURE DATE
DATE OF RETURN
REQUEST REIMBURSEMENT FOR THE FOLLOWING STUDENT EXPENSES:
MEALS
$
LODGING
$
MILEAGE
$
REGISTRATION
$
OTHER MISC
$
TOTAL
$
APPROVED:
COACH, DEPT. CHAIRMAN, CLUB SPONSOR
PERSON MAKING REQUEST
DEAN OR ATHLETIC DIRECTOR
IMPORTANT
1. This form is to be used for team travel only. Only student expenses will be
reimbursed through team travel.
2. Meals or any other receipts must include the following:
a. Name of Vendor
b. City and State
c. Date
d. Signature of person making request
e. Number of Students
3. A separate travel form must be completed for each trip.
4. All requests must have the proper signatures before submitting them to the Business
Office.
5. Attach a copy of the Student Travel Roster required by the Office of the VP of Student
Services.