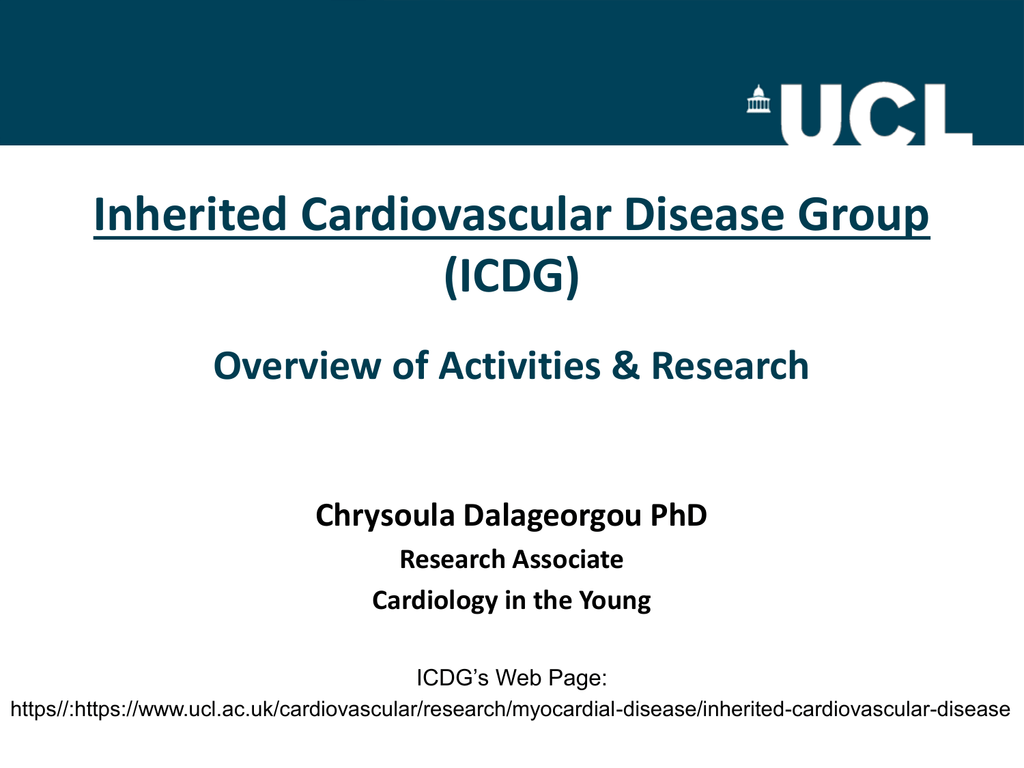 Inherited Cardiovascular Disease Group
(ICDG)
Overview of Activities & Research
Chrysoula Dalageorgou PhD
Research Associate
Cardiology in the Young
ICDG's Web Page:
https//:https://www.ucl.ac.uk/cardiovascular/research/myocardial-disease/inherited-cardiovascular-disease
Cardiac Centre
Barts
Diagnosis and management of inherited
arrhythmic and heart failure syndromes.
Team:
Prof. Perry M. Elliott
Prof. William J. McKenna
Prof. Pier Lambiase
Dr Antonios Pantazis
Cardiology Fellows
GOSH - UCLH Cardiology Clinics
ICDG Genetics Laboratory
UCL, Paul O'Gorman Building
Genetic investigations of patients with
cardiomyopathy and arrhythmia syndromes.
Team:
Dr Petros Syrris
Dr Chrysoula Dalageorgou
Dr Marta Futema
Miss Charlotte Hall
Dr Srijita Sen-Chowdhry
Research Topics
• Phenotype-genotype associations in ICD
• Clinical trials of new drugs and devices in ICD
• Genetic screening of cardiomyopathy and arrhythmia syndrome patients
• Identification of novel variants and genes in ICD
• Functional studies of identified variants in vitro
• Funding by:
UCL Hospitals
Biomedical Research
Centre
Laboratory Methodology
• Automated Sanger Sequencing using ABI3130xl
• Next Generation Sequencing (NGS) (targeted, whole exome
and whole genome) using HiSeq3000 and NextGen500
• Bioinformatics analysis of NGS data
• Functional work on bacterial and mammalian cell lines
• Histology, immunohistochemistry and electron microscopy
Thank you for listening!