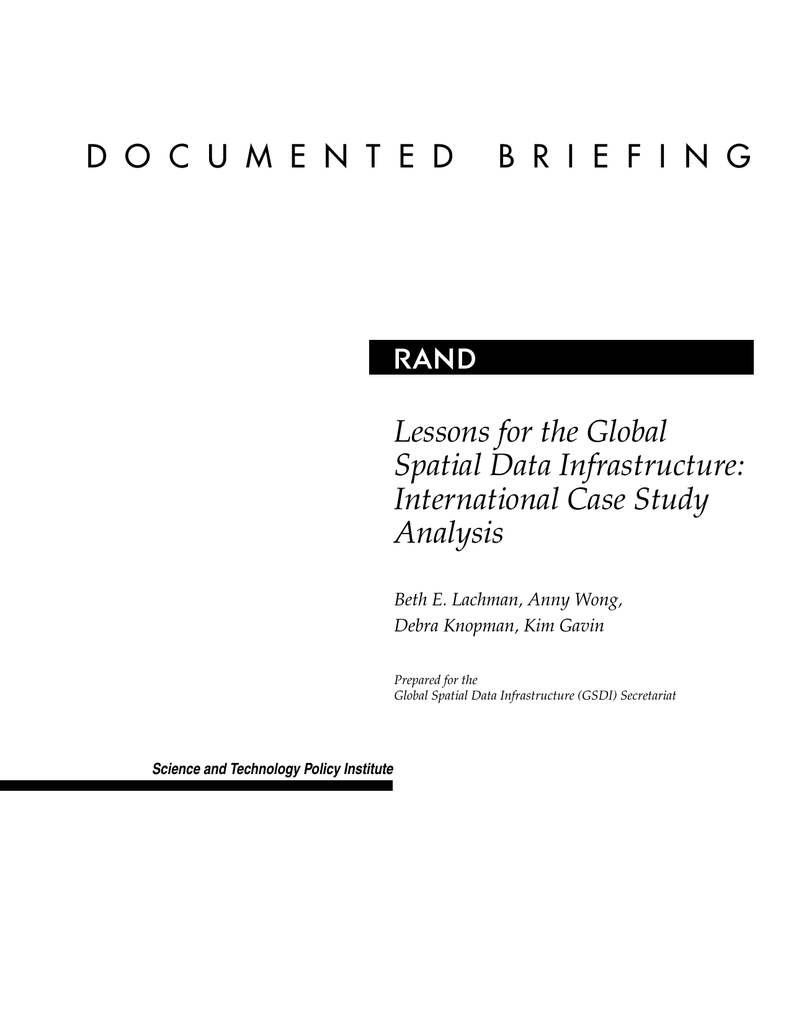 D O C U M E N T E D
B R I E F I N G
R
Lessons for the Global
Spatial Data Infrastructure:
International Case Study
Analysis
Beth E. Lachman, Anny Wong,
Debra Knopman, Kim Gavin
Prepared for the
Global Spatial Data Infrastructure (GSDI) Secretariat
Science and Technology Policy Institute
The research described in this report was conducted by RAND's Science and
Technology Policy Institute for the United States Geological Survey under Contract
ENG-9812731.
ISBN: 0-8330-3141-4
The RAND documented briefing series is a mechanism for timely, easy-to-read
reporting of research that has been briefed to the client and possibly to other
audiences. Although documented briefings have been formally reviewed, they are not
expected to be comprehensive or definitive. In many cases, they represent interim
work.
RAND is a nonprofit institution that helps improve policy and decisionmaking
through research and analysis. RAND ® is a registered trademark. RAND's
publications do not necessarily reflect the opinions or policies of its research sponsors.
© Copyright 2002 RAND
All rights reserved. No part of this book may be reproduced in any form by any
electronic or mechanical means (including photocopying, recording, or information
storage and retrieval) without permission in writing from RAND.
Published 2002 by RAND
1700 Main Street, P.O. Box 2138, Santa Monica, CA 90407-2138
1200 South Hayes Street, Arlington, VA 22202-5050
201 North Craig Street, Suite 102, Pittsburgh, PA 15213
RAND URL: http://www.rand.org/
To order RAND documents or to obtain additional information, contact Distribution
Services: Telephone: (310) 451-7002; Fax: (310) 451-6915; Email: [email protected]
iii
Preface
This report presents a RAND analysis of international collaboration for the
Global Spatial Data Infrastructure (GSDI). Ten in-depth international and
regional collaboration case studies were conducted to assess lessons learned for
GSDI development and implementation. This report can provide useful
information to the GSDI and regional Spatial Data Infrastructure (SDI)
organizations. It should also be of interest to national governments, nongovernmental organizations, researchers, and others who are interested in
international collaboration, geospatial data sharing, and geospatial technologies.
The White House Office of Science and Technology Policy (OSTP), the Federal
Geographic Data Committee, and the Global Spatial Data Infrastructure
Secretariat asked RAND to conduct this analysis because of the importance of
understanding evolving geospatial data-sharing activities. Funding for this
study was originally provided by the Federal Geographic Data Committee, with
additional support provided by the Geographical Survey Institute of Japan so
that additional case studies could be conducted. This research was conducted by
RAND's Science and Technology Policy Institute.
Originally created by Congress in 1991 as the Critical Technologies Institute and
renamed in 1998, the Science and Technology Policy Institute is a U.S. federally
funded research and development center sponsored by the National Science
Foundation and managed by RAND, a non-profit organization dedicated to
policy analysis and research in the public interest. The Institute's mission is to
help improve public policy by conducting objective, independent research and
analysis on policy issues that involve science and technology.