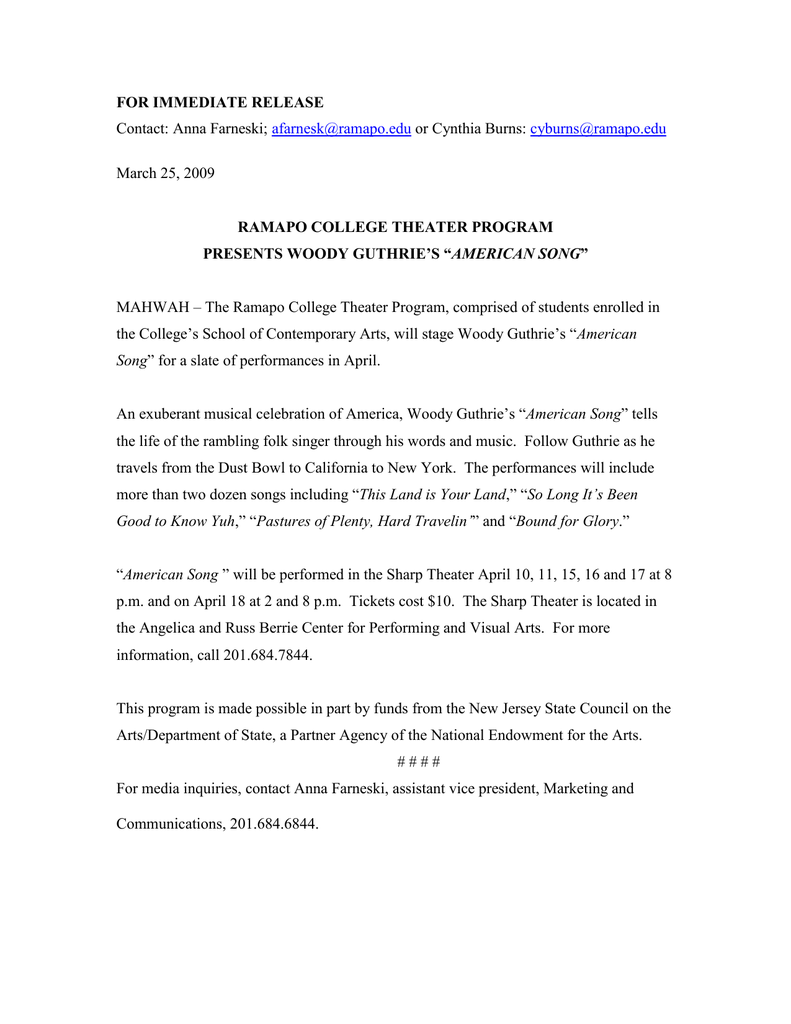 FOR IMMEDIATE RELEASE
Contact: Anna Farneski; [email protected] or Cynthia Burns: [email protected]
March 25, 2009
RAMAPO COLLEGE THEATER PROGRAM
PRESENTS WOODY GUTHRIE'S "AMERICAN SONG"
MAHWAH – The Ramapo College Theater Program, comprised of students enrolled in
the College's School of Contemporary Arts, will stage Woody Guthrie's "American
Song" for a slate of performances in April.
An exuberant musical celebration of America, Woody Guthrie's "American Song" tells
the life of the rambling folk singer through his words and music. Follow Guthrie as he
travels from the Dust Bowl to California to New York. The performances will include
more than two dozen songs including "This Land is Your Land," "So Long It's Been
Good to Know Yuh," "Pastures of Plenty, Hard Travelin'" and "Bound for Glory."
"American Song " will be performed in the Sharp Theater April 10, 11, 15, 16 and 17 at 8
p.m. and on April 18 at 2 and 8 p.m. Tickets cost $10. The Sharp Theater is located in
the Angelica and Russ Berrie Center for Performing and Visual Arts. For more
information, call 201.684.7844.
This program is made possible in part by funds from the New Jersey State Council on the
Arts/Department of State, a Partner Agency of the National Endowment for the Arts.
####
For media inquiries, contact Anna Farneski, assistant vice president, Marketing and
Communications, 201.684.6844.