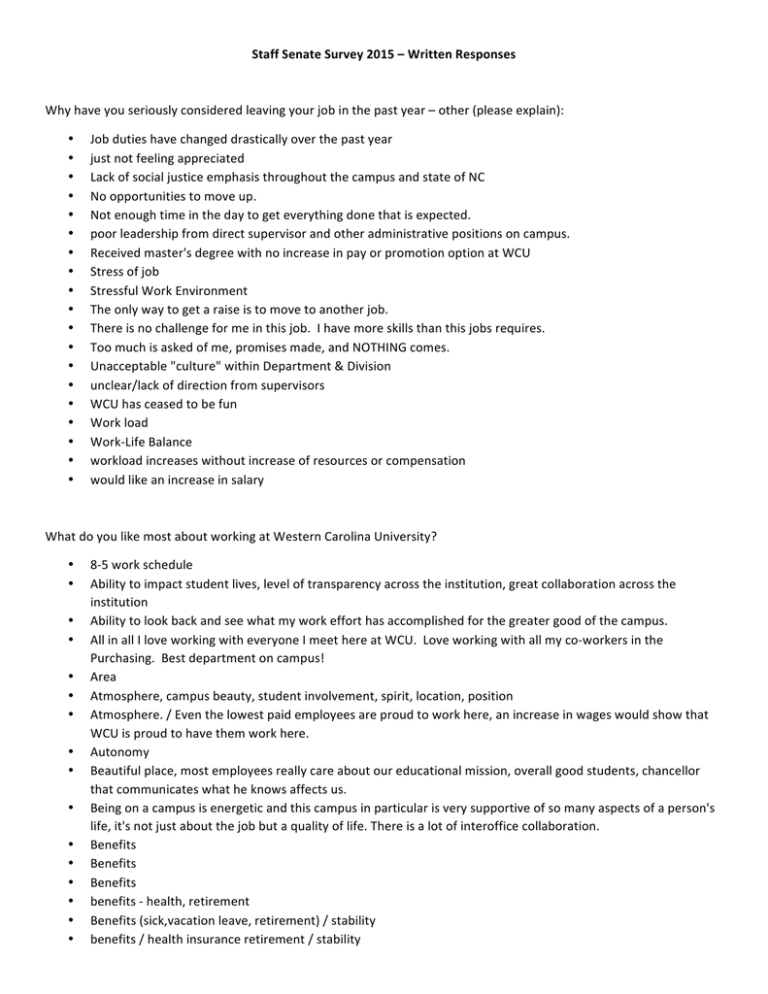 Staff Senate Survey 2015 – Written Responses Why have you seriously considered leaving your job in the past year – other (please explain): •
•
•
•
•
•
•
•
•
•
•
•
•
•
•
•
•
•
•
Job duties have changed drastically over the past year just not feeling appreciated Lack of social justice emphasis throughout the campus and state of NC No opportunities to move up. Not enough time in the day to get everything done that is expected. poor leadership from direct supervisor and other administrative positions on campus. Received master's degree with no increase in pay or promotion option at WCU Stress of job Stressful Work Environment The only way to get a raise is to move to another job. There is no challenge for me in this job. I have more skills than this jobs requires. Too much is asked of me, promises made, and NOTHING comes. Unacceptable "culture" within Department & Division unclear/lack of direction from supervisors WCU has ceased to be fun Work load Work-­‐Life Balance workload increases without increase of resources or compensation would like an increase in salary What do you like most about working at Western Carolina University? •
•
•
•
•
•
•
•
•
•
•
•
•
•
•
•
8-­‐5 work schedule Ability to impact student lives, level of transparency across the institution, great collaboration across the institution Ability to look back and see what my work effort has accomplished for the greater good of the campus. All in all I love working with everyone I meet here at WCU. Love working with all my co-­‐workers in the Purchasing. Best department on campus! Area Atmosphere, campus beauty, student involvement, spirit, location, position Atmosphere. / Even the lowest paid employees are proud to work here, an increase in wages would show that WCU is proud to have them work here. Autonomy Beautiful place, most employees really care about our educational mission, overall good students, chancellor that communicates what he knows affects us. Being on a campus is energetic and this campus in particular is very supportive of so many aspects of a person's life, it's not just about the job but a quality of life. There is a lot of interoffice collaboration. Benefits Benefits Benefits benefits -­‐ health, retirement Benefits (sick,vacation leave, retirement) / stability benefits / health insurance retirement / stability •
•
•
•
•
•
•
•
•
•
•
•
•
•
•
•
•
•
•
•
•
•
•
•
•
•
•
•
•
•
•
•
•
•
•
•
•
•
benefits and flexibility CLOSE TO HOME, MONEY, AND WORK ENVIROMENT IS WONDERFUL. Close to home. Co-­‐workers easy to get along with. Colleagues collegial nature of work environment (both within my department as well as across the university) / campus size/population (not too big, not too small) / opportunities to meet and connect w/ staff in other departments / opportunities for cross-­‐department collaboration Commitment to serving the region Community Community feeling. Compassion and closeness of team co-­‐workers and other staff and students Coworkers work ethic Coworkers, supervisors, mountains dynamic leadership, working with students, feeling that my work is making a difference Easygoging atmopsphere and helpful people Employee's are proud to work here, quality education, resources available Environment, people, activities, interaction with others, challenge to improve processes. Even though Staff work in different departments all over campus, we are like one big family. everyone seems to work as a team, I was hired May 1 and everyone in my department has been very helpful to me. faculty and staff are great to work with. Family atmosphere Family feeling, positive work environment Feeling of belonging to a community that shares the same purpose and location. Flexible scheduling...come in early...leave early. Great community and awesome locations. great culture, beautiful campus, friendly and professional staff faculty and students Great people to work with and a great place to work. People care about each other at WCU and they especially care about the students. We have a great Chancellor and Provost! Having benefits; hours I am new to WCU and the area, however I have been made to feel at home and part of the WCU family.....for the most part. i am proud to work here I am very impressed with the friendliness and helpfulness of almost everyone I have met here. And of course the natural beauty of the surroundings is a huge benefit. I do appreciate having benefits and a retirement. I enjoy being in a college enviroment with a wide variety of students. It is nice to work for a school that continues to grow physically and organizationally. I work with great people who I can consider friends due to their continual support and understanding. I enjoy the coworkers in my unit, the students I work with and the overall feel of the department. I enjoy the people at western and the atmosphere. Things are just slower paced and stress levels are low. I enjoy working directly with students in helping them achieve their career goals and identifying their career paths. I also enjoy working with them on professional development and seeing them grow professionally as a direct result. I enjoy working with people so WCU is a great place for me. I feel valued as an employee I get to do different things from day to day. Not just doing one thing all the time. •
•
•
•
•
•
•
•
•
•
•
•
•
•
•
•
•
•
•
•
•
•
•
•
•
•
•
•
•
•
•
I greatly enjoy working with the students, and most of the faculty & staff are also wonderful. The university is also starting to take advantage of the fact that it's in a great area, with amazing access to the outdoors. I have enjoyed the people with whom I work. Faculty and other staff are lovely and helpful. Location is also very pleasant. I have had a great experience with the staff on campus. While there is an overwhelming insensitivity to political hot topics at times, overall the people working at WCU are good people and good to work with. I have some very supportive coworkers and friends. I like being a part of the higher ed culture, where I have opportunities both at work and outside of work (games, concerts, etc.) to connect with other WCU folks. / I also like that Western is working to be a resource and a partner for our community, and I like being involved with with this effort. I like being part of the big machine to educate students for the future. I like the area, the family atmosphere for the most part, and the size. I like the atmosphere and appreciate the funding being more stable than at other state agencies I like the community feel and the support within my department. Other departments across campus are also great and supportive. I like the family feel of my team best. I like the people in my department. I like the people, Western has always had a good diverse of locals and out of town people who has brought in many ideas to the area. I like working in a dynamic college environment. I like having access to the library and fitness center. I feel like I'm part of a sub-­‐community within Sylva/Cullowhee/Jackson County. I like having the opportunity to attend plays, musical performances, and other shows here on campus. And the natural beauty of the area makes this such a nice place to work. I love a lot of the people that work at WCU. I love our campus and think it is beautiful. I love being part of a college community and assisting the students in any way I can. I love my co-­‐workers. We are very supportive of each other. I LOVE my department head and our professors-­‐-­‐they are the best! I adore my co-­‐workers! I love my department. I love my job, my colleagues are great people to work with. The location is beautiful although a little remote. I love my the nature of my job and work with wonder people in the department and my supervisor is one of the best. I love supporting the students! Overall I enjoy my coworkers with a few exceptions. I love the community atmosphere at the university. It feels like we are all pulling toward the same overall goal. I love the energy on campus following Dr. Belcher's lead. Lots of exciting things happening at WCU that makes it fun to be part of that movement. I love the relationships between co-­‐workers interdepartmentally, and the team work that we possess. I love the students and the way everyone is very student-­‐focused I love the University as a whole. I am proud to work for this institution. I believe that the teachers and staff truly value the students here and really want them to succeed in life. I love the variety of interactions and information that is available to me, the freedom of expression that exists in an educational setting, the tuition waiver that has allowed me to pursue another degree I love the work environment I love working at WCU and have done so for the past 24 years. The retirement package is an incredible incentive to work at WCU. I also love the work environment and being able to enjoy the diverse culture WCU provides. I think that there is a true and genuine commitment to students. I think that, for the most part, staff at WCU genuinely want to do good work and want to be helpful to others. It truly feels like a positive working community. •
•
•
•
•
•
•
•
•
•
•
•
•
•
•
•
•
•
•
•
•
•
•
•
•
•
•
•
•
•
•
•
•
•
I think we have in general a great community. I have sown some great friendships and feel that I have been a part of something important in shaping young lives. It's a great place to be. I truly enjoy finding purpose in my work. I value working in an industry which seeks to improve life for others, and with a supervisor that holds these values as well-­‐-­‐ not just for students but for his employees. I am thankful for the professional development I've been afforded and look forward to continuing to grow my skills. I value helping young people during this phase of their lives. I was hired full time with benefits after proving my abilities working part time with no benefits. In my current position, I find it very satisfying being able to connect and help other people. The position I came from I didn't feel appreciated or valued as a member of the campus community. The new position allows me to grow professionally as well as personally. Meeting and establishing relationships with others within the WCU community is wonderful as well. In the big picture, it's a great place to work. Good people to work around and there are ways to input your opinion. it has been a congenial environment due to a smallish institution. that is changing however. / It is a very secure job with great benefits. It allows me to be able to live in the mountains of Western NC. It is a very welcoming environment. WCU employees seem to have a strong sense of pride and really care about the well-­‐being of our students. It is close to home, very supportive department and college It is my alma matter. I live very close. It is a beautiful campus. It is convenient and rewarding. It's a nice campus. I hope Chancellor Belcher and Provost Morrison-­‐Shetler choose to stay for a long time. Good leadership is key. Its a warm, inclusive environment, great place to work Knowing that I have the opportunity to make the student experience better Leadership that values shared governance Learning new things Like working with and around the students. Location and Base Camp Cullowhee Love the people and coworkers. Most departments/units work well together. Most people feel like "family" and treat each other as such. My colleagues. A friendly environment. My College My co-­‐workers and supervisor My co-­‐workers and the people I interact with in my job. My co-­‐workers and the students. My coworkers! My department feels like a family. We all feel like we're accomplishing something worthwhile and not simply doing a job. My department is very supportive and my Department Head is fair and compassionate. My department. Helping students succeed. My position is heavily direct service student centered, I enjoy the students here -­‐ even when I am encountering difficult moments with them. I also like the direction that Western is working towards in terms of the 2020 plan with regard to retention, resources, and diversity. My supervisor -­‐ I am dedicated to her and she is a wonderful person. My supervisor and co-­‐workers and the autonomy to do my job. Our internal community; I love the family atmosphere promoted at WCU; can-­‐do attitude of many who work at WCU; our quality educational programs; our commitment to community engagement which validates our value-­‐
added proposition to the public. •
•
•
•
•
•
•
•
•
•
•
•
•
•
•
•
•
•
•
•
•
•
•
•
•
•
•
•
•
•
•
•
•
•
•
Our pride and overall support for students. Overall culture and the environment of an institution of higher ed Overall supportive environment Overall, I am happy with the people I work with and how welcomed they were to me when I first started. / Everyone has been very accommodating when I need to take off time for military reasons. / I LOVE that I can work on my degree while being an employee. This is a HUGE plus for me in working at WCU. People focused on student success Positive working relationships across departments Relaxed work environment Resources to keep me here on campus like the tuition waiver program. The work environment is also a plus. Respect for the job I do. / Community involvement. / Rural location Sense of community, ability to make a difference Sense of family. Sense of pride in working for a really good university, sense of community, received generous leave donation one time under Voluntary Shared leave plan. Stability, consistent hours, state benefits State Benefit package Strong collaboration with other offices and departments on campus, a supportive environment among other colleagues, strong focus on students structure, working with college student population Students comment positively about their experience at WCU. / The growth of university in the last few years. / Beautiful setting. Most people are friendly and caring. telecommuting The atmosphere and the beautiful Campus The benefits. The campus culture is truly remarkable. The collaborative environment within my department and the outstanding colleagues that I get to spend time with all contribute to my satisfaction with my job at WCU. It's the best working environment that I have ever experienced in my over 40 years in the work force. The commitment of the Faculty/Staff and administration to continually improve all aspects of university operations. The community and the respect from coworkers. Having the ability to improve services provided to community. The community environment. The community of care that has been created. The enthusiasm with co-­‐workers and campus partners to collaborate makes my job more efficient and successful to educate and assist students where they are at. I have enjoyed the growing enthusiasm and pride shown by both students and faculty/staff of being a part of our institution and the success we've had. I feel supported in what I do and often get others to offer assistance when they feel like they have expertise to contribute. The environment -­‐ nature, the WCU Culture, Western North Carolina in general the environment and ability to work with great people The fact that we are all one team with a common goal, the students... The family atmosphere; caring faculty and staff; beautiful, clean campus. The family feeling-­‐I feel a part of something bigger. The friendliness of everyone working here. You can ask almost anyone on campus with a question and they will help you. The majority of employees are easy to deal with all across campus. •
•
•
•
•
•
•
•
•
•
•
•
•
•
•
•
•
•
•
•
•
•
•
•
•
•
•
•
•
•
•
•
•
•
The many people that I get to meet (faculty, students, staff, administrators, visitors, etc.). Opportunities to learn new things. The members of my team. The mountains are nice and the work is interesting The opportunity to interact with students and help them in their chosen path The overall can do atmosphere. This university and it's people for the most part care about the campus community and it's stakeholders. The overall friendliness of staff The people the people The people The people and the landscape. felling like I am serving a bigger purpose and helping to make the world (at least on a small scale) a better place. I grew up in the mountains and really like the area. I also receive a lot of respect for the skills I have The people and the students. The people I work with and the ability for a varied schedule The people in my department are wonderful. Even the one person who demonstrates a different work ethic than I do, I like as a person. My team is amazing, but I find the most motivating factor on a daily basis is our students. Being a part of this transitional time in the lives of so many awesome young minds feels like an amazing gift. The people who give the extra mile The people who work and study here The people working at Western and the education and services we provide to students. The relationships we build with the local communities and other local business partners. The people, the atmosphere of the campus, and the beautiful environment. The people. The positive impact on students. The pride felt in the culture of the faculty/staff/students. Work worth doing that makes an impact. The sense of pride about WCU in general and most of the employees. The sense of team in the work group, the sense of community on campus. The stability of having a state job. The small community. the student focused atmosphere the students The students The students and the location/setting. The students and the WCU culture/atmosphere/location The supportive ambience The University is serving a great population. We are doing new, inventive things and paving the way for other institutions. The warm and friendly environment. It is by far the friendliest place I have ever worked. The WCU campus is like a large family. I have been here for several years and I have enjoyed working and getting to know so many wonderful people. There is always a few negative or unhappy people along the way but overall, I have thoroughly enjoyed my time here at WCU. I have good benefits, I have a great supervisor, the campus is beautiful and I have wonderful coworkers. I am and always have been proud to tell people that I work for Western Carolina University!!! the work I do This is a community of kind and professional individuals. I learn something new each day. I truly enjoy the culture that this campus provides for me and my family. •
•
•
•
•
•
•
•
•
•
•
•
•
•
•
•
•
•
•
this is important and interesting work and provides a worthy service to the students and the people/tax payers of North Carolina. Wanting to work in higher education in general. WCU is a close knit community that values its employees and their contributions. WCU is a place that values opinions and diversity. There are many dedicated employees who care deeply about students. Great student body. Amazing natural resources around campus. WCU is an energetic, proud community. WCU is located in a beautiful setting and there are many conscientious and committed employees dedicated the "why we are here" – the students. WCU is my family. Gives me great excitement to be a part of a wonderful environment and hard working people to fulfill the overall mission we are hear for -­‐ Students and their Education. We are all focused on our mission as a university and in changing students lives We are still small enough to actually work with individual students. Staff care about one another at my level of work. We tend to be a family/ community . Western is a family atmosphere and people support one another. People are willing to help with projects and come to different events on campus. What I appreciate most about working at WCU is the opportunity to develop meaningful relationships with students and discover the the things that they are passionate about. It's a great privilege to see the leadership potential and growth of these young people during their time at WCU and their optimism has been refreshing. I also appreciate the commitment to health and wellness that Campus Recreation has encouraged for WCU staff and the many opportunities they have provided to engage in healthy activities while at work. Work environment!!! I just started this year and it is an awesome change. People actually care about your well being. Work family balance; benefits and cohesive work environment. Work with very nice people in my department as well as other departments on campus. Working at my alma mater; people I work with. Working at WCU has been very rewarding for me over the past 4-­‐5 years. working for the good of education and the students; / my actual job -­‐ the potential of what I could do if I had the adequate support working with students What do you like least about working at Western Carolina University? •
•
•
•
•
•
•
1) Long commute -­‐-­‐ but since I'm so close to retirement, this will soon not be an issue at all for me! / 2) Not in my area -­‐-­‐ AT ALL -­‐-­‐ but, in many other areas, it's a dog-­‐eat-­‐dog working environment; too many folks not interested in helping coworkers -­‐ just looking out for themselves. A lot of stress to conform. Individuality is frowned upon. A recently replaced supervisor is a textbook example of who not to hire Accountability for staff Admin barriers to accomplishing goals Although there are a lot of pros about working for a university, it is difficult to learn the administrative processes that my job requires. As a professional on this campus that is not from the south, I struggle with some of the culture (both internally and externally) of Western. Sometimes people's personal beliefs get in the way of service to ALL of our students. Additionally, while we are focused on diversity, we also need to understand the next step which is inclusion. Lastly, when asked about why we do certain things on campus, some of the responses that I get are "well, that is •
•
•
•
•
•
•
•
•
•
•
•
•
•
•
•
•
•
•
•
•
•
•
•
•
•
just the way it has always been done." Where is the evidence for HOW it has been done to prove its effectiveness? Being told to watch my back and that I shouldn't trust anyone, not being able to trust that specific people in authority are making decisions that are in the best interest of students and/or our division, not having a clear sense of direction regarding our office's purpose and plans for the future, feeling like I'm being criticized for connecting with students and that my impact is not valued Benefits package (Health care and lack of tuition benefit for dependents) Bureaucracy! It takes too long to get things done. Cant say nothing so far. Communication between different departments could be improved. Commute, SPA discipline process long and tedious Commute, start time & lack of flexibility with schedule, EPA vs SPA benefits complicated administrative processes (HR & financial-­‐-­‐budgeting and purchasing) / lack of adequate staffing to do required work resulting in 50 & 60 hour work weeks for EPA employees constant drumbeat of growth, although I do know that growth is somewhat necessary, Co-­‐workers who come to work late every day and leave work early every day without claiming the time on their leave reports. The lack of opportunities staff have to voice their opinions/have an influence on campus as compared to their faculty peers. As an example, staff senate does not hold the same weight as faculty senate. Having a staff senate that is not highly active/visible. Currently there is nothing I don't like and I feel very blessed that I am employee of WCU we have a very beautiful campus and wonderful place to come to work but I'm sure everyone on campus doesn't feel the way that I do. Dealing with complaining Does not support staff enough in a manner that shows respect and value. / Should have: / 1. Merit raise fund / 2. Discounts on campus food services for employees / 3. Free rec center access / 4. Freeze parking permit costs when raises are non-­‐existent employment of personnel that are unqualified Ever increasing workload and stagnant pay Expectations of work load versus space to follow through Few campus wide WCU employee "get to know you" get-­‐togethers. Good work is not rewarded with more pay. Good work is rewarded with more work and responsibility. High level of workload expectations, personnel expectations are not consistent among and across divisions High turnover in my department which is vital to the mission of the University. Instability with my supervisor due to turnover. Hourly employees are not valued by the university as a whole. This is not true of my department's staff specifically. Hourly employees do not have the ability to receive a raise for years of service, and have extremely poor health benefits, to name a couple of examples. hours How certain departments do things for other departments that they don't do for others. Just because it may help them in the future. HR Bullsh*t I can't stand all of the politics and unnecessary meetings. If you want me to do something, tell me what to do and let me complete it without having to report my every thought and step. I'm good at what I do and don't need to be micromanaged. I also don't appreciate when a manager takes credit for something I worked hard to accomplish. / / I also don't enjoy working for a supervisor who has NO training in what I do and is unable to step in and assist when/if needed. I do not feel that current staff are valued. Hiring decisions almost always favor external candidates. I have seen many terrific internal candidates get passed over during job searches, in favor of external candidates (who often •
•
•
•
•
•
•
•
•
•
•
•
•
•
•
leave quickly because they don't have a good understanding of the area, the university, or the campus culture). There is almost no way to get a raise, even though staff are asked to do more each year. I don't really know of anything that I don't like. I love the area, the environment and the people. I feel as if many times the people that are doing the really hard work to make the upper level staff look good, do not get the recognition they deserve. I feel that our salaries are lower than that of those who do our jobs at other universities. I get along well with my supervisor, but sometimes don't feel as though she is the best qualified supervisor. I HATE the banding on salaries. We cannot get promotions or salary increases -­‐ even if we do our jobs well. Where's the motivation to do better??? No one has that much work ethic....no one. / I HATE having to pay for parking. Having to "PAY" to go to work is ridiculous. And our places are the first ones taken for any event. So not only does more of our salary go for parking each year, but you take away the options for parking. Our places are also not policed well. Students take our places all the time. Heaven forbid the students be inconvenienced. I have no flexibility with my schedule. I know this is a state government agency but processes can be too cumbersome at times -­‐ of course it has improved from the time I came here! There is a lot of favortism among supervisors and supervisors make excuses for employees who cause problems. Higher level administrators don't always make unit heads accountable. For instance, unit heads are the accountable officers on budgets, but the real duty falls on lower level employees and when things don't go right, the lower level employee is blamed. I least like the position that I work in. I am grateful to be able to build my administrative skills from and the opportunity to work with amazing people, but this is not my passion. I like least about working at WCU is that I am not seen as an asset to WCU. I would be more challenged in another department dealing with IT and programming. Salary is important but more important is the ability to use my analytical and logical skills. I do not have enough work to keep me busy all day long. I think we spread ourselves a little too thin, starting initiates that we can't sustain or afford. Everyone I talk to feels busier than ever (and particularly in a time of no raises) this can be frustrating and tiring. I used to love my job and I looked forward to getting here every morning, but the atmosphere has changed with so many new people in upper administration. My unit is totally dysfunctional at this time and the expectations of my superior are unclear at best. I don't feel appreciated, decisions are made without input, expectations do not match reality. I have been taken advantage of many times during my 20 year tenure, by piling on work not mine to do with no remuneration or credit. I am retiring early, because i can't take it anymore. I'm disabled and it bothers me a great deal that disability awareness is not discussed extensively on campus. This is a part of diversity as well, yet I see everyday where those without handicapped permits are parking in handicapped spots. Staff with expired placards, students with no placards/plates park in these spots. These spots are used as loading spots by students and other faculty/ staff. This shows a great disrespect to me and others with disabilities. I don't see parking services giving tickets when these spots are used incorrectly. While there is some disabilities focus on campus, such as developmental disabilities with the UP program, there is hardly any focus on other disabilities. I feel like those with other physical disabilities and invisible disabilities are forgotten and that resources that should be used for disabled students/faculty/staff are just being used by anyone for whatever purpose they want because they won't get a ticket and no one cares. In comparing my job with that of other institutions at our level, I am working 2 full-­‐time positions with the pay of 1 full-­‐time position. The money isn't the biggest issue, but rather that I have no help. I rely on work-­‐study and volunteer student assistants to help with the work. However, with some of my work containing sensitive material, there is only so much that I can pass off to them. Inconsistent messages. When it comes down to it, often practice doesn't match the mission and vision that are publicly spoken. / / Ineffective finance controls and processes that cause hours of work to correct or chase down, lower than market salaries (a great big thank you to the Chancellor and upper-­‐level administrative personnel who have chosen to recognize and take steps to correct the salary imbalance at WCU), the poor health, dental, and vision insurance coverages, and the lack of Banner and other university systems/processes training. •
•
•
•
•
•
•
•
•
•
•
•
•
•
•
•
•
•
•
•
•
•
•
•
•
•
•
Inequitable distribution of resources around campus. Example: Departments ordering new furniture when other areas do not have the necessary equipment, tools or supplies to perform their job duties; some buildings have been repeatedly renovated while other areas lack habitable, functioning work space. Big disconnect between higher level administrators and front-­‐line workers – demands being placed on workers that pull them away from their primary duties repeatedly. Apparently lack of concern that some Department can adversely impact the operations of another Department with no repercussions. It is frustrating to me when some departments/faculty fail to see the big picture and feel that the student's world should revolve around their class. Students have other courses and other interests that they are trying to explore while in school. This should be the number one thing supported. Also our administrative processes could be streamlined to be more effective. Administrative support personnel could also be more supportive and helpful. Our customer service skills seem to be lacking in some departments. If someone that works here feels this way, how do they come across to parents, the public? It seems my department as some issues with conflicting personality types. It seems often like we have to fight for respect at system and State levels. It's a longer commute than what I'd like. Politics between academics and student affairs. It's too far from Asheville! Lack of annual raises, little meaningful personal development. I would prefer more specific training in areas that I could benefit from. i.e. software training -­‐ excel, access, powerpoint. More in-­‐depth understanding of Banner overall would also be helpful. Lack of appreciation. Salaries are poor. support for the "underdog" lacks. Lack of Banner training. Lack of communication between departments. Departments forwarding phone calls to the Advising Center without listening to what the student needs are. Lack of increase in salaries for years, high cost of living (largely due to housing costs), Human Resources -­‐ the rules are a pain and sometimes unjust, the campus being so risk averse we can't do things that even other UNC system campuses can do. I'm disappointed we sell ourselves on amenities rather than excellent academics. Lack of opportunity to move into positions that may be a better fit for my skills and better compensation. lack of professional development funds, lack of staffing, lack of follow through from other offices Lack of promotion opportunities Lack of raises and opportunities to "upgrade" your career banding. lack of supervision within my department Lack of support from legislature for salaries; health insurance plan Lack of understanding/appreciation for each division and that it takes all of our contributions for success of the university. / Difficult to release someone with poor work ethic/performance. long work days... Low communication between division. / Lack of salary compensation for qualified field to fill positions with great employees Low compensation for staff as compared to peers in the rest of the state. Inefficiencies in the bureaucracy can be very frustrating and slows progress. Low salaries, diffuiculty finding deacent rentals. As a new hitre this was an extermely stressful issues and a motnh and a half into my job Iam still not settled into a permanenet living situation. low salary / challenges of working in rural environment (e.g. lack of public transportation options) / workload (having to do more work with little to no increase in resources/no additional staff increases) / low salary causes distress Low salary; inequality in wage increases; office politics; Low wages -­‐ not a living wage Many things on campus are decentralized so some things on campus are not uniform with one department doing one thing while the other does their own. •
•
•
•
•
•
•
•
•
•
•
•
•
•
•
•
•
•
•
•
•
•
•
•
•
•
Miss my grandkids. Mis-­‐use and waste of money by some programs / events My Commute is long My current biggest issue is the salary issues we've been dealing with. The politics and bureaucracy can be a bit overwhelming, at times. My department is great but I hear others talk about how bad their department is. I know there's two sides to every story but there are some supervisors on this campus that are not qualified to be supervisors. Treating staff disrespectfully, not being supportive, talking about people like they are still in high school. We are adults and I feel supervisors, all leaders on campus, should present themselves in a professional way. I know everyone has a bad day but there's ways to be professional about dealing with situations and then there's ways to just make people feel bad. I have worked under this type of leadership in the past and it is NO fun. There should be more accountability for bad leadership. Don't get me wrong, I believe there are way more GOOD leaders/supervisors on this campus than there are bad BUT it's not right when we lose good employees because of bad supervisors. Yet nothing changes to fix the problem. My performance evaluation summary has been great but no sign of a raise in pay. I think you should be given a pay raise if performance evaluation is highly rated. My salary my supervisor and my workload. I work for a large dept. and I am the only staff person, my workload is triple the other ASAs within my college My supervisor is crazy and changes work expectations regularly. Expectations for workload are so high that I think I might literally die if this continues. No, I do not exaggerate and am not prone to overstating the case. N/A No annual raises or 5 days off No raise...currently looking for part time job elsewhere to supplement my income. No raises even when staff excel No raises. Bringing home less money than I was last year and the previous years due to increase in health & parking, not as much as the university but working for the state and how things have changed , and the pay has not kept up with inflation . I hate Smart Time. Not feeling supported by my supervisor and co-­‐workers until it's an imperative / Salary / Stress / Commute Nothing related to work, mostly about location of non-­‐work resources nothing! Office drama Overall, I am happy working at WCU. I believe the parking situation, including costs, is unreasonable. I also think it is far difficult too advance in one's career. It is frustrating that new employees can be hired at a higher salary than a current employee may have been receiving for the same position. Lack of advancement opportunities breeds indifference among staff members. parking and some departments not being diverse enough.an example is certain jobs have no women working because of sexist views. PARKING. PARKING. PARKING. / Lack of communication. / Takes too long to get issues settled. / None of the "higher-­‐ups" listen to what we have to say...suggestions/comments. / Pay Pay is too low Pay raises ! / At times it seems the employees are not valued for the work they do. / Pay; I currently make about $20000 less than the average position doing the same services provided by other state institutions. This is saddening for me. I love WCU and have respected the university my whole life, and enjoy the fact that I work here, but I want to leave so badly just to be able to make enough money to support my family. •
•
•
•
•
•
•
•
•
•
•
•
•
•
•
•
•
•
•
•
•
•
•
•
•
•
Paying $3.00/month and no easy access to employee health and wellness at Biltmore Park / Too many FYI emails about activities. Personal matters are handled sloppy. The pay is sub standard, even for the area. We are discriminated upon, as we live here, and there are not a lot of employers with benefits, so we are stuck with these horrendous salaries. many of us staff work 2-­‐3 jobs to even have a house, car, and food. / Also when positions are vacant, we are always threatened with , "things are gonna get shaken up", "not sure what we will do with that position". If we are over worked and underpaid already, why would we need to wait? The rest of us work longer and harder for how long? Then..we get more resentful and unhealthy. / Pitiful communication with regards to administrative processes, as well as change for the sake of change-­‐-­‐
especially when it impacts our miniscule department budgets. Trying to cover our expenses is like trying to squeeze blood out of a turnip! / / WCU continues to add administrators to the payroll. However, we have been told that there isn't enough funding to provide raises for current staff, or to add new support staff positions. The administration is sending a mixed message regarding budget and spending decisions. / / Finally, I REALLY dislike hearing administration telling us to "work smarter, not harder." This insinuates that we are working stupidly. WCU's support staff works incredibly hard, and we try to be efficient and streamlined with our processes. Please convey this to the administration. Pointless administrative issues that create more paperwork, lack of efficiency/effectiveness. political envirnoment politics and "games" -­‐ same in all large organizations, feeling that it is an us against them mentality -­‐ meaning faculty vs. staff or academics vs. all other departments on campus Poor communication, being blindsided on a regular basis, poor recognition for work within our unit although tons of recognition is given to others outside of our unit, lack of any significant pay raise in many, many years Poor pay when compared to work expectations and the private sector for comparable job/responsibilities.. Previous administration would hold staff from advancing if you wasn't part of the favorite group. Probably would be the low salaries. ( I know that that is being worked on) Retaliation in certain departments Salaries are stagnate and new employees are hired in making more than loyal employees. salaries are well below market salary Salary salary and not getting yearly raises. Salary as compared to other state institutions. Not to mention salary as compared to corporate/industry. / Some of the processes at WCU are cumbersome and time consuming like in Purchasing, HR/hiring and Facilities Management. / We talk about retention, but funding for student related things need to be increased. Such as funding more weekend events for students, refreshing classroom technology, and providing better equipped collaborative student spaces like the Technology Commons. Salary compared to other UNC schools. Lack of community engagement and support toward the community and by the community. salary compensation salary compression. In the member surveys of my professional association who hold parallel positions to mine at about 80 universities, I am in the top 10% of the "years of experience" (10-­‐15 yrs) and in the bottom 10% of the salary range. Salary in relation to other schools salary levels Salary, complicated processes, lack of using real data to influence decisions, and lack of accountability Salary. Salary. Salary. •
•
•
•
•
•
•
•
•
•
•
•
•
•
•
•
•
•
•
•
•
Salary. Only certain people can move up. Only certain people get certain things. overtime etc. Salary. The politics/administration. salery Some employees abuse the system by coming and going as they please (do not put in a 40 hour week -­‐ if required -­‐ because of coming in late, long lunch hours, and leaving early -­‐ do not make up the time). This is bad moral for the people who work the 40 hour week that we are hired to do. Some supervisors are very strict and person has to be in the office all the time and others they just let the person come and go as they please and never say anything. I know that some things happen that causes a person to be late, etc. but not on a daily or weekly basis. Some of the other departments at times make things more complicated than it has to be. Sometimes things are not made clear. For example, what is expected of me or job requirements. A more official training procedure would be great so I know exactly what is expected of me and I know that I am doing my job correctly and effectively. Sometimes,work load can be overwhelming. Generally is manageable. State policies that hinder efficient processes and management That all departments don't share the same attitude toward working here as my current one does. I think its hard for some departments to share in the aspect of shared leadership of the campus. Politics happens all over but some departments seem to be only about keeping others down and not giving those of that department opportunities for growth. The 2 year probationary period and the fact that as a probationary employee you have NO rights if disciplined. The Admin salary The administration processes and IT are outdated and need to catch up with the times! The benefits are increasingly not as competitive -­‐ retirement, health insurance, etc. The biggest thing really isn't a factor of working for WCU. It's just that we have had no real raises in years. That's really beyond the university. Prices rise, but our salaries don't. Also being is a kind of no man's land with the designation of my position makes it hard to get a raise even when they are given, because I am one of those funny EPA non-­‐tenure track positions that gets lost in the shuffle. The bureaucracy The campus climate at WCU can be incredibly hostile at times and is not always a safe and affirming place for faculty, staff, or students on campus. Frustrations that others have come to me with have included a lack of support for paraprofessional staff, lack of professional development and training for seasoned professionals on diversity-­‐related issues, and disinterest in student experiences on campus. Many times it has been brought to my attention that racist, homophobic/transphobic, and sexist actions have been swept under the rug and allegations of sexual violence or harassment have not been addressed appropriately. Speaking generally about the WCU community, I do not think that many people feel safe (myself included) voicing their concerns out of fear of punishment, retaliation, or lack of follow through. In addition to these issues, there is also a clear lack of communication between upper administration and departments on campus. the commute The commute time The comparatively low salary. The fact that new folks are hired into the division at WAY HIGHER salaries than we current/longtime employees are making. Come on, man. Share the wealth a bit. The complication of some of the processes just to do daily business and assumption that everyone understands the reasons why. / Too many emails. Too many announcements. Makes it harder to know what emails are important and require action vs. reading and wondering why was sent to me. The constant feeling of being underfunded. The lack of staff to do jobs well, rather than just "good enough". The constant ebb and flow of "That's too much money, we can't reasonable fund that" which leads into "Why did this not work well, who can we blame for this working poorly". That and being expected to perform multiple job •
•
•
•
•
•
•
•
•
•
•
•
•
•
•
•
•
•
•
•
•
•
•
functions, which leaves me feeling worn thin and stressed out at the end of the day. It's definately a situation where I know if I went to another institution I would probably work less and make more money. The daily commute from my home in Otto The difficulty in obtaining adequate salary to recruit and retain employees. The fact that new hires from outside of WCU come in at a much higher salary rate than our internal employees. It creates equity issues which in-­‐turn creates morale problems and also the loss of quality employees. The fact that Western doesn't have a childcare center for its many, many staff and faculty members with young children is absolutely ridiculous. The childcare center housed in Camp isn't Western owned and is a head start facility -­‐-­‐ which is great for families who qualify but is outrageously expensive for those who don't. With a birth to kindergarten major, you'd think Western would invest in a childcare facility that would both promote educational opportunities for those students as well as an affordable, convenient childcare option for its faculty and staff. / / Additionally, it's both unfair and ridiculous that those who apply externally and are offered jobs through Western get a higher pay rate than someone who applied internally. For example, let's say Joe Schmoe has worked his way up in IT for the last 7 years, applies for a high-­‐ranking job, gets the job offer, but because he's an internal hire, is only eligible for a small pay raise (if he even gets one at all!) given the university's policy on the percentage of pay raises offered. Whereas Sally Valley, an external hire, applies to the same job, gets the job offer, and is immediately offered a salary well into the salary range listed. It's not fair and certainly doesn't promote a positive working environment. Why should Joe be "punished" with a smaller salary offer simply because he's already established at Western? It makes no sense at all and has happened to way too many people I personally know. Western better be thanking its lucky stars people really like this community; otherwise, it'd see a much higher turnover rate. The friction within the division and how it overflows to other employees. The General Assembly. the incredible amounts of paperwork and processes. And the new systems constantly being introduced. The internal politics; bickering between employees; some level of gender and racial discrimination. The lack of / Vision and micromanagement of some upper administrators. There is limited communication on vision. The lack of good restaurants in Cullowhee The lack of incentives for lower paid staff and administrative assistants to have salary increases. The parking situation is not ideal and it would always be nice to make a little more money. The pay rate is low when compared to other SPA positions statewide. the pay... / feeling like not many opportunities for advancement... / lack of recycling / The politics that pervade entire departments. The politics. The politics and inconsistent practices the protracted process of getting rid of employees who are willing to receive a pay check from the State but who spend most of their time thinking of ways to shuffle their work onto others and get by with as little effort as possible. the qualifications of people above me not up to par / unfair treatment / lack of addressing to issues / effective leadership/usage of time / organization / lack of communication The salary is lower than at other places I have worked. The salary. If the salary were better, this would be the perfect job. The slowness associated with implementing new processes or technologies. The state system is terrible with actual effectiveness when it comes to people who just don't do their jobs or those who create a hostile work environment because they don't play well with others despite talk after talk. I've seen problem people time after time be coddled and moved around just in an attempt to keep them from having the least impact to anyone's daily routine. There needs to be a better way to get the wrong people off the bus. I think people feel powerless to cause actual change. •
•
•
•
•
•
•
•
•
•
•
•
•
•
•
•
•
The strong FAMILY commitment The way people are treated in my department. We have a revolving door as far as keeping employees and there are better ways to manage it than termination. The work I perform is not equal for the pay I receive compared to other Admin. Assistants The working environment is poor. There is a major disconnect between departments and staff. A lot of elder staff are afraid of change for the better. The politics are unfair. There are a few things that make me not like my job. At every other job that I've ever worked, when you are a valuable asset to your department, you get a raise. At WCU there is no raises unless you take a new position or the state government gives everyone a raise. I was taught that if you do your job better than expected, you get more money. If you don't do your job then you get fired. There are no position improvement capabilities. Once an individual is in a job position, he/she is typically pigeon-­‐holed into that type of position and no provision is made to allow for the person to better themselves at the university without having to leave the campus for other employment. We are stuck in both position and salary, without any means to better our status through the current evaluation system. There is a lack of accountability at leadership levels in Student Affairs. There is nothing I like least. I like working here. There is only one thing that actually bothers me and it is a little thing. One person on our team comesin an hour later than me every day. He/She then takes two hour lunch breaks every day and then comes back to the office to eat. His/Her position is much higher than mine. This person has told me that the person who had the role I'm in before me rarely took lunch breaks because that time of day was too busy for the previous person to get away. Yet the person jets out the door thirty minutes before anyone's traditional lunch period would start. If there isn't enough coverage for the office, the rest of us make accommodations. It is incredibly inconsiderate and very consistent. A person who accepts an upper level EPA position should expect to make some concessions. Having committed this to writing feels terrible. I do think this person is a valuable team member and a good person. This issue doesn't bother me enough that I'd voice my frustrations. I'd rather maintain a happy working relationship. There isn't enough promotions from within, instead of hiring out management positions, why not train existing employees so they have better opportunities. They need to focus more on hiring from within. It's discouraging to see people who have been at WCU for many years get overlooked for a job that everyone knows would be an excellent fit. It is as if we are not good enough. This is unfortunate to say, but I recently got a new supervisor, who is a lot different from my last one. Perhaps it is just the difference in which they do things... but my new supervisor is the least thing I like about working at WCU. uneven work load Unfortunately family atmosphere leads to favoritism and nepotism. We could cut some fat from our staff. Wages, work load. Watching a few coworkers do literally nothing for the majority of the day. I know it is being 'documented' but it is really hard to not have a bad attitude when you are handed work because they know it will get done, when I can turn around and someone that has been here 20 years longer than me, making much more money is on Facebook, a personal phone call or reading the news. In addition, I feel its hard to have high moral making the money I make. Once you get hired you are somewhat stuck at that level with no promotions or pay increases. I'm from a corporate world where there were incentives, bonuses and annual pay raises based on your performance evaluation. The performance evaluation then meant something to the employees. We are here to educate students to go out into the work force and make a living. I have been in open houses where statistics are shared on the annual incomes with earned degrees. I came here with a BA and years of work experience and am 1/2 way through my master's degree. I make under $30K and feel I need to work a 2nd job to get ahead. It's just discouraging to make this little bit of money with no increases, yet my costs (ex: parking) is increasing. ways for training and advancement •
•
•
•
•
•
•
•
•
•
We seem to be running around constantly trying to get things done. Many times it seems like all areas have not been considered before we started running. We talk a lot about what needs to be done instead of doing it. We don't seem to have the resources to do what we really need to do to acheive our goals. When actions are taken that are not evidence-­‐based, nor are they explained. They just happen. When those in supervisory positions do not communicate well and don't take responsibility for or value their staff. Work expectations and overtime do not reflect with salary. Salary verses job title needs to be addressed from administration. / Expectations and responsibilities have grown tremendously in which there is no choice but to keep producing. We produce because we love WCU and what its greater purpose is. Work loads, because filling vacation positions are not a priority. Working alongside employees who are not passionate about what they do. Working in a basement every day is hard. Communication and definition of roles are lacking between departments in my division Working with other departments to accomplish a required task. Working with state policies, regulations and paperwork can be challenging. What changes would you make to improve the work environment at Western Carolina University? •
•
•
•
•
•
•
•
•
•
•
1. Create merit raise system for staff -­‐ 1% raise every few years by the state is morally wrong when costs continue to go up, the school does not seem to care about the plight of staff with regards to that -­‐ school should have funding to provide raises for staff that excel, rather than promoting mediocrity -­‐ / 2. Parking permit costs are ridiculous for this area -­‐ continue going up when raises have been non-­‐existent -­‐ this shows lack of caring and respect for employees / 3. Staff should get free access to the rec center -­‐ most large places of employment offer perks for employees and one of them being free access to recreation centers. It is hard to believe WCU refuses to offer free access for employees. / 4.. Discounts on meals at food services for employees -­‐ should be an employee rate ALL THE TIME, not just periodically. / / The news has reported that state employees are in a 6.9% deficient for the last several years, so our salaries have effectively been decreased due to no raises and other work costs going up (permit, health insurance, etc). We cannot even get a cost of living adjustment due to extremely poor politics. / A better training procedure A building with up to date AC/Heat. More staff. a little more help in this Department . sometimes work more with less people just don't work. A more streamlined hiring process with improved pay and benefits for employees. A one stop approach to some of the processes would help. a) I would do everything in my power to require Aramark to stay open with better hours on holidays or student breaks. The lack of coffee on the campus this week (fall break) has been terrible. / B) I would seek to create better -­‐ more transparent standards with purchasing processes. I have no desire to circumvent the rules, but we have been told conflicting things from the same purchasing team. We buy the same things year over year and have struggled to find a standard operating procedure with Purchasing. Every purchased is scrutinized as some attempt to trick the state into spending money it shouldn't when all we're trying to do is buy materials to support the educational process. This is a major time sink for my team and I have heard feedback from vendors and other UNC system schools that WCU is the most difficult purchasing team to work with. Some key regional vendors have basically decided to stop providing us with quotes since they perceive it to be a waste of time. ability to remove personnel that that don't work so that rest of that office team aren't depressed AC for Reid locker rooms Address pay issues! Address salary issues. Address the issues of being one-­‐deep in many offices/jobs. •
•
•
•
•
•
•
•
•
•
•
•
•
•
•
•
•
•
•
•
•
•
Address the salary issue in a reasonable time frame. It's been an issue since banding was implemented and only minimal progress has been made to address it. Work with the community to grow the size of the the town and school. Sylva doesn't seem supportive of the university and WCU doesn't seem to want to engage with Sylva Adequately fund operations to meet expectations. Also, if you are going to focus on entertaining than fund positions and equipment to meet this expectation instead of removing staff from performing their primary duties. If you are going to make this "party-­‐central" than fund the necessary resources to handle it! Higher level administrators need to spend more time with the front-­‐line staff – big disconnect! Improve salaries! As always, parking. Along with having Administrative Support Meeting across campus so that we can get to know each other better and learn the new processes better. All of the "Time Management" strategies sessions are always the same and not helpful, the people whom have been doing these jobs for years have very efficient ways and others would benefit from their techniques if those people were given the opportunity to share their methods. Better benefits -­‐ retirement contributions from the state, lower cost health insurance, education benefits to the UNC for dependents. Better communication. Better pay and recognition for staff; we impact the education and the success of students too; we provide engaged learning experiences / Easier more accessible parking -­‐ my parking fees keep going up but there are less available spaces for staff and faculty; some days I have to park a 1/2 mile away or park illegally Better salaries for SPA workers Better supervision of higher paid employees. / Better pay. / Better options with flexible hours. / Better work environment that encourages departments and staff to socialize throughout the work day. Better working space that doesn't involve old run down equipment and loud construction during 8-­‐5 work day. Need cleaner water and filtered water fountains in HFR. More recognition by your department on your individual performance. cant really think of anything...maybe change standard work hours to 9 to 5... this would be well received by staff and may compensate a bit for absence of salary increases. career ladder or promotional opportunities for staff Clear communication and conflict resolution. Clear expectations of work hours for EPA employees (obviously with an understanding of extra hours necessary) compensation and appreciation for years served rather than new employees being paid more for same position.. continue improving outdated spaces-­‐-­‐such as the library Continue to address low salary rates. We have already made good progress. / / Focus on open communication to improve work flow between divisions. When I see an issue arise most of the time it is due to lack of communication. / / Perform more dept. program reviews to identify improvements and greater efficiency. Continue to provide adequate staffing for the work needed continue to work on trust amongst colleagues and more cohesive approach toward the common goal that we all share Create a joint senate that is both faculty and staff. Have staff senate members be more engaging on-­‐campus. As an example, have the questions on this survey be more relevant to the times. The questions before this section are ones that have been asked for years. It is time to have a staff senate that is interested in making an impact on staff and students, not addressing personal agendas or using surveys from the past. Create a merit raise process Create services to help new hires like me get their spouse assistance finding a professional position in such a rural area. In this remote, rural area we should do more for new hires with trailing spouses or we risk loosing people when their spouse cna't find employment. / / Services for linking new hires with approporiate rental opportunities in the community especialy for thos of us with a pet. Educate employees about the greater whole to which they are contributing. These are the employees who never leave their offices to attend forums or assemblies to actually learn about WCU as an institution. •
•
•
•
•
•
•
•
•
•
•
•
•
•
•
•
•
•
•
•
•
•
•
•
•
everyone would take the same amount of pride in their work as I do. More people would go above and beyond the bare minimum requirements to keep their job Facilities Management has a culture of nepotism that leads many in that department to feel like they can't grow into other opportunities. The department I currently now work in is different where I feel like I contribute and have the chance for growth. I would like to see the same attitude encouraged more with Facilities and people get the chance for growth within that department. Fair salary offers for internal hires, affordable childcare options, and a better advertised way of putting in a complaint against one's department or supervisor if needed. I didn't even know we had that option. fairness in wage increases; Filled positions that retain effective employees and dismiss consistently ineffective employees in a timely manner. Focus on inclusion, not just diversity. Better communication from above (senior leadership) about WCU, state, and federal initiatives regarding higher education. More women focused programming -­‐ not just for faculty/staff, but also students. Increased support and possible mentorship of younger/new professionals on campus. focus on retention rather than recruitment Get rid of people that cannot perform regular duties yet are paid at a VERY high rate. Getting rid of some lower performing staff would show higher performing staff they are valued and appreciated. Give annual raises ( I know it's impossible), offer more meaningful personal development. I would prefer more specific training in areas that I could benefit from. i.e. software training -­‐ excel, access, powerpoint. More in-­‐
depth understanding of Banner overall would also be helpful. Give staff more flexibility in scheduling their work time. I am very fortunate to have flex time but others are not. Have all employees treated the same when it comes to working the time that they are supposed to work or either put down as leave. Supervisors should make sure that person is working time put on timesheet and doing the job that they were hired to do. Have offices for everybody...not cubicles. / Open up the communication channel...from top to bottom and bottom to top. / If people are not doing their jobs...fire them. Even if it's the supervisor...NOT supervising. / Have offices work together on smoothing out our policies and procedures. Understand what goes on in each different departments. Higher pay for the Admins that perform beyond their job requirements. hiring/promotions within the university be based on qualifications and not on gender. more parking Hold people accountable for doing their job and doing it effectively -­‐ not just at bare minimum standards. Hours to be 7:00am to 3:30pm How about a monthly "Take a break" event to communicate to staff the importance of balance regarding their workloads and well-­‐being I have a negative view as to improvement. The words that everyone is committed to help do not appear to be more than words. I have to travel within the region and the motorpool cars have alot of miles on them and they do not give me confidence when traveling long distances. I would like to see the motorpool get newer vehicles. I have tried to suggest ideas for change and enhancements but ignored. As it relates to organizational structures of various units and departments. I know that university leadership is working on it, but salary continues to be a problem on campus. I really enjoy the work environment. The people are great, I just wish there was more paid personnel to help with some of the work load. I see EPA faculty members meeting their children at the bus stop behind Killian building each afternoon. This option is not available to me as an SPA employee. I would love to be able to adjust my work hours so that my child can be bussed here at the end of the school day, and I could avoid putting her in the after school program. If we allow Faculty EPA members to do this, then it should be available to staff members. It would make a huge •
•
•
•
•
•
•
•
•
•
•
•
•
•
•
•
•
•
•
difference in my child's life and it would boost morale to provide this option to SPA staff members. Options could be to provide an after school program for our kids; allow us to adjust our hours; or bring our children into the office to do their homework while we finish out the day. I think employees in upper mangement positions need to be friendlier with their colleagues who aren't in management or who are at a lower level job than they are. I've been snubbed numerous times and it is very disheartening. Not even a smile! We should all be treated with respect and friendliness! I think the state needs to reevaluate actual action on performance related to people who can't work well with others. I think many supervisors feel powerless when it comes to correcting staff and getting them to go in the right direction. I think the work done on the salary committee is a step in the right direction however some departments when hiring someone from outside of WCU get hired in at a significantly higher salary than their internal equipment. This should be addressed before we lose more quality employees. I would allow telecommuting and a more flexible schedule for staff. I would find a way to give step raises to employee's who are doing exceptional work. If people have something to reward them for their good work they are more likely to do better work. I would like to be asked my input and opinion about potential changes in programs and procedures and feel that my input is valued, especially since I have more experience than my supervisors. I would like to see genuine and authentic conversations on the issues discussed above and clear actions taken to address them. The input of students, faculty, and staff should not be disregarded or devalued. I would like to see more communication between various groups. I have a feeling that we could all benefit for the network here, but the connections often are not made. For example, I led a Community Conversation recently. One of the employees talked about the challenges of having a special needs child. In the room, coincidently, there was a faculty member that could offer support via student help/departmental resources. I think the community is a huge part of the benefit of working here, but that it is vastly underutilized. Perhaps a community connection website and/or a dedicated set of employee lunch tables for $5 Friday that brought together diverse employee groups, could bridge this gap. I would love to see more diversity training geared towards faculty and staff. I would love to see more wellness opportunities for lunch time and after work, e.g., walking group, running group, staff intramurals, art projects that invite community participation. I would provide more information to staff about social opportunities available. Everything is done for the students and faculty and staff doesn't feel like they are invited to attend unless they are working the event. Also with branding unless you buy a WCU t-­‐shirt on your own you won't know that anyone supports WCU. Friday's used to be a day to wear jeans and your Western shirt and over the years it's just gone away. I'd like to have more employee discounts and incentives for athletic events. I am always excited to support our athletic events, but ticket costs frequently keep me from participating. I would also like to see more social activities involving staff/faculty. There may be such opportunities already available, but I am not aware of them. It would be nice to have sponsored tailgating opportunities or other incentives for staff to participate in campus activities. implement salary step increases more quickly, offer more flexible work arrangements In my office, I would make sure there are ALWAYS at least 1 supervisor at all times, at least 1 FR and 1 TR counselor at all times. Employees show up to work on time, work an 8 hour shift. Increase in communication, gather to meet-­‐and-­‐greet on division-­‐wide meetings increase salaries beyond the token raises we have recieved in the last 10 years. Use a more performance based criteria for money allocations -­‐ fund programs/events that prove to have the greatest impact Increase salaries hands down Increase salaries, sports discounts for employees to help increase moral. Having upper administration having realistic working goals with the amount of staff for each department. Increase wages. Make hourly full time. •
•
•
•
•
•
•
•
•
•
•
•
•
•
•
•
•
•
•
•
•
•
•
•
•
•
increased public transit options to out of county destinations (e.g. for people who commute to/from Haywood Co)\ / increased salary to be more comparable with other peer insitutions insert evaluation from worker to supervisor. there is currently an opportunity for supervisors to evaluate workers but none for workers to evaluate supervisors Invest in changing our business processes It would be nice if administration spent time with those of us in the trenches to see what really goes on and what we really need. It would be nice to see a raise, but that isn't the fault of WCU. It would be tremendously helpful if we could streamline some processes which are currently drawn out and complex. Certain things that are done via paper forms (PAFs, reimbursements, check requests, etc.) could be digitized, which would make for quicker processing, easier record keeping, and less waste generated. Keep a firm appreciation of where we've come from as a campus and institution. Make this an important part of new employee training. Keep asking these questions. Keep it going LOVE IT Less meetings. The annual employee evaluations are not a useful tool. / Fall and spring breaks for staff and not just faculty. / More employees to share the workload. There is too much to process and not enough people to handle all of the work as the univerisyt grows. Less political. I feel as if many people are scurrying around worried about losing their jobs and they are only looking out for themselves. It promotes silos and not collaboration less stress regarding workload expectations along with having my supervisor plan ahead instead of waiting until the day of the deadline causing me undue stress to get all done in a matter of minutes or hours. Less talk, more action. Lots of negative attitudes in some departments. Make evaluations count and tie performance to pay. You would see a lot of people get off facebook and produce some work. Allowing some flexible work schedules would be a huge incentive. Make salary for WCU staff and faculty a priority and fund the steps each and every year. / WCU needs to look at its processes. Many are time-­‐consuming and slow work down for other departments on campus. / More processes need to become paperless. Make staff improvements a real priority. Not just workshops, but resources such as conferences, etc. to help staff really improve and feel like they have a chance to move up. I've seen so many resources and emails about faculty improvement, grants, resources, I still feel like the staff are second string even though we are here year round and work very hard. I would like to hear the provost and those in high places talk more about examples of what is being done to improve staff resources, not just faculty resources. Make the Campus Recreation Center free for faculty and staff to attend. Maybe a little help in some departments with additional staff. MEANINGFUL pay raises. We're made to feel like we're lucky to get 1% -­‐ 2.5% raises sporadically. That's not meaningful to me. I'm so far behind that even a 20% raise would barely qualify as meaningful. Merit pay be implemented merit pay or bonus to reward a job well done More Banner training. Better salaries for staff employees. More collaboration between departments, more opportunity for mentorship between seasoned staff and young professionals. More communication about what's going on around campus with students and visitors More effort to move employees into positions that are better suited to their skills and interest which will often require moves into other departments. I do not have any real sense of opportunities that may be a good fit for me outside of my current department. I feel in past jobs I had a better sense of the different career directions I could head towards. •
•
•
•
•
•
•
•
•
•
•
•
•
•
•
•
•
•
•
•
•
•
•
•
•
More focus on accountability on position specific accountability more interaction among staff / more performance feedback More involvement of upper management in complaints against the university and it's departments. more money. get rid of the "click". More open and clear communication and reiteration that we are all in this together, we are all on the same team. More opportunities for staff to have training and educational workshops off campus. more opportunities for WCU employees to attain promotions within the university More perks to being an employee. Access to and discounts at campus services. (Rec Center, Dining, etc.) more purposeful recruitment and selection of professional staff. we need a staff plan to address openings. We rely to much on band aid solutions. More support for academic support units. More leniency for weather-­‐related absences from work. More support, more motivation, more money for increased responsibilities more training for lower employees to be able to learnt o be a supervisor More unannounced walk-­‐thru stop and chats by WCU leaders at all levels. More yeses and less nos. More faculty lines for overworked faculty. More support staff in departments to take some of the workload off of faculty. Overload pay for faculty who work overloads but do not get paid for overload. Remove the phrase, "it is what it is." It doesn't have to always be done the same antiquated way in most cases. Less red tape when you are trying so hard to make improvements. For some, really putting students as #1 (not just saying it, doing it). Not saying that there is clear communication, but actually taking feedback from students, faculty and staff (equal feedback, not from misinformed people who do not look at the evidence/data) to make decisions that have crucial impacts on day-­‐to-­‐day business and morale. Knowing what administration wants would be helpful and improve morale. My work environment would be improved by being somewhere with windows. The communication problems would be difficult to improve without some major changes in organization. Communication between IT and the University would be enhanced by returning to the college support model where IT has more staff imbedded and invested in the colleges and departments. n/a None. Nothing comes to mind. How about that? Offer additional training Offer better discounts on athletic events (football games) for faculty/staff. Possibly allow some avenue for performance evaluations of those you work for, not just those who work for you. Overall, I find the work environment at WCU very pleasing. I feel lucky to be part of a committed and forward thinking academic community. Our students demonstrate inspiring pride. It's contagious! Parking in general is a terrible problem on campus. Pay raises!!! / / Please consider developing a manual of basic procedures for support staff. This should include process for tasks related to hiring, purchasing, budget management, travel, a Banner cheat sheet, and catering. Finally, it should include contact names/numbers. Perhaps more thoughtful consideration on new programs/changes. It seems like many times initiatives are pushed through to implementation prior to fully investigating the impact on the units actually trying to administer these projects. Please improve the finance controls so that NO charge comes into a fund without Accountable Officer/designee approval; provide Banner and other university systems/processes training; improve or replace the CataMart (SciQuest) software with a more effective software; separate the CataMart purchasing business rules from the rest of campus functions; improve the P-­‐Card guidelines and card effectiveness to allow travel charges for airfare, hotel, and meals purchases; remove the travel justification paperwork necessary for registration payments. We have travel preapproval forms to justify travel. •
•
•
•
•
•
•
•
•
•
•
•
•
•
•
•
•
•
•
•
•
•
•
•
•
Prioritizing work so that we can decrease workload pressures. promote from within Provide hourly employees with comparable benefits to salaried employees. Push for higher salaries to get everyone up to at least 90% of market value. I would give up a fair bit of other resources and drop several job amenities for this for myself and my fellow employees. Putting people in charge that care about what the work they do looks like Really showing employees that what they do, really does matter. Redo the compensation and reward people those who go above and beyond expectations to ensure projects are completed accurately and timely. Reward employees who do their jobs Sack the deadwood and the constant complainers -­‐ I don't have many around me, but they are out there and they need to go. Salary increases need to be offered each year based on job performances. Parking should be free to staff. We keep this place running. We give up 40 hours of our lives each week (or more) to make that happen. At the very least, we should be rewarded for the sacrifice. Our pay should at least be up to market levels with cost of living raises each year being mandatory on top of the increase for a job well done. There should be discounts on campus for staff -­‐ or something to encourage us to frequent the eating establishments. salary increases to pay for long distance drives to work salery Show more attention to the salaries of faculty and staff, base rewards from merit as well as commitment. simplify administrative processes, provide more training in administrative procedures, invest in adequate staffing levels Smoother processes between departments. solve the above question Some middleman positions could definitely be cut or altered. I feel like we have to go through someone else to talk to who we need to talk to, and sometimes our messages get lost or altered. Some sort of tie should be made between performance and salary. Also, if performance is not where it is desired by upper management, then provision should be made to help the person to get better at their job. Somehow try to fit an employee with the job that the employee enjoys doing. If a gardener loves flowers and plants put that person in the landscaping unit and not as a building maintenance worker. If a programmer likes to work on deadline projects then assign the person to a faster pace job, a job that is more fulfilling. A supervisor should cross-­‐train employees and should make his/her employees her backup for different tasks. These are only suggestions for my unit. I enjoy working with all the employees and my supervisor. Everyone is very polite and respectful. I have informed my supervisor that I can do more in my job in my annual evaluations. I have volunteered for any work that the supervisor needs help with. The supervisor acknowledges my requests but nothing changes. I can do more. I have applied for other positions at WCU but have never been interviewed. My job is not stressful. My job is only a job. Sometimes when you attend classes and workshops you are given some materials, but not all of what you need to do your job. Then if it is not done the way it needs to be you get emails and phones calls telling what you have done wrong. If we were given all the resources we need, this wouldn't happen. Space and privacy for all staff appreciate week is actually a week, not one day; more social functions (NOT work functions) to meet each other Streamline the online portals. Make it organized and more user friendly. Comp time for working late hours. Some jobs do not require late night hours while others do. Streamline the process to increase the pay for staff who have been there instead of them having to leave and come back to receive fair compensation. Substantial pay increases •
•
•
•
•
•
•
•
•
•
•
•
•
•
•
Supervisora at all levels need to Supervisors handle problems when they happen Supervisors would receive training in effective supervision and be held accountable for supervising effectively. When presented with a problem, the obuds would not reply "you should consider moving to a different unit because XXXX is too well liked." Salaries need to keep pace with the cost of living: I have yet to speak with a staff person who isn't working a second job, looking for a second job, or forgoing meat in order to feed the family. Support/train supervisors in creating a culture that does support the mission. Don't just talk about it. For example, when we talk about investing in our people through flexible work arrangements and family friendly policies and support for professional development, make sure that permeates all departments and is supported by all supervisors. Don't just focus on the big visible things (like the once-­‐a-­‐year leadership group or one-­‐time leadership conference for employees), but make sure all levels and all departments have policies (where feasible) that support these goals. The cost of living continues to increase year after year while we make almost the same amount of money without any increases. I think it would improve moral and make WCU employees more productive. The upper administration needs to appreciate the people in the trenches, who are doing the work load of what previous two other people used to do and help us fill more positions. It seems lately the administration is more worried about filling positions with diversity people instead of the best qualified candidate. We are being told to look at how much diversity we have in our candidate pools, instead of looking at qualifications. I believe that is reverse discrimination. There is always changes that can be made to make a better work place and maybe giving a more flexible work schedule for individual that would like to have that flexible would be great. This answer is based on my work environment. I do not like the fact that there is a printing room located in my office. It is very distracting when faculty and students are continuously coming in to retrieve paperwork. I do not think it helps me when I am trying to do my job effectively. To be paid according to how I do my work. Traffic on campus. Very dangerous driving conditions. Unbiased leadership and realistic goals for employees. VALUE the employees (salary) and show them that you appreciate them. Give a raise where it's due instead of adding extra job duties. WCU as a whole is a good place to work. IF I could change one thing, it would be the salary. The cost of living continues to increase, while our salaries stay the same. Western can never be the outstanding place it aspires to be until the staff, those of us who really do the work, and without whom the university would cease to function, are treated fairly and paid accordingly. There is a lot of discontent right now. Everyone you talk to is miserable. Something has to change and hiring more administrators is not going to fix that. If all the lower level employees were to walk out tomorrow, the whole system would come to a stand still. Yet most of us feel unappreciated, overworked and under paid. Work environment is fine. would try to increase salaries if possible. Priority Concerns – other (please explain): •
•
•
•
•
•
•
•
Adequate Staffing Plans Affordable housing available in area, especially for new hires available parking better pay Better wages, hourly workers don't get the respect and compensation they deserve. Compensation Compensation & Enough staff for the workload Competative Salary •
•
•
•
•
•
•
•
•
•
•
•
•
•
•
•
•
•
•
•
•
•
•
•
•
•
•
•
•
•
•
•
•
•
•
•
•
•
•
•
•
•
•
•
Continue addressing staff market value wages Continued salary plan increases cost of living increases employee evaluations of management/supervisors Encourage staff to live near where they work. Not in in Asheville. This will in turn help economic development in the area. Equal treatment of compensation between SPA & EPA. With EPA, their is no limit. Equtibale distribution of resources across campus Faculty/staff workload and faculty status for non-­‐faculty EPA Family tuition discounts Flexible work schedule. Ex: 4 -­‐ 10 hr days during summer as long as office is covered everyday. free gym access Health Insurance Improvements I have been a state emplyee for 20+ years. I applied for another position and was offered the postion, which would have been a promotion, for a $5,000 pay cut. Does not seem fair to me. Since long term emplyees are unable to receive a true promotion with a pay increase, find other ways to compensate them. Improving Jackson County Schools and Public Education resources Increase salaries Insurance lack of office leadership Merit raises #1 More Pay for Quality Work Parking & raises Pay Pay Increases Pay Raises Raise in pay Raises Raises Recurring funding for work activities Resolve salary equity for internal employees Resources, support from above, salaries Salary salary Salary Salary adjustments for SPA staff Salary and People Retention Salary equity compared to other state agencies Salary Increase Salary Increase Salary increases Salary increases and better health insurance benefits salary increases for employee's Salary Raises Salary/promotions Schedule Flexibility/Work at home options Staff to be valued as much as professors •
•
•
•
•
•
•
•
•
•
to match our pay to inflation in the past 7 years Trailing Spouse Assistance University Calendar shouldn't require employees to use thier own vacation time becuase WCU is closed. How is that fair? wage equality Wages & raises We need better Employee Evaluation Practices (I did not receive 1 last year and the year before received late and only because another administrator in my location brought it up to my supervisor at the time). I also feel we need periodic review of position descriptions to keep them up-­‐to-­‐date and accurate. This is especially important because of the market rate studies and attempts to keep employees at x percent of the market rate. We need more "Indians" and fewer "chiefs." Wellness opportunities work hours/flex time for EPA non-­‐faculty Workload What changes would you suggest for the University Awards process? •
•
•
•
•
•
•
•
•
•
•
•
•
•
•
•
•
•
•
•
•
•
•
A lot of writing is required to submit an employee. Any way to shorten it? Add more staff awards and more $$ for staff awards Additional Staff Awards, more transparency on how awardees are selected. Allow for self nominations at a department level As a fairly new employee, there was no information provided during any orientation or department training regarding a University Awards process. As a past winner of one of the University awards, I'd like to see the Selection Committee cull repeat nominations. In other words, I feel as though once a person has received a particular award, they should not be eligible to recive it again. Other folks need to be given a fair opportunity. Awards are nice, but improving work situations would go a lot farther than awards. I feel like only "yes, sir" employees get awards, when you speak your mind, you are not eligible! awards not just for the top people, but some ofr lower totem poll Been here a year and haven't heard of this Departmental awards for each individual department at WCU. do away with them -­‐ they are political don't know enough Fix online glitches! Get the word out about the process more. Announce the winners so everyone can be recognized. Give more of the awards to me! Seriously, can think of no changes. Give students a voice in the process, perhaps allowing them to vote. Give the award to those deserving and not pay attention to politics. Supervisors and Deans should not win staff awards. Giving more time to review the materials if you are on one of the committee's that will be making the decision in who gets the awards. I am not familiar with it. I am a new employee. It was not mentioned in orientation. I am not sure what the University Awards Process is. I didn't know they did this. So many unnecessary emails causes me to skim emails that don't obviously pertain to me. I do not have enough information to form an opinion. I do not understand the process and have not been trained in that area. •
•
•
•
•
•
•
•
•
•
•
•
•
•
•
•
•
•
•
•
•
•
•
•
•
•
•
•
I don't find the Awards program to have any impact on work motiviation. Perhaps some really like this but I feel like it is a bit of a waste of time and money. I don't have any real issues with the current awards process...but I do have an idea / My thought I have is to have an award where WCU colleagues can cast a vote (or a thank you point -­‐ whatever you want to call it) for an employee throughout the year whenever an instance or situation has occurred that they want to acknowledge. At the end of the year, the employee with the most votes/points wins the award. This would allow staff and faculty across campus to cast their votes for an employee. The current award system, as I understand it, is where a single dept or group or individual may nominate someone. Of course, multiple people and groups could join together, but that is not likely. This idea is something that would allow a collective gathering of votes across campus over a course of time. Make it simple where people can easily cast a vote and give a few comments. If the vote and comments are made known to the employee at the time they are made, the employee receives a small acknowledgement and thank you that they may appreciate. If the number of acknowledgements add up -­‐ it is possible to win an annual award. I don't know I don't know anything about the Awards program/process I don't know what this is or what it means. I don't really remember it. I do vaguely remember thinking it is difficult to pick who to vote for if they're in a different unit than yourself. I have no idea. Worked here for 9 years, and did not know that the University Awards existed. I think awards should be given to both divisions each year. I think you need add the years of service awards back. A certificate seems a little slack after someone has worked 5, 10 or more years for the university and or state. I was completely unaware of these awards until I attended the event in my second year. Better communication? (perhaps I overlooked what was communicated) I would like to see more awards added for those deserving staff who outnumber faculty on this campus almost 2:1. And, in turn the increase in awards should improve the staff attendance and the program would truly live up to the name. The ratio of the number of faculty awards vs. staff awards is disappointing and I would hope that the University administration would be willing to take some type of action to even out the number presented to both. I would like to see staff recognized in equal measure to faculty If possible, monetary awards for all the awards, not just some. I'm new so maybe that is the issue but I don't know enough to say I'm not sure what the University Awards process is. Include another SHRA award or two that any staff (non faculty) can receive. It is too political. It is very focused on Faculty It seems a little "political" and the process does not appear to allow for lower tier employees to gain recognition. It very political -­‐ who you know. I've always enjoyed the awards program. It's fun to attend the event and I've been nominated a couple of times. Let someone who deserves it instead of making someone feel good Like every other process, Awards relies on who/which units have the most friends. Try not to make it a popularity contest. Longevity should be considered especially when employee has been excellent and is close to retirement. Make everyone aware of the University Awards? more advertising for new employees More information More rewards for your work like discounts at the Bookstore for clothing and merchandise/ tickets for sporting events •
•
•
•
•
•
•
•
•
•
•
•
•
•
•
•
•
•
•
•
•
•
•
•
•
•
•
•
•
•
•
N/A N/A n/a No opinion none none None-­‐-­‐ I am a new employee. None, in my opinion it's awesome now. None. None. None. Not give awards to a person who is sucking the life blood out of poorly paid persons who cant find a parking space. / Very bad message last year. That award had nothing to do with students. / Make sure the award is given to varied people, not repeats in other campus categories, recognize all nominees. / You may not nominate yourself, or your department, period. / / / not sure Not sure what the process is for the University Awards program. Not very familiar with the process to make a suggestion. Oooh a plaque...yeah that'll help pay the bills. Who cares about awards???? They are meaningless. Its a piece of wood with some metal on it and a half-­‐hearted pat on the back. Did the award help you with your paycheck? Did it give you a promotion? No??? Oh but it looks nice hanging on your cubicle wall -­‐ if you are lucky enough to have a cubicle wall. I guess you can put it on your desk and use it as a paper weight if you don't have a cubicle wall, of course you will now have to dust it from time to time, but perhaps you can feel good about yourself every time you set your coffee cup on it. The institution thinks your special. Enjoy your block of wood! Reminders to get nominations in Remove the qualification that it has to be staff or faculty. Why can't all awards be open to everyone? Seemed backwards that someone nominates you or your department, but that person or department had to submit something to defend or justify why they were deserving? Send email announcing winners, put up banners? shorten ceremony just a bit more Shorten it. somehow make it more about the performance than the written prose of nominations Sometimes there is too much paperwork. Take longevity into consideration. That there be a difference in the support staff award to recognize someone who individually comes up with a process, procedure or program on their own that gets initiated/implemented or approved rather than giving to someone who carry's out a new process, procedure or program that was initiated by a department and that the employee performs as directed. The nominee should write the nomination, rather than the department/person the nomination is written for -­‐ This was confusing. I can understand a department having to write a supplemental supporting document but not the main nomination for themselves. The number of awards for faculty versus staff lopsided. There needs to be more awards for staff or fewer awards for faculty. The service awards process has become nothing more than an "afterthought". What used to be a formal process (with a luncheon) that allowed deserving employees to be recognized amongst their peers has now been reduced to a "table in the corner" where you pick up your award. Tacky, tacky, tacky!!!!!!!!!! There are too many awards. they were too long •
•
•
•
•
•
•
This is such an innovative program. We are fortunate to have this at WCU. This should be communicated to the employees by the supervisors. Unsure We get so many emails I'm sure this is just another one that was deleted... not sure how that could improve. What is that? What is this! Years of service awards and other staff awards I liked when we had the luncheon and awards presented then. Giving out a certificate, etc. at Employee Appreciation Day people are not recognized the way they should be recognized for service. Please share any additional comments or recommendations you may have for the management of university awards: •
•
•
•
•
•
•
•
•
•
•
•
•
•
•
A 1x bonus sounds awesome, it would be nice if a few more people were recognized A mandatory class on awards for supervisors would be helpful. Again, without a financial reward its a completely pointless process. How about you take the money you spend on the plaques and "Employee Appreciation Day" and instead give a $$$ bonus to the people working? I would much rather have money than a chair. Are these awards measured by numbers, standards, tests passed? If so, and if that is the main criterion, a very large chunk of the picture is missing when awarding recognition. Were lives impacted for the better? Did enough people walk around from an interaction with that person and think "Ok, I got this!"? Was the university well represented, in a qualitative way? Our education system is so numbers-­‐focused that we sometimes forget we work with AND FOR people. Awards are cheap when people are not appreciated! Awards are great, but not as important as tangible rewards (raises, promotions, etc.) Better communication about the award process. Great idea to have staff awards. I'm not sure how well the awards are communicated. Having all university awards appear at one time is a bit overwhelming. Would it be possible to spread them out? Also, if salaries across the board are too low, then tying financial bonus to an award gets a bit tricky. How are committee members selected? I am not sure why this is a focus of a staff senate survey. To me is shows that staff senate is not focused on current times or the future. Financial awards are a problem as someone will always think they deserve it more that the "winner". We need to focus on what is best for students as opposed to paying staff for winning an award. I believe that good work should be recognized but it would be better within each department. I don't find our award system to be a meaningful program but maybe some do. I would rather the departments recognize people and then perhaps the chancellor sends them a note. It is very difficult to compare people/departments that perform such different jobs across campus so I feel our current form of awards program could be very political. But again,perhaps others really enjoy this type of reward system. I see it as a waste of time and money I do not know enough about the management of university awards to have an opinion. I don't feel it important for awards to incude a financial bonus, but think it helps I don't know how the selection process works. I think longevity is of note for the milestone purpose but I don't think someone should get an award for it as you could be a terrible performer and stay for 20 years. I do think it would be nice for the process to have some more transparency on who was nominated for what. I think that would give people encouragement toward "oh I got nominated" or "oh I didn't know I could nominate just anyone". I think people often assume someone more worthy will be nominated that has a higher position at wcu. •
•
•
•
•
•
•
•
•
•
•
•
•
•
•
•
•
•
•
•
I have been at WCU for over 15 years and have yet to receive anything acknowledging my years of service. No one is aware of when they will receive their recognition and then you just receive a certificate. In a place where it's like a revolving door you would think the ones here for many years would be appreciated more. I think this survey is biased against the awards process, which I think has made huge improvements in recent years. I thought the award for raising money for parking was a bit ridiculous and does not improve the quality of life or education for students, staff or faculty I would like a better understanding of how the process works. Also, a financial bonus would be great! It is a shame they administration doesn't publically recognize the employees for their longevity anymore. It seems that WCU is a revolving door sometimes. They employees who have in excess should be publicly recognized annually. It doesn't cost that much to take their picture and publish it in the reporter. It's just something I interact with when we vote, not something that lasts. I think the awards within our college are more meaningful as it is among close colleagues Just a fair process for all employees, not disparity between faculty and staff longevity does not equal quality of work Make all awards open to all people. Some staff do things that faculty do and vice versa. Make it known that it even exists more diverse selection of award winners More individual staff performance awards Nominated staff should be verified with that person's supervisor before an award is made. None Not everyone enjoys being recognized in a public manner. There should be a way to acknowledge the contributions of someone that is more intimate then a general award. The awards for staff should not be given out at a faculty meeting. Since, the current procedure does not attract enough staff participation I feel it is clearly time to re-­‐visit other options. The University should definitely take time to review and evaluate the current program. There are so many deserving staff members that are being overlooked. These individuals spend countless hours finding ways to make Western Carolina one of the best Universities in the state and should be commended and recognized for their dedication and hard work. The EPA non-­‐tenure track folks need to be given equal opportunity for awards, raises, perks, etc. as other categories of employees. It's truly a kind of no man's land. This was not even on my radar. Sorry. Unsure We should offer more awards and there should be more awards available to newcomers to recognize them and keep them here. Please provide any other comments you may have about recognition for employee longevity: •
•
•
•
•
•
•
•
1x bonus or gift card for a dinner 25 years not 30 Article in local news paper about the years of service dont forget about employees that have worked here for 15 years. Employees with 10+ years should be recognized as well. Employees with this much service should receive a brick in the Legacy Walk, paid by the university. Have them be able to meet with folks on thier way out...to tell the real story, without retaliation. Human Resources used to do a meal with the employees family and they could choose a special gift and be recognized but that was done away years ago as well. •
•
•
•
•
•
•
•
•
•
•
•
•
•
•
•
•
•
•
•
•
•
•
•
•
•
•
•
I don't see the point. I feel any recognition for long term employees would be a positive step. I feel this can be limited to intervals: 30 years, 35 years, 40 years I strongly feel that any individual that has given thirty years of service to this institution should receive a program/gift that recognizes their commitment and dedication. I think any longevity award presented by the University should only recognize those who have earned their service time while at Western, not to include other state service. I think any recognition is nice but it may depend on that individual. Some may feel most appreciated by a certificate and not want to be recognized at a large university event. If an employee chooses to work here for the majority of their career they should be rewarded-­‐ another idea is monetary gift cards, etc. I'll restate that I think it is worth recognizing in these formats, but not worthy of an award. In the past, when there was a dinner, you actually felt important. Now, it's just an after thought. In this day an age longevity is not looked at as a good thing. If you want to move up the ladder you have to move away. include EPA non-­‐tenure track in longevity pay Is just showing up something to be rewarded? People should be recognized for merit not for coming to work. It is becoming much less common and therefore should be that much more appreciated. It seems unfair that EPA non-­‐facutly employees don't receive longevity pay like SPA employees Longevity and competence are two different things. Why did this issue receive such attention in this survey? Did someone coming up to 30 years construct this survey? Longevity pay and regular pay raises are the best way to show appreciation for good workmanship-­‐-­‐not simply longevity. longevity usually means that an employee is happy in their job recongizing employees for longevity is great as long as the employee continues to develop and contribute to the community. Let's not recognize people who are destructive or rocks. Regular staff members are not afforded the same level of long-­‐term service to Western as upper-­‐level administrators and faculty are. Without regular 'worker bees' the instituion would not function. rewards!!!!!!!!!!!!!!!!$$$$$$$$$$$$$$$ Salary increases should be given be given for their dedication Take care of the people who take care of you There should also be recognition of those with 5 or more years of service, and formal recognition after 10yrs. This is tricky, because some people overstay their welcome and we may not want to recognize them. This should also apply to hourly employees What about other milestones? 10 years, 20, etc. Why 30 years? I understand wanting people to stay and give their time and effort to WCU, but does that mean someone who was here for 15 years, 5 years, 2 years did not work as hard or give as much? Write a human interest article about them for the community to read. Make it personal.