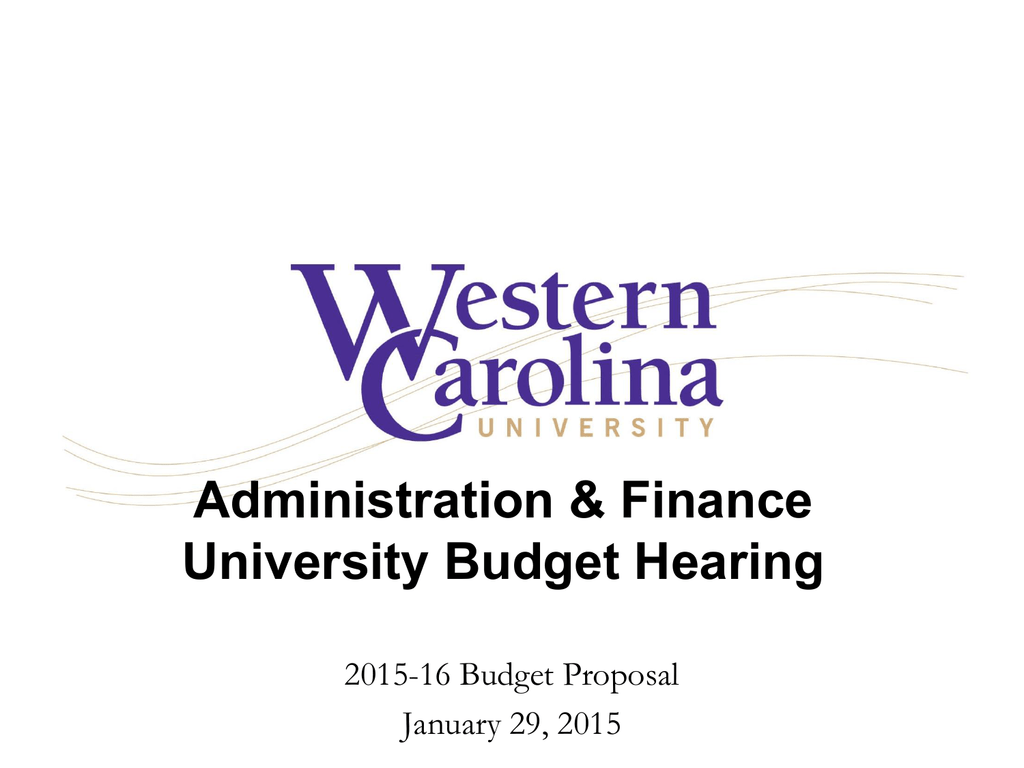 Administration & Finance
University Budget Hearing
2015-16 Budget Proposal
January 29, 2015
Agenda
• Results from previous year
• Pressures on Division
• Requests
Positive Results from FY 2014-15
Recurring Item
Amount
Action
PeopleAdmin Upgrade
$7,965
In-progress (June 2015)
National Salary Surveys and Data
$2,650
Complete
Identity Verification Software for Employment
$8,200
Complete
Tax/Accounting Payroll Guide
$1,315
Complete
Total
$20,130
Pressure on Current Resources
Enrollment growth and changing service expectations have strained staff
and resources:
– Increasing and changing expectations of the campus role with
regard to safety/security issues and compliance
– Increased workload demand from our growing campus (human
resources, financial services, budgets, facilities, and student
accounts)
– Increasing need for maintenance and modifications of space to
accommodate growth and changes in business needs
– Demand for event coverage, longer hours (facilities, safety,
business services support)
Criteria for Budget Requests
• We are a service division to all constituencies.
• At WCU, many A&F functions cannot be allowed to fail. In this
year's budget request, these are our highest priorities, having reached
critical level.
• We are guided by the 20/20 Vision Plan.
• We must be mindful of both short and long term needs to ensure safe
environment and stable, efficient business operations.
Safety, Security & Emergency Preparedness
• We have reached a critical point at WCU for safety, security,
and campus preparedness.
• Our highest priority budget requests reflect these critical issues.
– Additional Police Officers
– Additional Tele-communicators
– Public Safety Systems Administrator
Safety, Security & Emergency Preparedness
•
50% increase in dispatched calls for service over 5 years during 11% enrollment increase
– 26% increase in dispatched calls from 2013 to 2014 during time of 3% enrollment increase,
meaning…….
Officers per Student
Comparison of officers per residential student population (living on campus)
0.012
0.01
0.008
0.006
0.004
0.002
0
WCU
UNCW
A&T
FSU
UNCP
UNCA
NCCU
ECU
Business Processes
• Increases in hiring activity, salary, and daily business activities
are resulting in greater workload, much of which includes
manual documents, in Human Resources, Financial Services,
Facilities Mgmt, and Budget Office.
Budget Requests
Critical Priorities
Category
Recurring
880,796
Non-Recurring
459,000
Category
Division
Institutional
Total
Amount
Recurring
Non-Recurring
2,185,436
1,026,500
940,000
1,723,000
3,125,436
2,749,500
Questions?
• Go to budgetprocess.wcu.edu to find details on
Administration & Finance budget requests.