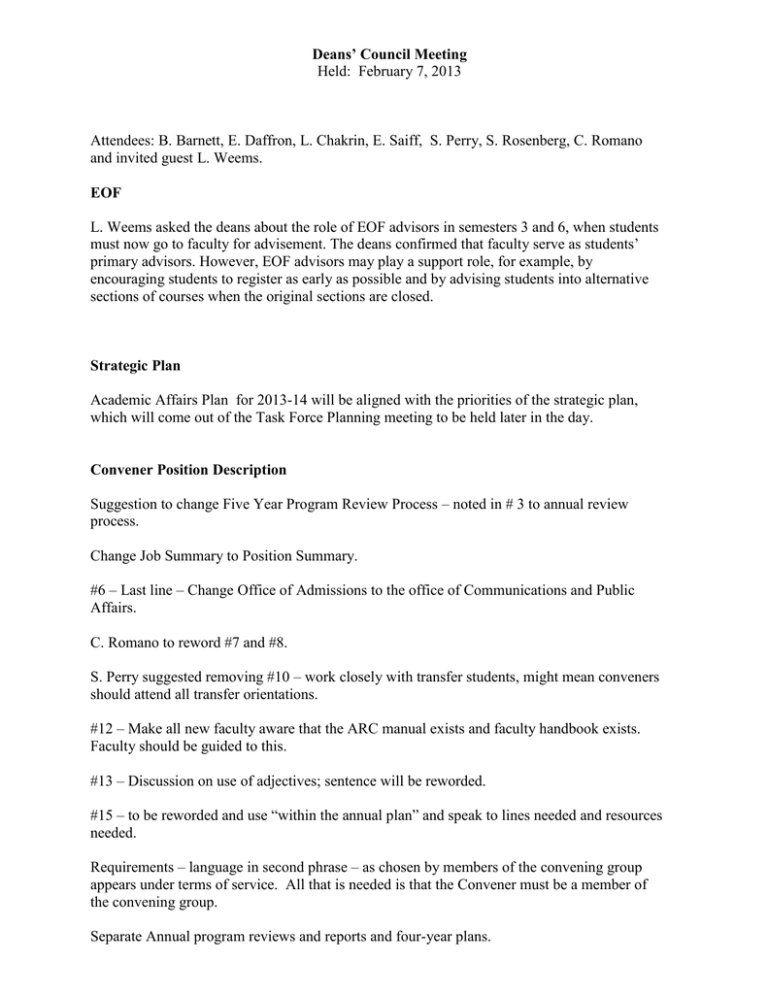 Deans' Council Meeting
Held: February 7, 2013
Attendees: B. Barnett, E. Daffron, L. Chakrin, E. Saiff, S. Perry, S. Rosenberg, C. Romano
and invited guest L. Weems.
EOF
L. Weems asked the deans about the role of EOF advisors in semesters 3 and 6, when students
must now go to faculty for advisement. The deans confirmed that faculty serve as students'
primary advisors. However, EOF advisors may play a support role, for example, by
encouraging students to register as early as possible and by advising students into alternative
sections of courses when the original sections are closed.
Strategic Plan
Academic Affairs Plan for 2013-14 will be aligned with the priorities of the strategic plan,
which will come out of the Task Force Planning meeting to be held later in the day.
Convener Position Description
Suggestion to change Five Year Program Review Process – noted in # 3 to annual review
process.
Change Job Summary to Position Summary.
#6 – Last line – Change Office of Admissions to the office of Communications and Public
Affairs.
C. Romano to reword #7 and #8.
S. Perry suggested removing #10 – work closely with transfer students, might mean conveners
should attend all transfer orientations.
#12 – Make all new faculty aware that the ARC manual exists and faculty handbook exists.
Faculty should be guided to this.
#13 – Discussion on use of adjectives; sentence will be reworded.
#15 – to be reworded and use "within the annual plan" and speak to lines needed and resources
needed.
Requirements – language in second phrase – as chosen by members of the convening group
appears under terms of service. All that is needed is that the Convener must be a member of
the convening group.
Separate Annual program reviews and reports and four-year plans.
Discussion on whether conveners should be tenured members of faculty and how many
convening groups a convener could join.
Textbook selection - change to where applicable.
Faculty and adjunct hiring will be discussed at the next deans' council meeting.
CEC- The provost asked the deans to remind faculty not to put out blast notifications that an
activity can be used for course enrichment component.
Deans List Dinner – Provost encouraged all the deans to put the date on their calendar. Deans
asked to acknowledge the students from their particular school.
Request was made to send all the deans the actual list and in the future, have the letter signed
by the deans themselves – the provost would sign for all undeclared students.
Policy/Procedure – Student Complaints of an Academic Nature – take out part 3 of the
procedure. More suggestions pertaining to part 1.
S. Rosenberg would like to review the RF policy. Will be put on a future deans council
agenda. J. Connell will be invited to this meeting.
C. Romano – gave an update on the enrollment numbers.
B. Barnett announced that stipend letters for developing online courses will be forthcoming.