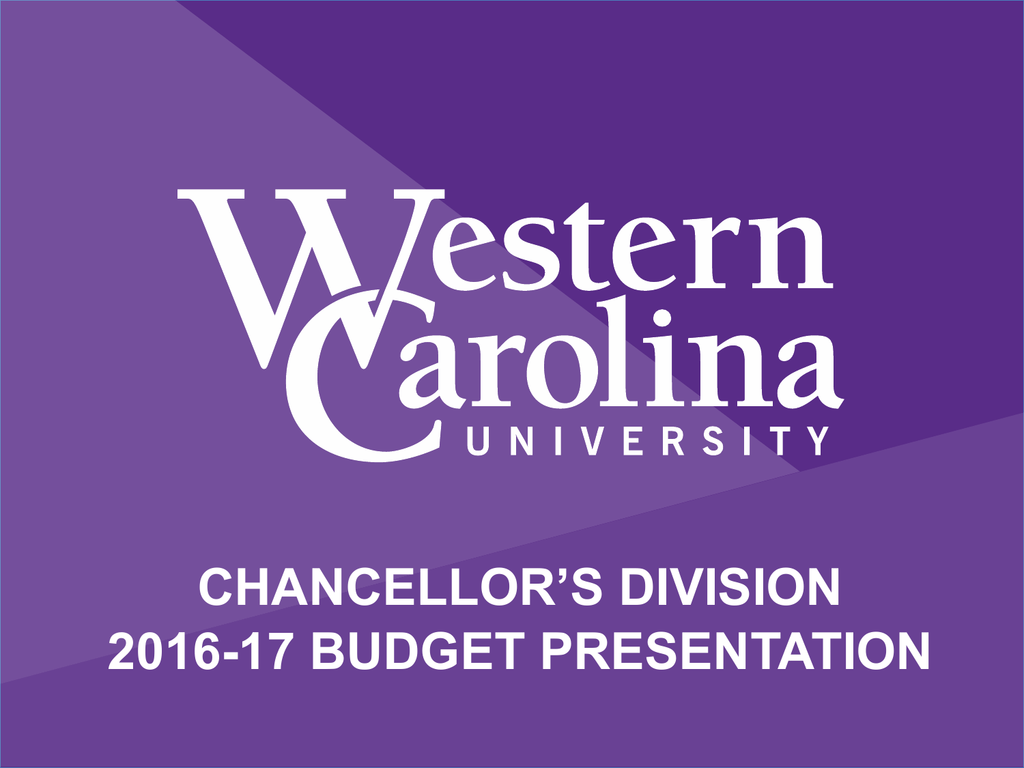 CHANCELLOR'S DIVISION
2016-17 BUDGET PRESENTATION
WHO WE ARE
Internal Controls
External Messaging
Legal/Compl Services
Internal Audit
Marketing Services
Communications/PR
External Relations
Special Events
Development/Alumni Affairs
How we support the 2020 Vision
Invest in our People
To the extent possible, we must
continue to address compensation
as a means of recruitment and
retention of top talent.
University-Wide Requests
Invest in our Core Resources
To ensure WCU is equipped to deal
with an increasingly complex statutory
and regulatory environment we must
not neglect basic internal controls.
University-wide
Recurring Requests
PRIORITY NO. 1
Journey Auditor ($80K = $60K + fringes)
Four years ago, internal audit staff was reduced to
one FTE yet:
• Enrollment has increased almost 40% in past 10 years
• The demand for transparency/accountability and the
potential reputational and resource risk across the
enterprise continues to grow exponentially.
Garner support for our Vision
To advance the University,
we must make strategic
investments in support for
external messaging, advocacy,
and development.
University-wide
Recurring Requests
PRIORITY NO. 2
Website Content Strategist ($80K = $60K + fringes)
• Recommendation from Website Redesign Steering
Committee and Content Governance Committee
• Website is the "front door" for recruitment
• Current content is owned by everyone, thus by no one
• High demand on campus for strategic guidance
for website content
• Reputational risk; Failure to thrive risk
University-wide
Recurring Requests
PRIORITY NO. 3
Hootsuite Social Media Software ($30K)
• Enterprise package for monitoring and use of social media
• System for collaborating between various accounts,
providing access to centralized content and photo assets
• Protects against account vulnerabilities
• Social media is here to stay, we must address it at the
enterprise level
University-Wide
One-Time Requests
Main Campus Entrance Sign ($237K)
• Our only presence at the main entrance is DOT sign
• Old wooden sign at back entrance does not represent
us well yet has become a "selfie" opp
• Entrance sign will convey university identity,
assist navigation, and demonstrate pride
University-Wide
One-Time Requests (continued)
Digital Sign Kiosks – 6 total ($90K)
• Currently a challenge to get timely info to students/visitors
• Can support critical safety announcements, way-finding,
event marketing, streaming content
One-Time Requests
One-Time Requests
PRIORITY NO. 1
Print shop Building Renovations ($150,000):
• Facility houses Print Services, University Mail Services,
and Paw Print Services
• Print Shop facility has a myriad of safety and compliance
issues that must be addressed soon
One-Time Requests (continued)
PRIORITY NO. 2
2016-17 TV Campaign ($200,000):
• Paid broadcast is still the most effective way to drive
general awareness, which is foundational to driving
student enrollment
• Our competitors outspend us by a tremendous margin
• TV has in the past been addressed through year-end
money - but it's important that campus understand where
those dollars go and the costs involved to maintain
competitive position
One-Time Requests
PRIORITY NO. 3
Binding System Replacement ( $160,000):
• Current equipment is > 15 years, difficult to maintain
• More demand for 'perfect' binding (straight-edge not
staple fold)
• All high-profile printed booklets (e.g., commencement
program) are touched by current binding equipment
Recurring Requests
Recurring Requests
Staffing/Positions
Hourly Video Assistant ( $20,014):
• Remember…VIDEO, VIDEO, VIDEO!
• Demand for produced video has more than doubled
for current staff of one
• Decline in media staffing at local stations and newspapers
results in reliance on externally produced video
• Growing requests for video content for new website
Questions?