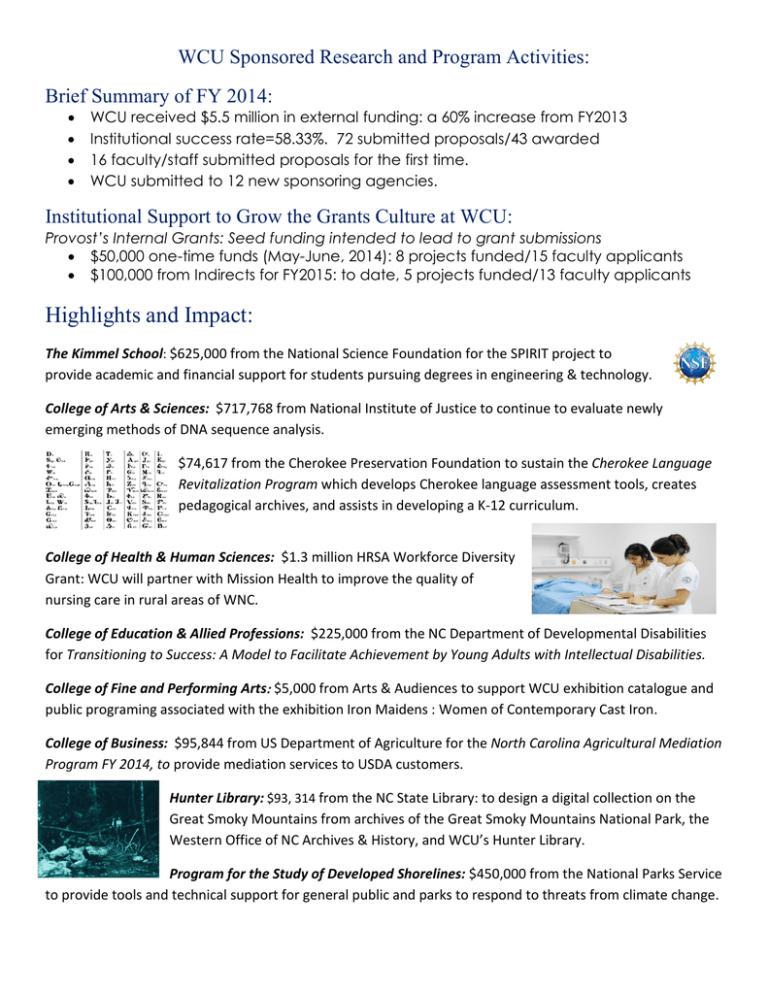 WCU Sponsored Research and Program Activities:
Brief Summary of FY 2014:
•
•
•
•
WCU received $5.5 million in external funding: a 60% increase from FY2013
Institutional success rate=58.33%. 72 submitted proposals/43 awarded
16 faculty/staff submitted proposals for the first time.
WCU submitted to 12 new sponsoring agencies.
Institutional Support to Grow the Grants Culture at WCU:
Provost's Internal Grants: Seed funding intended to lead to grant submissions
• $50,000 one-time funds (May-June, 2014): 8 projects funded/15 faculty applicants
• $100,000 from Indirects for FY2015: to date, 5 projects funded/13 faculty applicants
Highlights and Impact:
The Kimmel School: $625,000 from the National Science Foundation for the SPIRIT project to
provide academic and financial support for students pursuing degrees in engineering & technology.
College of Arts & Sciences: $717,768 from National Institute of Justice to continue to evaluate newly
emerging methods of DNA sequence analysis.
$74,617 from the Cherokee Preservation Foundation to sustain the Cherokee Language
Revitalization Program which develops Cherokee language assessment tools, creates
pedagogical archives, and assists in developing a K-12 curriculum.
College of Health & Human Sciences: $1.3 million HRSA Workforce Diversity
Grant: WCU will partner with Mission Health to improve the quality of
nursing care in rural areas of WNC.
College of Education & Allied Professions: $225,000 from the NC Department of Developmental Disabilities
for Transitioning to Success: A Model to Facilitate Achievement by Young Adults with Intellectual Disabilities.
College of Fine and Performing Arts: $5,000 from Arts & Audiences to support WCU exhibition catalogue and
public programing associated with the exhibition Iron Maidens : Women of Contemporary Cast Iron.
College of Business: $95,844 from US Department of Agriculture for the North Carolina Agricultural Mediation
Program FY 2014, to provide mediation services to USDA customers.
Hunter Library: $93, 314 from the NC State Library: to design a digital collection on the
Great Smoky Mountains from archives of the Great Smoky Mountains National Park, the
Western Office of NC Archives & History, and WCU's Hunter Library.
Program for the Study of Developed Shorelines: $450,000 from the National Parks Service
to provide tools and technical support for general public and parks to respond to threats from climate change.