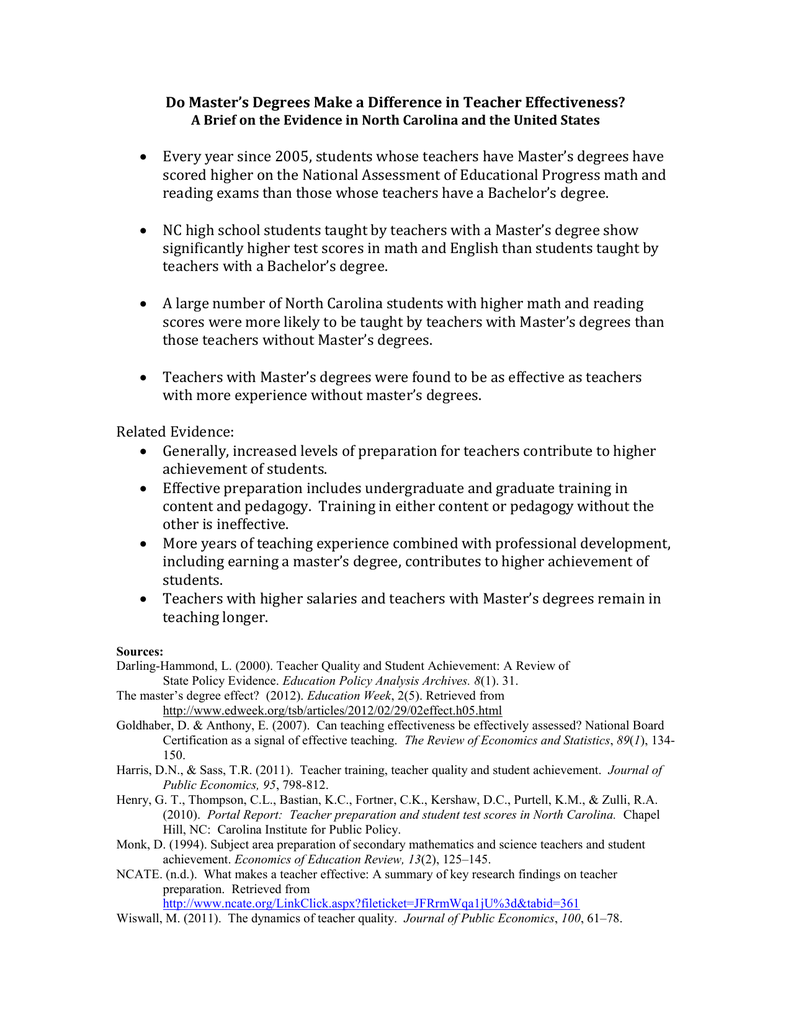 Do Master's Degrees Make a Difference in Teacher Effectiveness?
A Brief on the Evidence in North Carolina and the United States

Every year since 2005, students whose teachers have Master's degrees have
scored higher on the National Assessment of Educational Progress math and
reading exams than those whose teachers have a Bachelor's degree.

NC high school students taught by teachers with a Master's degree show
significantly higher test scores in math and English than students taught by
teachers with a Bachelor's degree.

A large number of North Carolina students with higher math and reading
scores were more likely to be taught by teachers with Master's degrees than
those teachers without Master's degrees.

Teachers with Master's degrees were found to be as effective as teachers
with more experience without master's degrees.
Related Evidence:
 Generally, increased levels of preparation for teachers contribute to higher
achievement of students.
 Effective preparation includes undergraduate and graduate training in
content and pedagogy. Training in either content or pedagogy without the
other is ineffective.
 More years of teaching experience combined with professional development,
including earning a master's degree, contributes to higher achievement of
students.
 Teachers with higher salaries and teachers with Master's degrees remain in
teaching longer.
Sources:
Darling-Hammond, L. (2000). Teacher Quality and Student Achievement: A Review of
State Policy Evidence. Education Policy Analysis Archives. 8(1). 31.
The master's degree effect? (2012). Education Week, 2(5). Retrieved from
http://www.edweek.org/tsb/articles/2012/02/29/02effect.h05.html
Goldhaber, D. & Anthony, E. (2007). Can teaching effectiveness be effectively assessed? National Board
Certification as a signal of effective teaching. The Review of Economics and Statistics, 89(1), 134150.
Harris, D.N., & Sass, T.R. (2011). Teacher training, teacher quality and student achievement. Journal of
Public Economics, 95, 798-812.
Henry, G. T., Thompson, C.L., Bastian, K.C., Fortner, C.K., Kershaw, D.C., Purtell, K.M., & Zulli, R.A.
(2010). Portal Report: Teacher preparation and student test scores in North Carolina. Chapel
Hill, NC: Carolina Institute for Public Policy.
Monk, D. (1994). Subject area preparation of secondary mathematics and science teachers and student
achievement. Economics of Education Review, 13(2), 125–145.
NCATE. (n.d.). What makes a teacher effective: A summary of key research findings on teacher
preparation. Retrieved from
http://www.ncate.org/LinkClick.aspx?fileticket=JFRrmWqa1jU%3d&tabid=361
Wiswall, M. (2011). The dynamics of teacher quality. Journal of Public Economics, 100, 61–78.