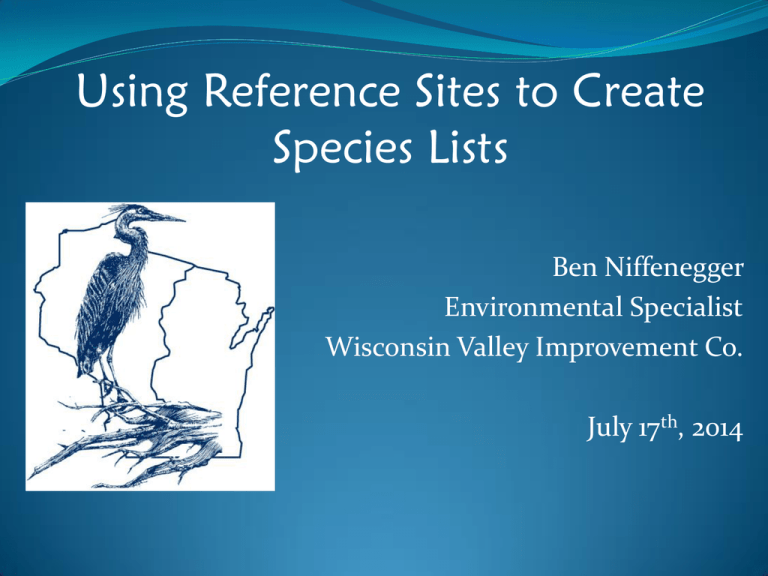 Using Reference Sites to Create
Species Lists
Ben Niffenegger
Environmental Specialist
Wisconsin Valley Improvement Co.
July 17th, 2014
Own & Operate:
21 Storage Reservoirs
5 Man Made Res
16 Natural Lakes
 Store Water during High-Flow
Periods (Spring/Fall)
 Release Water During Low-Flow
Periods (Summer/Winter)
 Implement a Variety of
Environmental Plans
 Land Mgmt/Erosion Control
 Water Quality
 Fish & Wildlife/AIS
 Cultural/Historic Resources
 Recreation Mgmt
Using Reference Sites as a Basis for
Creating Species Lists
Basic Site Assessment
 Soil Type Loamy Sand
 Aspect NW
 Sun Exposure Shade/Part Shade & Sun
 Gradient Level Area and 1:5 slope
 Mature Canopy Trees Red & White Pine
 "Microsites" Variations in the Landscape Moist/Cool Pockets
Choosing a Reference Site
 Match Site Conditions
 Mimic Undeveloped Shorelines &
Natural Areas
 Comparable Natural Communities
 Avoid disturbed areas near homes & roads
where ornamentals & Invasives are prevalent
Ideal Reference Sites
 State Natural Areas
 http://dnr.wi.gov/topic/Lands/naturalareas/
If you know your plants….
 ID. Groundcover, Shrubs, and Trees
 What's growing where?
 List which species are growing in the Shade/Dappled
Shade/Full Sun
 What's growing on slopes/in depressions/on ridges?
 What species are naturally grouped together?
 TAKE PHOTOS to complement notes
If you don't know your plants…
 TAKE PHOTOS to complement notes
 Many plant professionals and amateurs can assist with
plant identification.
 Botany Departments UWSP/UWGB/Madison
 Land Conservation Depts.
 UW Extension/DNR
 Nurseries/Garden Centers
 Outdoor Education/Interpretive Centers
 Weird neighbor you never talk to that loves plants
Species Lists
 Include Latin Names
 Divide Sp. Into Areas
 Ie: Bank/Upland/ etc
 Discuss w/Stakeholders
 Do these plants meet the
needs of the project?
Involve Stakeholders
 Discuss plant choices with plan designer, contractor, and
property owners Before Purchasing…
 Did the contractor plan on bringing in different soil that
changes the appropriateness of selected plant species?
 Is the property owner allergic to…..Sweet Fern & Red Pine?
 Do these species reflect the overarching goal of the plan?
 Are additional species needed for:



Erosion Control?
Wildlife Habitat?
Aesthetic Appeal?
Substitutions: Balancing Natural
Communities with Site Specific Concerns
 Sometimes site conditions dictate a need for additional




species not found in the natural community.
Bioengineering Projects
Wildlife Habitat
Enhancements
Disturbed Sites
Property Owner Needs
Discussion Topics:
 Restoration Vs. Revegetation
 Are we truly restoring shorelines?
 Setting the stage…Time expectations
 Native vs. "Native"
 Regional Genotypes…Not all plants are created equal!
 Importance of Sourcing Local Plant Materials
 Northern Nurseries: Ontario vs. Texas
 Prairie Plants in the Northwoods?
 Ecological Appropriateness
 Site Specific Exceptions
 Philosophical Debates…
 Appeasing Landowners
 Managing Expectations
 Education
Questions?