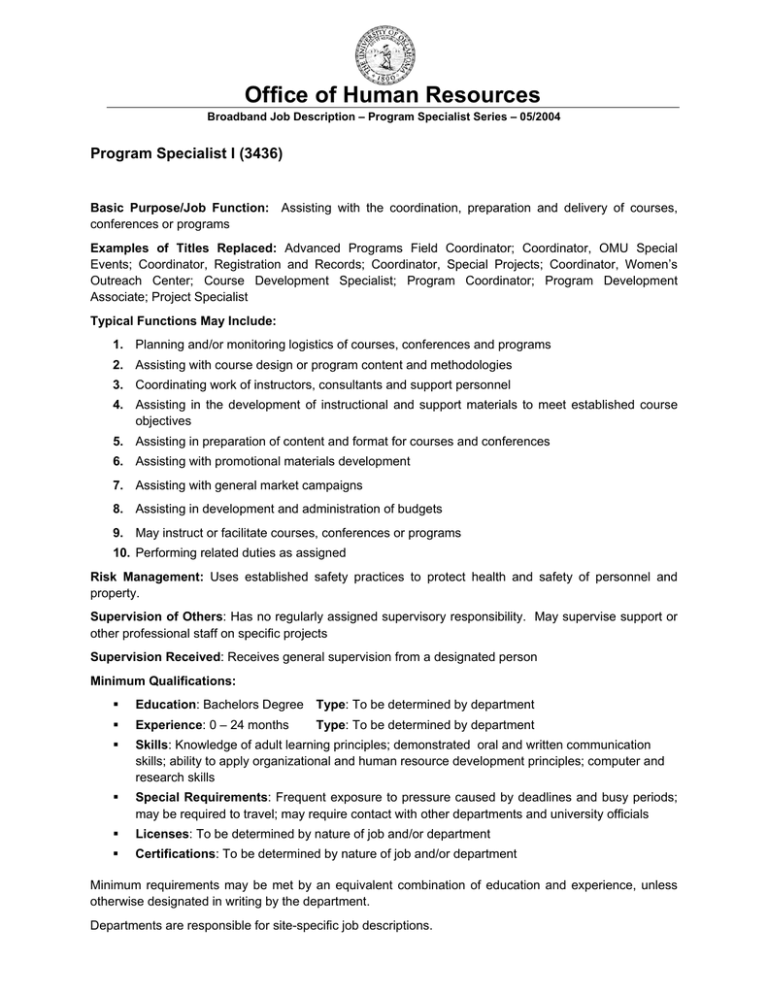 Office of Human Resources
Broadband Job Description – Program Specialist Series – 05/2004
Program Specialist I (3436)
Basic Purpose/Job Function: Assisting with the coordination, preparation and delivery of courses,
conferences or programs
Examples of Titles Replaced: Advanced Programs Field Coordinator; Coordinator, OMU Special
Events; Coordinator, Registration and Records; Coordinator, Special Projects; Coordinator, Women's
Outreach Center; Course Development Specialist; Program Coordinator; Program Development
Associate; Project Specialist
Typical Functions May Include:
1. Planning and/or monitoring logistics of courses, conferences and programs
2. Assisting with course design or program content and methodologies
3. Coordinating work of instructors, consultants and support personnel
4. Assisting in the development of instructional and support materials to meet established course
objectives
5. Assisting in preparation of content and format for courses and conferences
6. Assisting with promotional materials development
7. Assisting with general market campaigns
8. Assisting in development and administration of budgets
9. May instruct or facilitate courses, conferences or programs
10. Performing related duties as assigned
Risk Management: Uses established safety practices to protect health and safety of personnel and
property.
Supervision of Others: Has no regularly assigned supervisory responsibility. May supervise support or
other professional staff on specific projects
Supervision Received: Receives general supervision from a designated person
Minimum Qualifications:
Education: Bachelors Degree
Type: To be determined by department
Experience: 0 – 24 months
Type: To be determined by department
Skills: Knowledge of adult learning principles; demonstrated oral and written communication
skills; ability to apply organizational and human resource development principles; computer and
research skills
Special Requirements: Frequent exposure to pressure caused by deadlines and busy periods;
may be required to travel; may require contact with other departments and university officials
Licenses: To be determined by nature of job and/or department
Certifications: To be determined by nature of job and/or department
Minimum requirements may be met by an equivalent combination of education and experience, unless
otherwise designated in writing by the department.
Departments are responsible for site-specific job descriptions.