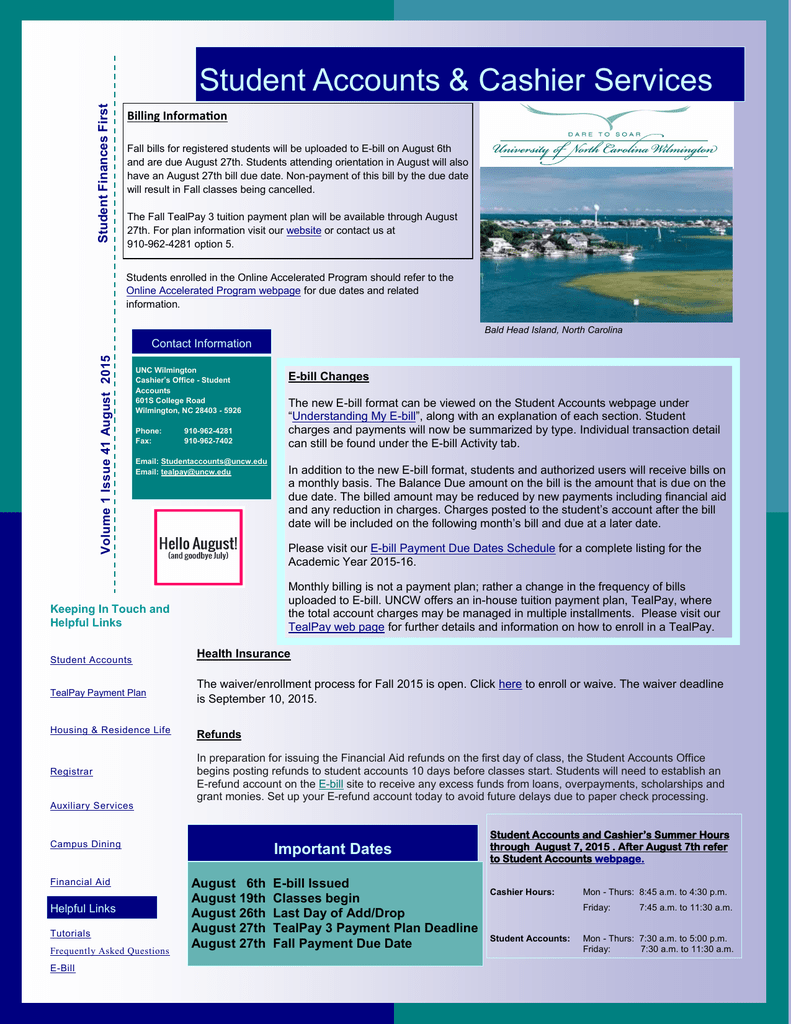 Student Finances First
Student Accounts & Cashier Services
Billing Information
Fall bills for registered students will be uploaded to E-bill on August 6th
and are due August 27th. Students attending orientation in August will also
have an August 27th bill due date. Non-payment of this bill by the due date
will result in Fall classes being cancelled.
The Fall TealPay 3 tuition payment plan will be available through August
27th. For plan information visit our website or contact us at
910-962-4281 option 5.
Students enrolled in the Online Accelerated Program should refer to the
Online Accelerated Program webpage for due dates and related
information.
Bald Head Island, North Carolina
Volume 1 Issue 41 August 2015
Contact Information
UNC Wilmington
Cashier's Office - Student
Accounts
601S College Road
Wilmington, NC 28403 - 5926
Phone:
Fax:
910-962-4281
910-962-7402
Email: [email protected]
Email: [email protected]
The new E-bill format can be viewed on the Student Accounts webpage under
"Understanding My E-bill", along with an explanation of each section. Student
charges and payments will now be summarized by type. Individual transaction detail
can still be found under the E-bill Activity tab.
In addition to the new E-bill format, students and authorized users will receive bills on
a monthly basis. The Balance Due amount on the bill is the amount that is due on the
due date. The billed amount may be reduced by new payments including financial aid
and any reduction in charges. Charges posted to the student's account after the bill
date will be included on the following month's bill and due at a later date.
Please visit our E-bill Payment Due Dates Schedule for a complete listing for the
Academic Year 2015-16.
Monthly billing is not a payment plan; rather a change in the frequency of bills
uploaded to E-bill. UNCW offers an in-house tuition payment plan, TealPay, where
the total account charges may be managed in multiple installments. Please visit our
TealPay web page for further details and information on how to enroll in a TealPay.
Keeping In Touch and
Helpful Links
Student Accounts
E-bill Changes
Health Insurance
TealPay Payment Plan
The waiver/enrollment process for Fall 2015 is open. Click here to enroll or waive. The waiver deadline
is September 10, 2015.
Housing & Residence Life
Refunds
Registrar
Auxiliary Services
In preparation for issuing the Financial Aid refunds on the first day of class, the Student Accounts Office
begins posting refunds to student accounts 10 days before classes start. Students will need to establish an
E-refund account on the E-bill site to receive any excess funds from loans, overpayments, scholarships and
grant monies. Set up your E-refund account today to avoid future delays due to paper check processing.
Campus Dining
Financial Aid
Helpful Links
Tutorials
Frequently Asked Questions
E-Bill
Important Dates
August 6th
August 19th
August 26th
August 27th
August 27th
E-bill Issued
Classes begin
Last Day of Add/Drop
TealPay 3 Payment Plan Deadline
Fall Payment Due Date
Student Accounts and Cashier's Summer Hours
through August 7, 2015 . After August 7th refer
to Student Accounts webpage.
Cashier Hours:
Mon - Thurs: 8:45 a.m. to 4:30 p.m.
Friday:
Student Accounts:
7:45 a.m. to 11:30 a.m.
Mon - Thurs: 7:30 a.m. to 5:00 p.m.
Friday:
7:30 a.m. to 11:30 a.m.