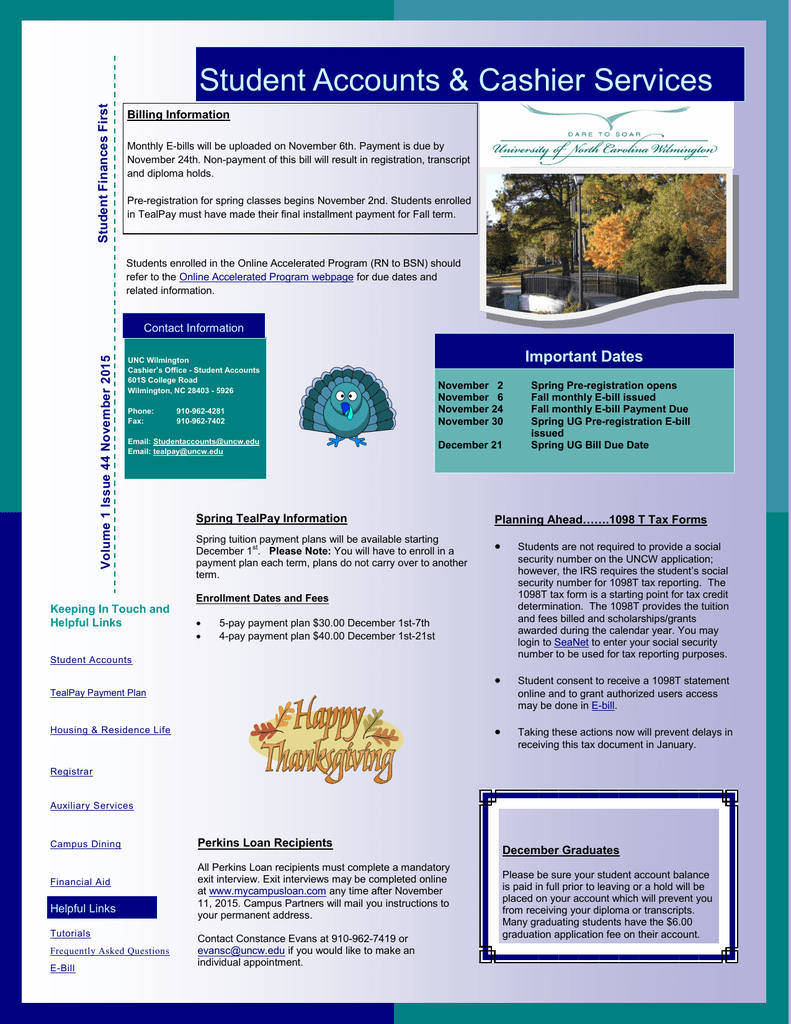 Student Finances First
Student Accounts & Cashier Services
Billing Information
Monthly E-bills will be uploaded on November 6th. Payment is due by
November 24th. Non-payment of this bill will result in registration, transcript
and diploma holds.
Pre-registration for spring classes begins November 2nd. Students enrolled
in TealPay must have made their final installment payment for Fall term.
Students enrolled in the Online Accelerated Program (RN to BSN) should
refer to the Online Accelerated Program webpage for due dates and
related information.
Volume 1 Issue 44 November 2015
Contact Information
UNC Wilmington
Cashier's Office - Student Accounts
601S College Road
Wilmington, NC 28403 - 5926
Phone:
Fax:
910-962-4281
910-962-7402
Email: [email protected]
Email: [email protected]
Keeping In Touch and
Helpful Links
Important Dates
November 2
November 6
November 24
November 30
December 21
Spring Pre-registration opens
Fall monthly E-bill issued
Fall monthly E-bill Payment Due
Spring UG Pre-registration E-bill
issued
Spring UG Bill Due Date
Spring TealPay Information
Planning Ahead…….1098 T Tax Forms
Spring tuition payment plans will be available starting
December 1st. Please Note: You will have to enroll in a
payment plan each term, plans do not carry over to another
term.

Students are not required to provide a social
security number on the UNCW application;
however, the IRS requires the student's social
security number for 1098T tax reporting. The
1098T tax form is a starting point for tax credit
determination. The 1098T provides the tuition
and fees billed and scholarships/grants
awarded during the calendar year. You may
login to SeaNet to enter your social security
number to be used for tax reporting purposes.

Student consent to receive a 1098T statement
online and to grant authorized users access
may be done in E-bill.

Taking these actions now will prevent delays in
receiving this tax document in January.
Enrollment Dates and Fees


5-pay payment plan $30.00 December 1st-7th
4-pay payment plan $40.00 December 1st-21st
Student Accounts
TealPay Payment Plan
Housing & Residence Life
Registrar
Auxiliary Services
Campus Dining
Financial Aid
Helpful Links
Tutorials
Frequently Asked Questions
E-Bill
Perkins Loan Recipients
All Perkins Loan recipients must complete a mandatory
exit interview. Exit interviews may be completed online
at www.mycampusloan.com any time after November
11, 2015. Campus Partners will mail you instructions to
your permanent address.
Contact Constance Evans at 910-962-7419 or
[email protected] if you would like to make an
individual appointment.
December Graduates
Please be sure your student account balance
is paid in full prior to leaving or a hold will be
placed on your account which will prevent you
from receiving your diploma or transcripts.
Many graduating students have the $6.00
graduation application fee on their account.