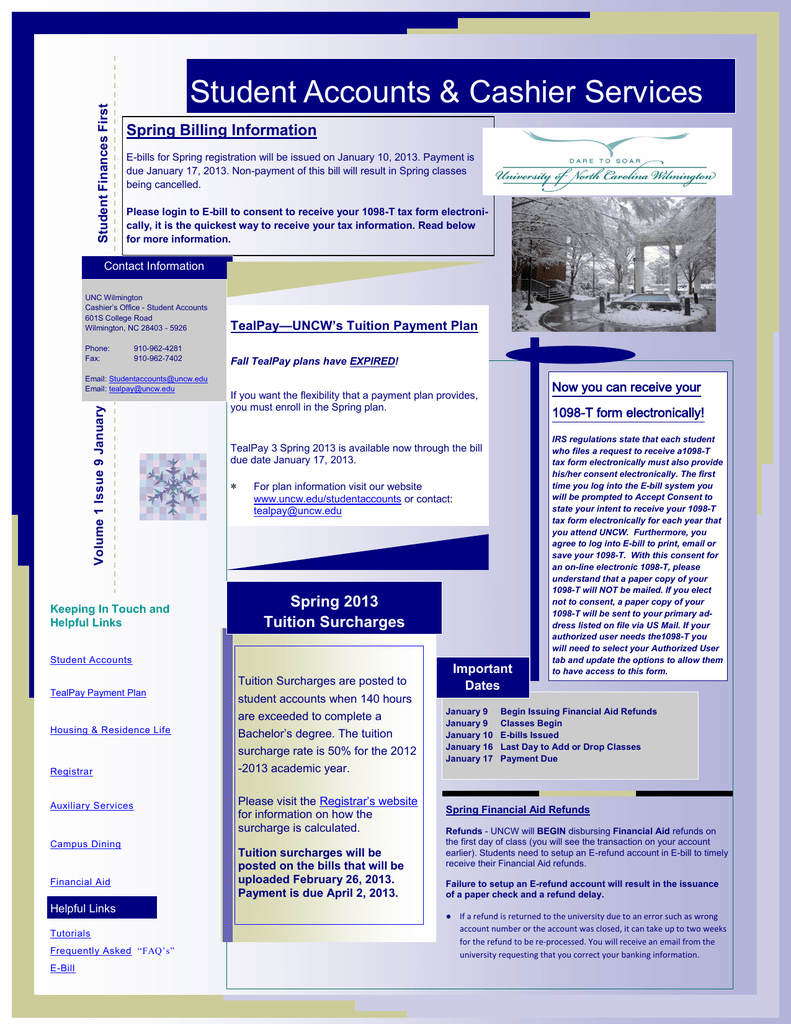 Student Finances First
Student Accounts & Cashier Services
Spring Billing Information
E-bills for Spring registration will be issued on January 10, 2013. Payment is
due January 17, 2013. Non-payment of this bill will result in Spring classes
being cancelled.
Please login to E-bill to consent to receive your 1098-T tax form electronically, it is the quickest way to receive your tax information. Read below
for more information.
Contact Information
UNC Wilmington
Cashier's Office - Student Accounts
601S College Road
Wilmington, NC 28403 - 5926
Phone:
Fax:
910-962-4281
910-962-7402
Volume 1 Issue 9 January
Email: [email protected]
Email: [email protected]
Keeping In Touch and
Helpful Links
TealPay—UNCW's Tuition Payment Plan
Fall TealPay plans have EXPIRED!
For plan information visit our website
www.uncw.edu/studentaccounts or contact:
[email protected]
Spring 2013
Tuition Surcharges
Tuition Surcharges are posted to
student accounts when 140 hours
are exceeded to complete a
Housing & Residence Life
Bachelor's degree. The tuition
surcharge rate is 50% for the 2012
Registrar
-2013 academic year.
Auxiliary Services
Campus Dining
Financial Aid
Helpful Links
Tutorials
Frequently Asked "FAQ's"
E-Bill
1098-T form electronically!
TealPay 3 Spring 2013 is available now through the bill
due date January 17, 2013.
Student Accounts
TealPay Payment Plan
Now you can receive your
If you want the flexibility that a payment plan provides,
you must enroll in the Spring plan.
Please visit the Registrar's website
for information on how the
surcharge is calculated.
Tuition surcharges will be
posted on the bills that will be
uploaded February 26, 2013.
Payment is due April 2, 2013.
Important
Dates
January 9
January 9
January 10
January 16
January 17
IRS regulations state that each student
who files a request to receive a1098-T
tax form electronically must also provide
his/her consent electronically. The first
time you log into the E-bill system you
will be prompted to Accept Consent to
state your intent to receive your 1098-T
tax form electronically for each year that
you attend UNCW. Furthermore, you
agree to log into E-bill to print, email or
save your 1098-T. With this consent for
an on-line electronic 1098-T, please
understand that a paper copy of your
1098-T will NOT be mailed. If you elect
not to consent, a paper copy of your
1098-T will be sent to your primary address listed on file via US Mail. If your
authorized user needs the1098-T you
will need to select your Authorized User
tab and update the options to allow them
to have access to this form.
Begin Issuing Financial Aid Refunds
Classes Begin
E-bills Issued
Last Day to Add or Drop Classes
Payment Due
Spring Financial Aid Refunds
Refunds - UNCW will BEGIN disbursing Financial Aid refunds on
the first day of class (you will see the transaction on your account
earlier). Students need to setup an E-refund account in E-bill to timely
receive their Financial Aid refunds.
Failure to setup an E-refund account will result in the issuance
of a paper check and a refund delay.
● If a refund is returned to the university due to an error such as wrong
account number or the account was closed, it can take up to two weeks
for the refund to be re-processed. You will receive an email from the
university requesting that you correct your banking information.