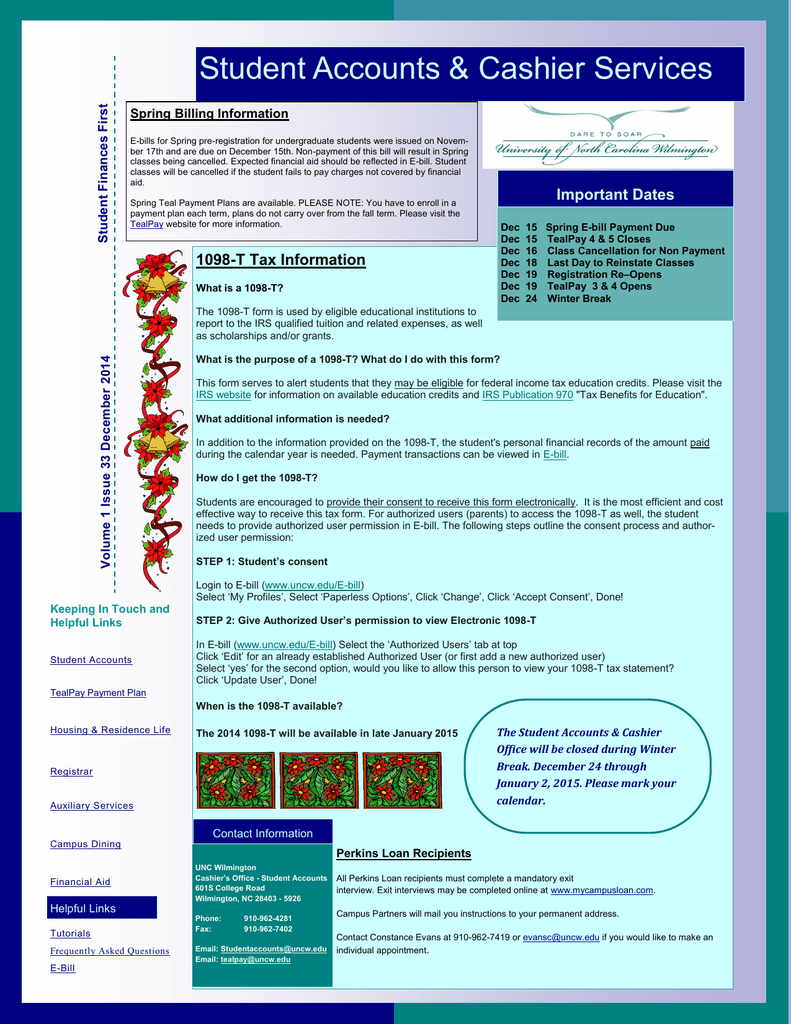 Student Finances First
Student Accounts & Cashier Services
Spring Billing Information
E-bills for Spring pre-registration for undergraduate students were issued on November 17th and are due on December 15th. Non-payment of this bill will result in Spring
classes being cancelled. Expected financial aid should be reflected in E-bill. Student
classes will be cancelled if the student fails to pay charges not covered by financial
aid.
Important Dates
Spring Teal Payment Plans are available. PLEASE NOTE: You have to enroll in a
payment plan each term, plans do not carry over from the fall term. Please visit the
TealPay website for more information.
Dec
Dec
Dec
Dec
Dec
Dec
Dec
1098-T Tax Information
What is a 1098-T?
15
15
16
18
19
19
24
Spring E-bill Payment Due
TealPay 4 & 5 Closes
Class Cancellation for Non Payment
Last Day to Reinstate Classes
Registration Re–Opens
TealPay 3 & 4 Opens
Winter Break
Volume 1 Issue 33 December 2014
The 1098-T form is used by eligible educational institutions to
report to the IRS qualified tuition and related expenses, as well
as scholarships and/or grants.
Keeping In Touch and
Helpful Links
Student Accounts
What is the purpose of a 1098-T? What do I do with this form?
This form serves to alert students that they may be eligible for federal income tax education credits. Please visit the
IRS website for information on available education credits and IRS Publication 970 "Tax Benefits for Education".
What additional information is needed?
In addition to the information provided on the 1098-T, the student's personal financial records of the amount paid
during the calendar year is needed. Payment transactions can be viewed in E-bill.
How do I get the 1098-T?
Students are encouraged to provide their consent to receive this form electronically. It is the most efficient and cost
effective way to receive this tax form. For authorized users (parents) to access the 1098-T as well, the student
needs to provide authorized user permission in E-bill. The following steps outline the consent process and authorized user permission:
STEP 1: Student's consent
Login to E-bill (www.uncw.edu/E-bill)
Select 'My Profiles', Select 'Paperless Options', Click 'Change', Click 'Accept Consent', Done!
STEP 2: Give Authorized User's permission to view Electronic 1098-T
In E-bill (www.uncw.edu/E-bill) Select the 'Authorized Users' tab at top
Click 'Edit' for an already established Authorized User (or first add a new authorized user)
Select 'yes' for the second option, would you like to allow this person to view your 1098-T tax statement?
Click 'Update User', Done!
TealPay Payment Plan
When is the 1098-T available?
Housing & Residence Life
The 2014 1098-T will be available in late January 2015
Registrar
Auxiliary Services
Campus Dining
Financial Aid
Helpful Links
Tutorials
Frequently Asked Questions
E-Bill
The Student Accounts & Cashier
Office will be closed during Winter
Break. December 24 through
January 2, 2015. Please mark your
calendar.
Contact Information
Perkins Loan Recipients
UNC Wilmington
Cashier's Office - Student Accounts
601S College Road
Wilmington, NC 28403 - 5926
Phone:
Fax:
910-962-4281
910-962-7402
Email: [email protected]
Email: [email protected]
All Perkins Loan recipients must complete a mandatory exit
interview. Exit interviews may be completed online at www.mycampusloan.com.
Campus Partners will mail you instructions to your permanent address.
Contact Constance Evans at 910-962-7419 or [email protected] if you would like to make an
individual appointment.