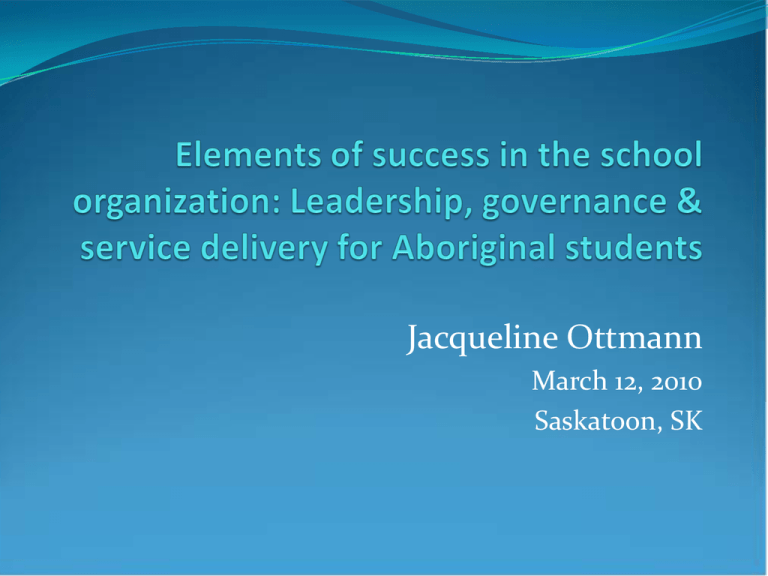 Jacqueline Ottmann
March 12, 2010
Saskatoon, SK
School-community relationships
The factors that contribute to quality relationships:
 Changing views of the role of schools
 Changing demographics
 A growing appreciation of "contextualism" and
ecological settings"
 A sincere desire to develop multi-setting, collaborative
partnerships.
Kamara, M. (2010). Indigenous female educational leaders in
Northern Territory remote community schools: Issues in
negotiating school community partnerships. ACU
Partnerships
Block (1993) asserts that strong partnerships requires a
move from authoritarian to shared decision making
behaviors.
Valid partnerships require:
1. Exchange of purpose
2. Joint accountability
3. Right to say no
4. Absolute honesty
Trust is also identified as critical (Foster & Goddard,
2003)
Partnership Models (Boyd, 1997)
Bureaucratic Model – closed system, no reciprocity,
hierarchal
2. Professional Model – flexible, considers the needs of
both the staff and students. The professionals have
the answers.
3. Democratic Model – encourages collaboration and
cooperation. Involves staff, parents, and community
members.
1.
What does the literature &
research say?
High performing, high poverty (HPHP) schools:
1. All schools had a clear and direct focus on instruction,
setting high standards for both
2. These schools had a committed, dynamic staff was
essential to student learning.
3. A high priority towards developing multiple support
systems for students with diverse needs was significant to
academic success.
Masumoto, M. & Brown-Welty, S. (2009). Case Study of Leadership Practices and
School-Community Interrelationships in High-Performing, High-Poverty,
Rural California High Schools. Journal of Research in Rural Education, 24(1), 116
Masumoto, M. &
Brown-Welty, S. (2009).
 Strong leadership (transformational, distributed and
instructional
 positive and effective school-community
interrelationships were essential for the development
of effective programs to enhance student learning
HPHN
Phase one key factors of success:
High expectations, focus on student learning, use of
data, individualized instruction, teacher retention and
professional development, and curriculum alignment
with assessment practises (p.3).
Barley, Z.A., and Beesley, A. D. (2007). Rural School
Success: What Can We Learn?. Journal of Research in
Rural Education, 22(1), 1-16
HPHN
Phase two key factors of success:
 School-community relationships and partnerships;
interdependence for survival
 aligned curriculum, assessment practices and learning
objectives to support effective instruction for the students
"Principals met frequently with teachers in both formal and
informal situations as well as collectively, in small groups,
and one-on-one to discuss student progress" (p. 4)
 adequate support for teachers was essential to success.
This included collaboration time
School effectiveness
Lowe (2006) recommends promoting effective schools and
addressing the issue of by considering:
 Accountability & administration
 Communities of practice
 Mentoring
 Staff development
 Recruiting
 Induction program
 Cooperative teams (Networking) - Work with other school
districts and teacher education programs to develop
partnerships.
Leadership
"Leaders are cultural agents who bring values to bear
on decision-making and policy decisions"
(Leithwood et al, 1999 as cited in Collard, 2007, p. 740).
How?
 Culturally-responsive teaching strategies
 Social justice, social action: We all have to decide to act
or not to act. We have choices.
 From policy to practice: how do we create the bridge,
to develop praxis? Why is it so difficult?
We need to go deeper
 Exploring values and beliefs: both the cognitive and
the affective domain
 We need to engage in reflective practices; to think
about thinking
Exploring essential questions
Who am I?
2. Where do I come from?
3. Where and I going?
4. What is my responsibility?
1.
Individual, organizational, societal perspectives
(schools are a reflection of societal values and belief
systems; change require cultural shifts)
We see, we feel, we change
Learning is emotional
2. What has been our collective/individual histories?
3. Education a part of the process; the goal is to strive
for quality relationships and partnerships
4. Seven Generations: A reason for keeping in touch
with the past: complexity theory
1.
Aboriginal Perspectives Action
Research Project
Research Question:
To what extent do teacher attitudes, norms,
values, basic assumptions and behaviour
influence authentic inclusion, infusion and
embedding of Aboriginal Perspectives in the Social
Studies program?
What is the affective domain?
"Affective learning
outcomes involve
attitudes, motivation,
and values. The
expression of these often
involves statements of
opinions, beliefs, or an
assessment of worth."
(Smith & Ragan, 1999).
values
feelings
stereotypes
attitudes
motivation
What is "perspective"?
"Each teacher has a unique mental representation
of the world of education and the roles he or she
plays in that world. That representation is a
tangled web of beliefs, values, metaphors, and
thought processes … Those beliefs typically
exist outside conscious awareness and are
largely unexamined. They are, however, no less
influential for their invisibility."
(Yero 2001-2002).
Sense of urgency
False sense
2. Apathy
3. True sense of urgency
1.