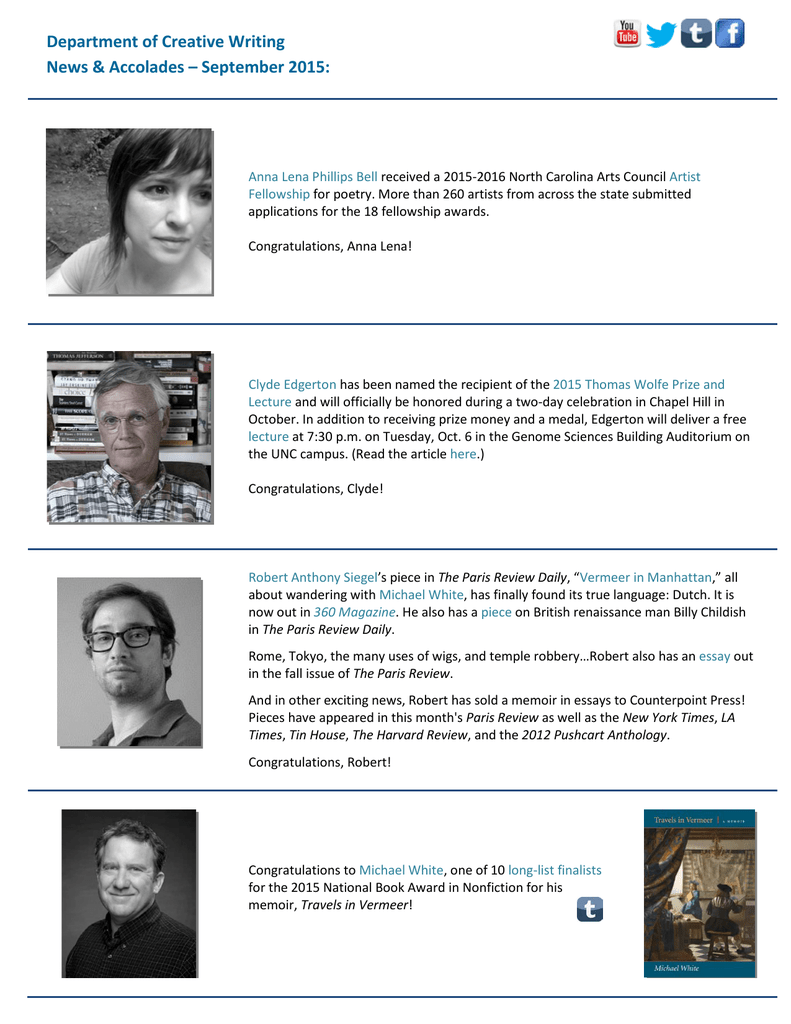 Department of Creative Writing
News & Accolades – September 2015:
Anna Lena Phillips Bell received a 2015-2016 North Carolina Arts Council Artist
Fellowship for poetry. More than 260 artists from across the state submitted
applications for the 18 fellowship awards.
Congratulations, Anna Lena!
Clyde Edgerton has been named the recipient of the 2015 Thomas Wolfe Prize and
Lecture and will officially be honored during a two-day celebration in Chapel Hill in
October. In addition to receiving prize money and a medal, Edgerton will deliver a free
lecture at 7:30 p.m. on Tuesday, Oct. 6 in the Genome Sciences Building Auditorium on
the UNC campus. (Read the article here.)
Congratulations, Clyde!
Robert Anthony Siegel's piece in The Paris Review Daily, "Vermeer in Manhattan," all
about wandering with Michael White, has finally found its true language: Dutch. It is
now out in 360 Magazine. He also has a piece on British renaissance man Billy Childish
in The Paris Review Daily.
Rome, Tokyo, the many uses of wigs, and temple robbery…Robert also has an essay out
in the fall issue of The Paris Review.
And in other exciting news, Robert has sold a memoir in essays to Counterpoint Press!
Pieces have appeared in this month's Paris Review as well as the New York Times, LA
Times, Tin House, The Harvard Review, and the 2012 Pushcart Anthology.
Congratulations, Robert!
Congratulations to Michael White, one of 10 long-list finalists
for the 2015 National Book Award in Nonfiction for his
memoir, Travels in Vermeer!
BFA student Jacob Mohr adds to his list of publications a short story, "Conspicuous
Consumption," in the online journal Liquid Imagination.
Congratulations, Jacob!
BFA student Melissa Parthemore has a poem, "People Left Behind," in the Summer
2015 issue of Viator magazine. This is Melissa's first publication in poetry.
Congratulations, Melissa!
MFA student Jonathan Russell Clark had a piece in The Atlantic about Truman Capote's
Music for Chameleons.
He has also become a staff writer at Literary Hub. He had a big multi-book review on
Oscar Wilde in the summer issue of The Georgia Review. And he had an essay about
H.D.'s Bid Me to Live in the Summer issue of Tin House.
Congratulations, Jonathan!
MFA student Jamie Lynn Miller was awarded a 2015-2016 Dr. Ralph W. Brauer
Fellowship, which she will use to gather recorded and written interviews in the Callejon
de la Loma, a Dominican-Haitian barrio in Cabarate, Dominican Republic.
Congratulations, Jamie Lynn!
MFA student Katie O'Reilly's essay, "Moral Combat: Voting Rights and North Carolina's
Moral Mondays," was published in Solidarity on August 6th, the fiftieth anniversary of
the Voting Rights Act. It is also scheduled to appear in the next issue of Against the
Current magazine.
Congratulations, Katie!
MFA student Beth Roddy was awarded a full scholarship to attend the BinderCon
conference this November in New York City.
Congratulations, Beth!
MFA student Cathe Shubert graduated summa cum laude from Middlebury College's
Oxford University campus with a Master's in English Literature. She was the recipient of
the Laurence B. Holland Memorial Scholarship while in the program.
Cathe has also been awarded a 2015-2016 Dr. Ralph W. Brauer Fellowship.
She continues to round down literary news at the Ploughshares' blog.
Congratulations, Cathe!
MFA student Emily Paige Wilson has been awarded a 2015-2016 Dr. Ralph W. Brauer
Fellowship and will be traveling to the National Czech & Slovak Museum in Iowa for
thesis research.
Congratulations, Emily!
MFA alum Emma Bolden ('05) has an essay called "My Only Carriage" up on The Toast.
Congratulations, Emma!
MFA alum Regina DiPerna has four poems in the fall issue of The Missouri Review, due
out this month.
Congratulations, Regina!
MFA alum Kerry Headley ('13) has a piece up at The Rumpus: it's a revised essay from
her thesis called "No Way Out at the Welfare Office." This essay was also featured in
The Billfold.
Congratulations, Kerry!
MFA alum Jason Newport's ('12) short story, "On Letting Go," appears in the current
issue of Potomac Review.
Congratulations, Jason!
The September issue of Wilmington's Salt magazine features a wealth of Creative
Writing folks. Regular columnists include faculty members Clyde Edgerton and Virginia
Holman, and MFA alums Lavonne Adams ('99), Anne Barnhill ('01), Jason Frye ('05),
Dana Sachs ('00), and Barbara Sullivan ('11).
A link to the digital magazine is here: saltmagazinenc.com.
Phil Furia hosts the daily segment 'The Great American Songbook' on WHQR 1:302:00pm, and during the Morning Edition on Fridays at 6:00am.
Philip Gerard is a regular commentator on WHQR—listen to his broadcast segments
every other Thursday at 7:35a, 8:50a, or 5:45p, or online in the WHQR Thursday
Commentaries at www.whqr.org/people/philip-gerard.