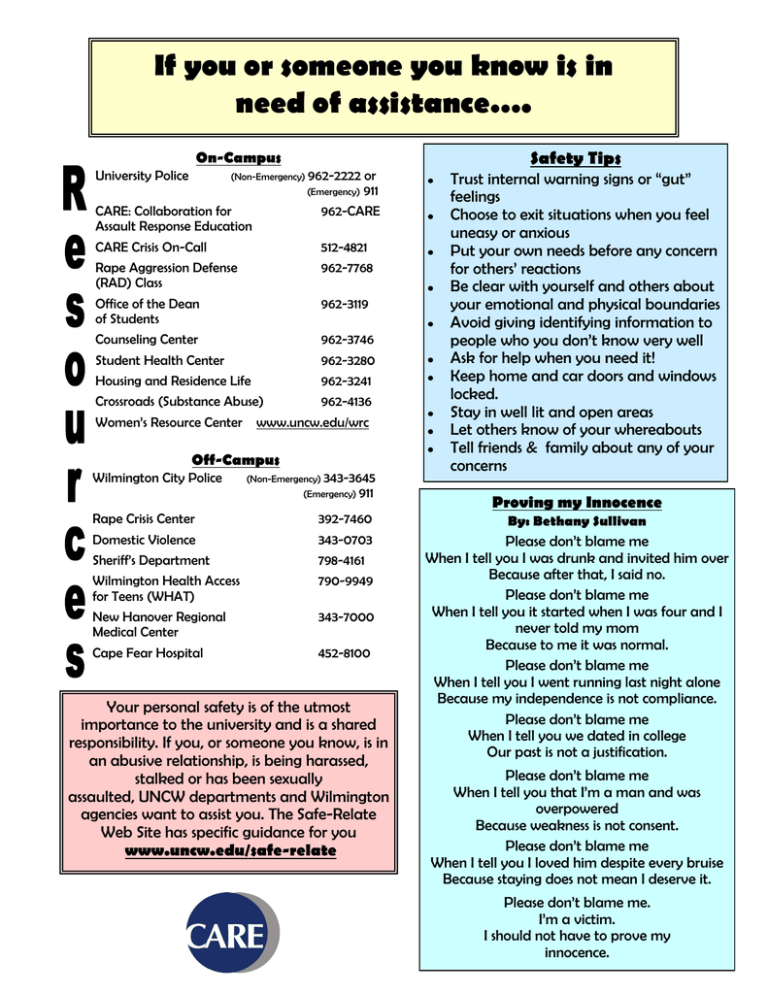 If you or someone you know is in
need of assistance….
On-Campus
University Police
(Non-Emergency) 962-2222
or
(Emergency) 911
962-CARE
CARE: Collaboration for
Assault Response Education
CARE Crisis On-Call
Rape Aggression Defense
(RAD) Class
512-4821
962-7768
Office of the Dean
of Students
962-3119
Counseling Center
962-3746
Student Health Center
962-3280
Housing and Residence Life
Crossroads (Substance Abuse)
962-3241
962-4136
Women's Resource Center
www.uncw.edu/wrc
Off-Campus
Wilmington City Police
(Non-Emergency) 343-3645
(Emergency) 911
Rape Crisis Center
Domestic Violence
392-7460
343-0703
Sheriff's Department
798-4161
Wilmington Health Access
for Teens (WHAT)
790-9949
New Hanover Regional
Medical Center
343-7000
Cape Fear Hospital
452-8100
Your personal safety is of the utmost
importance to the university and is a shared
responsibility. If you, or someone you know, is in
an abusive relationship, is being harassed,
stalked or has been sexually
assaulted, UNCW departments and Wilmington
agencies want to assist you. The Safe-Relate
Web Site has specific guidance for you
www.uncw.edu/safe-relate
Safety Tips
Trust internal warning signs or "gut"
feelings
Choose to exit situations when you feel
uneasy or anxious
Put your own needs before any concern
for others' reactions
Be clear with yourself and others about
your emotional and physical boundaries
Avoid giving identifying information to
people who you don't know very well
Ask for help when you need it!
Keep home and car doors and windows
locked.
Stay in well lit and open areas
Let others know of your whereabouts
Tell friends & family about any of your
concerns
Proving my Innocence
By: Bethany Sullivan
Please don't blame me
When I tell you I was drunk and invited him over
Because after that, I said no.
Please don't blame me
When I tell you it started when I was four and I
never told my mom
Because to me it was normal.
Please don't blame me
When I tell you I went running last night alone
Because my independence is not compliance.
Please don't blame me
When I tell you we dated in college
Our past is not a justification.
Please don't blame me
When I tell you that I'm a man and was
overpowered
Because weakness is not consent.
Please don't blame me
When I tell you I loved him despite every bruise
Because staying does not mean I deserve it.
Please don't blame me.
I'm a victim.
I should not have to prove my
innocence.