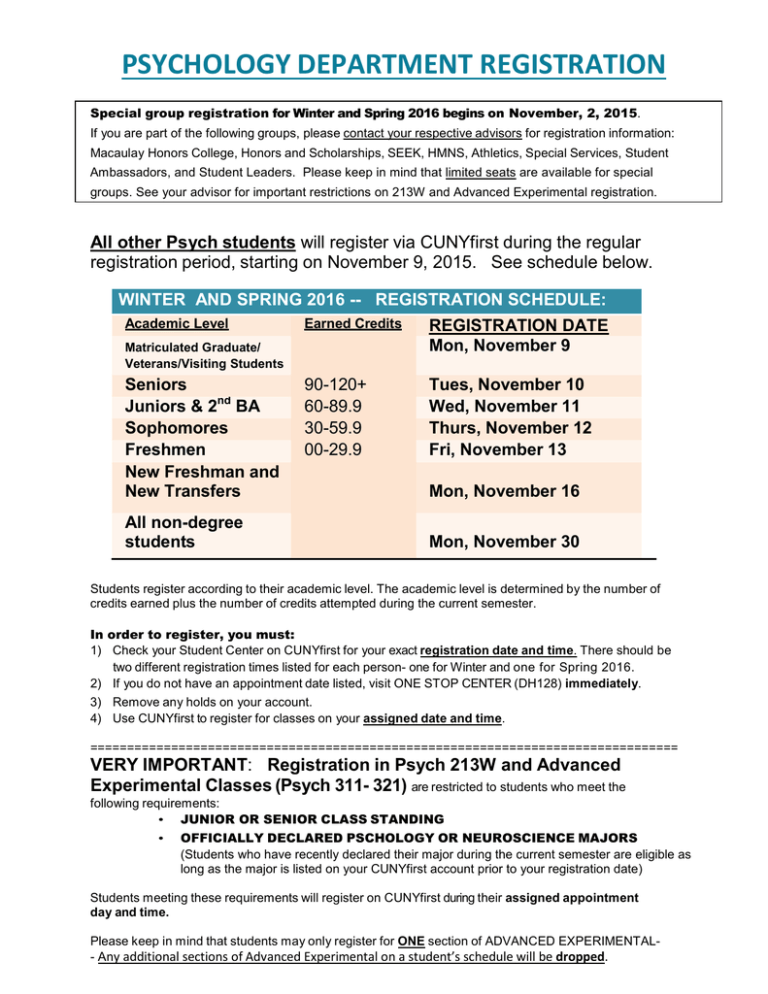 PSYCHOLOGY DEPARTMENT REGISTRATION
Special group registration for Winter and Spring 2016 begins on November, 2, 2015.
If you are part of the following groups, please contact your respective advisors for registration information:
Macaulay Honors College, Honors and Scholarships, SEEK, HMNS, Athletics, Special Services, Student
Ambassadors, and Student Leaders. Please keep in mind that limited seats are available for special
groups. See your advisor for important restrictions on 213W and Advanced Experimental registration.
All other Psych students will register via CUNYfirst during the regular
registration period, starting on November 9, 2015. See schedule below.
WINTER AND SPRING 2016 -- REGISTRATION SCHEDULE:
Academic Level
Earned Credits
REGISTRATION DATE
Mon, November 9
90-120+
60-89.9
30-59.9
00-29.9
Tues, November 10
Wed, November 11
Thurs, November 12
Fri, November 13
Matriculated Graduate/
Veterans/Visiting Students
Seniors
Juniors & 2nd BA
Sophomores
Freshmen
New Freshman and
New Transfers
All non-degree
students
Mon, November 16
Mon, November 30
Students register according to their academic level. The academic level is determined by the number of
credits earned plus the number of credits attempted during the current semester.
In order to register, you must:
1) Check your Student Center on CUNYfirst for your exact registration date and time. There should be
two different registration times listed for each person- one for Winter and one for Spring 2016.
2) If you do not have an appointment date listed, visit ONE STOP CENTER (DH128) immediately.
3) Remove any holds on your account.
4) Use CUNYfirst to register for classes on your assigned date and time.
================================================================================
VERY IMPORTANT: Registration in Psych 213W and Advanced
Experimental Classes (Psych 311- 321) are restricted to students who meet the
following requirements:
• JUNIOR OR SENIOR CLASS STANDING
• OFFICIALLY DECLARED PSCHOLOGY OR NEUROSCIENCE MAJORS
(Students who have recently declared their major during the current semester are eligible as
long as the major is listed on your CUNYfirst account prior to your registration date)
Students meeting these requirements will register on CUNYfirst during their assigned appointment
day and time.
Please keep in mind that students may only register for ONE section of ADVANCED EXPERIMENTAL- Any additional sections of Advanced Experimental on a student's schedule will be dropped.