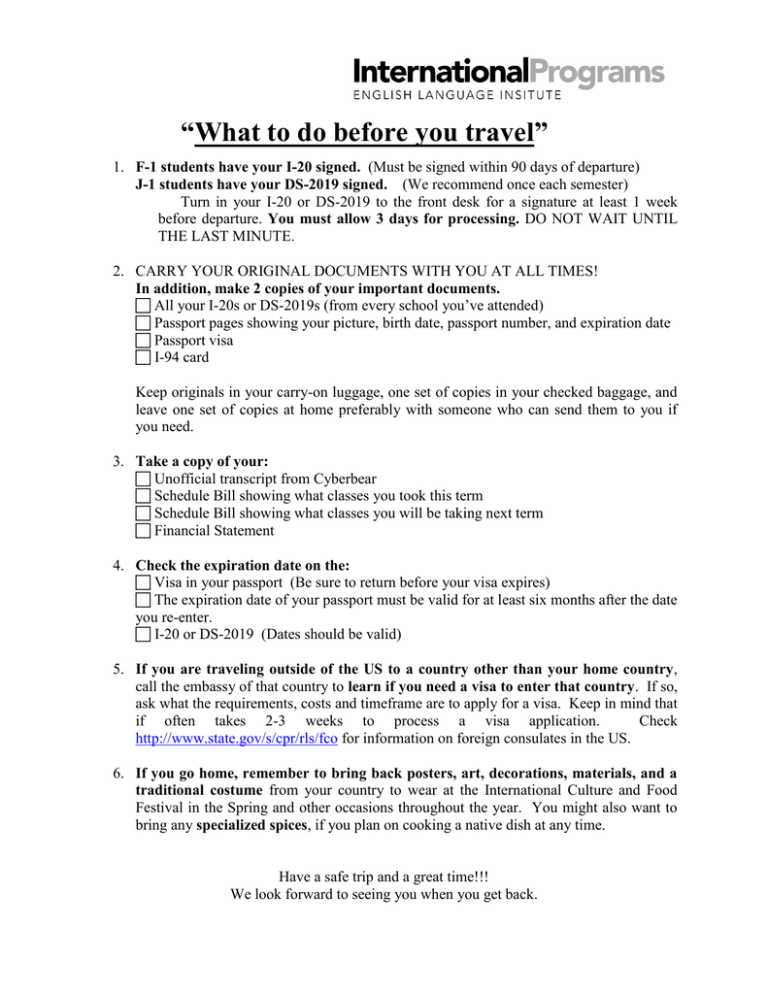 "What to do before you travel"
1. F-1 students have your I-20 signed. (Must be signed within 90 days of departure)
J-1 students have your DS-2019 signed. (We recommend once each semester)
Turn in your I-20 or DS-2019 to the front desk for a signature at least 1 week
before departure. You must allow 3 days for processing. DO NOT WAIT UNTIL
THE LAST MINUTE.
2. CARRY YOUR ORIGINAL DOCUMENTS WITH YOU AT ALL TIMES!
In addition, make 2 copies of your important documents.
 All your I-20s or DS-2019s (from every school you've attended)
 Passport pages showing your picture, birth date, passport number, and expiration date
 Passport visa
 I-94 card
Keep originals in your carry-on luggage, one set of copies in your checked baggage, and
leave one set of copies at home preferably with someone who can send them to you if
you need.
3. Take a copy of your:
 Unofficial transcript from Cyberbear
 Schedule Bill showing what classes you took this term
 Schedule Bill showing what classes you will be taking next term
 Financial Statement
4. Check the expiration date on the:
 Visa in your passport (Be sure to return before your visa expires)
 The expiration date of your passport must be valid for at least six months after the date
you re-enter.
 I-20 or DS-2019 (Dates should be valid)
5. If you are traveling outside of the US to a country other than your home country,
call the embassy of that country to learn if you need a visa to enter that country. If so,
ask what the requirements, costs and timeframe are to apply for a visa. Keep in mind that
if often takes 2-3 weeks to process a visa application.
Check
http://www.state.gov/s/cpr/rls/fco for information on foreign consulates in the US.
6. If you go home, remember to bring back posters, art, decorations, materials, and a
traditional costume from your country to wear at the International Culture and Food
Festival in the Spring and other occasions throughout the year. You might also want to
bring any specialized spices, if you plan on cooking a native dish at any time.
Have a safe trip and a great time!!!
We look forward to seeing you when you get back.