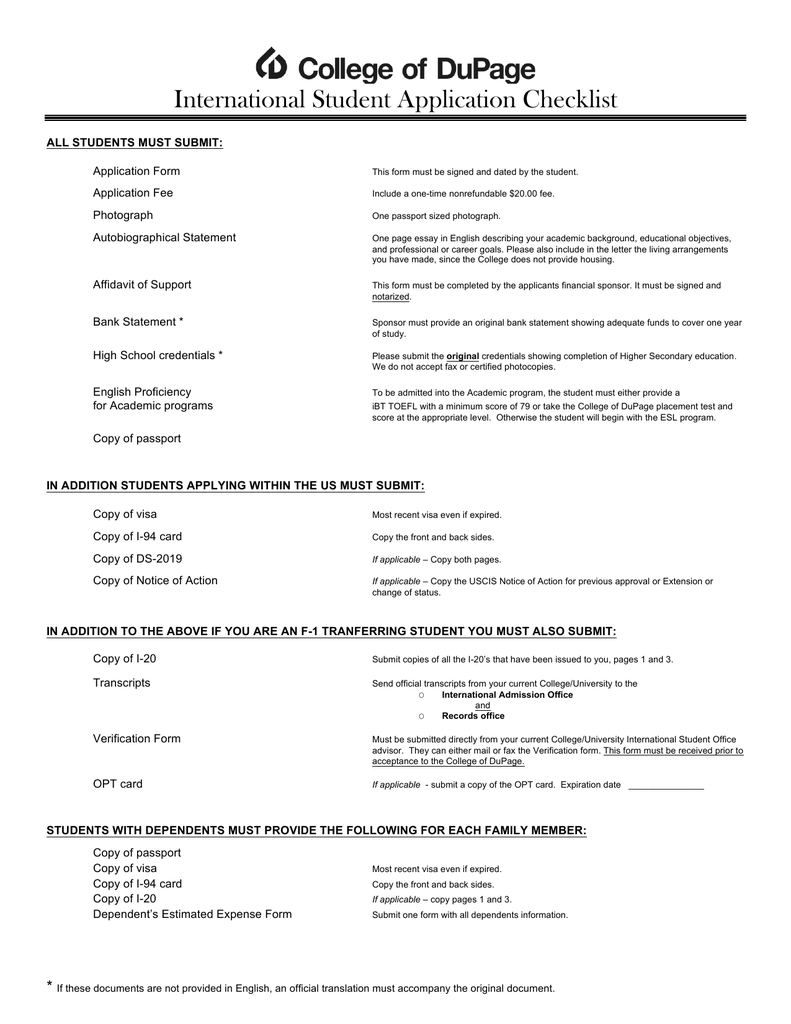 International Student Application Checklist
ALL STUDENTS MUST SUBMIT:
Application Form
This form must be signed and dated by the student.
Application Fee
Include a one-time nonrefundable $20.00 fee.
Photograph
One passport sized photograph.
Autobiographical Statement
One page essay in English describing your academic background, educational objectives,
and professional or career goals. Please also include in the letter the living arrangements
you have made, since the College does not provide housing.
Affidavit of Support
This form must be completed by the applicants financial sponsor. It must be signed and
notarized.
Bank Statement *
Sponsor must provide an original bank statement showing adequate funds to cover one year
of study.
High School credentials *
Please submit the original credentials showing completion of Higher Secondary education.
We do not accept fax or certified photocopies.
English Proficiency
for Academic programs
To be admitted into the Academic program, the student must either provide a
iBT TOEFL with a minimum score of 79 or take the College of DuPage placement test and
score at the appropriate level. Otherwise the student will begin with the ESL program.
Copy of passport
IN ADDITION STUDENTS APPLYING WITHIN THE US MUST SUBMIT:
Copy of visa
Most recent visa even if expired.
Copy of I-94 card
Copy the front and back sides.
Copy of DS-2019
If applicable – Copy both pages.
Copy of Notice of Action
If applicable – Copy the USCIS Notice of Action for previous approval or Extension or
change of status.
IN ADDITION TO THE ABOVE IF YOU ARE AN F-1 TRANFERRING STUDENT YOU MUST ALSO SUBMIT:
Copy of I-20
Submit copies of all the I-20's that have been issued to you, pages 1 and 3.
Transcripts
Send official transcripts from your current College/University to the
O
International Admission Office
and
O
Records office
Verification Form
Must be submitted directly from your current College/University International Student Office
advisor. They can either mail or fax the Verification form. This form must be received prior to
acceptance to the College of DuPage.
OPT card
If applicable - submit a copy of the OPT card. Expiration date _______________
STUDENTS WITH DEPENDENTS MUST PROVIDE THE FOLLOWING FOR EACH FAMILY MEMBER:
Copy of passport
Copy of visa
Copy of I-94 card
Copy of I-20
Dependent's Estimated Expense Form
Most recent visa even if expired.
Copy the front and back sides.
If applicable – copy pages 1 and 3.
Submit one form with all dependents information.
* If these documents are not provided in English, an official translation must accompany the original document.