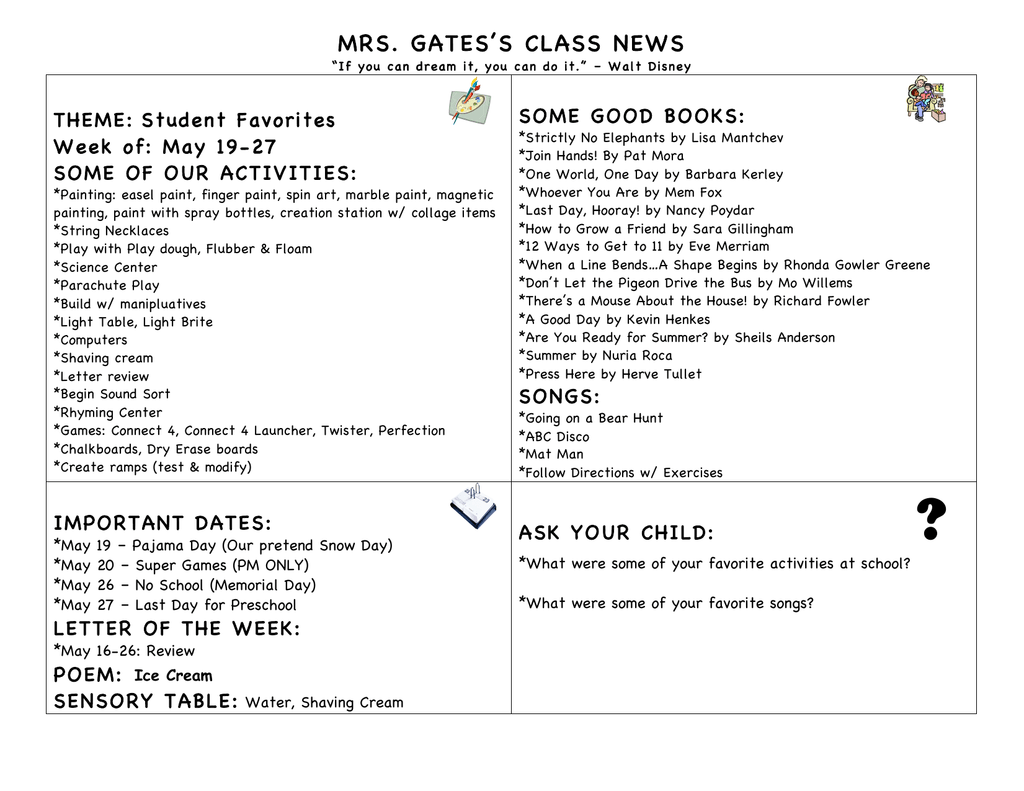 MRS. GATES'S CLASS NEWS
"If you can dream it, you can do it." – W alt Disney
SOME GOOD BOOKS:
THEME: Student Favorites
Week of: May 19-27
SOME OF OUR ACTIVITIES:
*Strictly No Elephants by Lisa Mantchev
*Join Hands! By Pat Mora
*One World, One Day by Barbara Kerley
*Whoever You Are by Mem Fox
*Last Day, Hooray! by Nancy Poydar
*How to Grow a Friend by Sara Gillingham
*12 Ways to Get to 11 by Eve Merriam
*When a Line Bends…A Shape Begins by Rhonda Gowler Greene
*Don't Let the Pigeon Drive the Bus by Mo Willems
*There's a Mouse About the House! by Richard Fowler
*A Good Day by Kevin Henkes
*Are You Ready for Summer? by Sheils Anderson
*Summer by Nuria Roca
*Press Here by Herve Tullet
*Painting: easel paint, finger paint, spin art, marble paint, magnetic
painting, paint with spray bottles, creation station w/ collage items
*String Necklaces
*Play with Play dough, Flubber & Floam
*Science Center
*Parachute Play
*Build w/ manipluatives
*Light Table, Light Brite
*Computers
*Shaving cream
*Letter review
*Begin Sound Sort
*Rhyming Center
*Games: Connect 4, Connect 4 Launcher, Twister, Perfection
*Chalkboards, Dry Erase boards
*Create ramps (test & modify)
IMPORTANT DATES: *May
*May
*May
*May
19 – Pajama Day (Our pretend Snow Day)
20 – Super Games (PM ONLY)
26 – No School (Memorial Day)
27 – Last Day for Preschool
LETTER OF THE WEEK:
*May 16-26: Review
POEM: Ice Cream
SENSORY TABLE:
Water, Shaving Cream SONGS: *Going on a Bear Hunt
*ABC Disco
*Mat Man
*Follow Directions w/ Exercises
ASK YOUR CHILD:
*What were some of your favorite activities at school?
*What were some of your favorite songs?
?