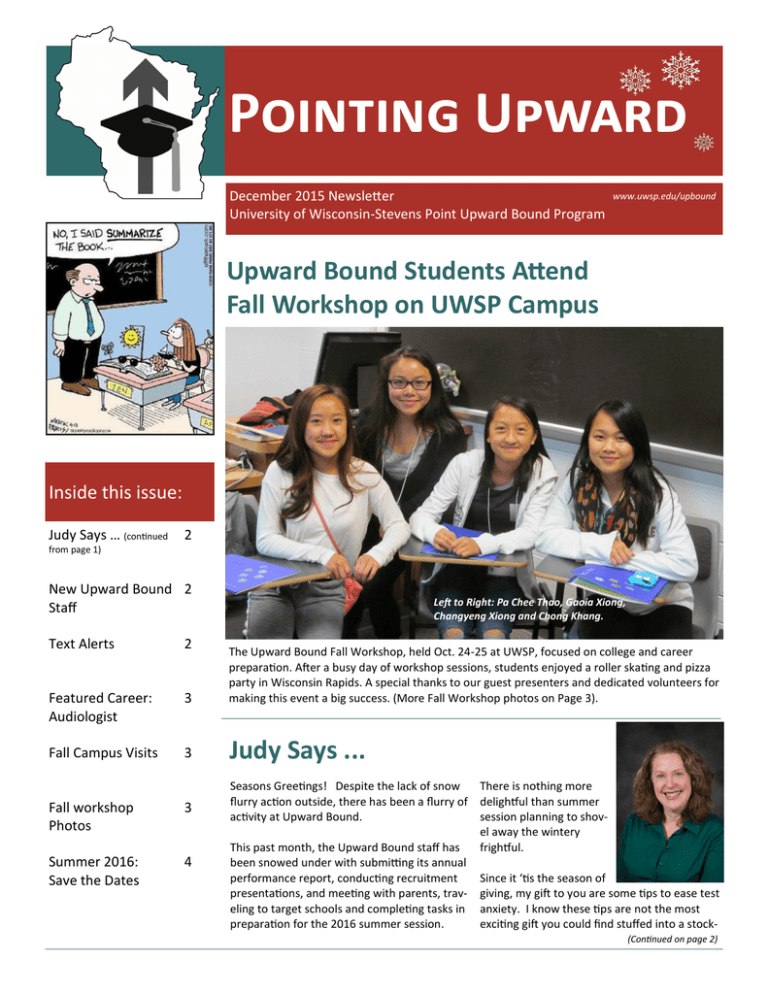 Pointing Upward
December 2015 Newsletter
University of Wisconsin-Stevens Point Upward Bound Program
www.uwsp.edu/upbound
Upward Bound Students Attend
Fall Workshop on UWSP Campus
Inside this issue:
Judy Says … (continued
2
from page 1)
New Upward Bound 2
Staff
Left to Right: Pa Chee Thao, Gaoia Xiong,
Changyeng Xiong and Chong Khang.
Text Alerts
2
Featured Career:
Audiologist
3
The Upward Bound Fall Workshop, held Oct. 24-25 at UWSP, focused on college and career
preparation. After a busy day of workshop sessions, students enjoyed a roller skating and pizza
party in Wisconsin Rapids. A special thanks to our guest presenters and dedicated volunteers for
making this event a big success. (More Fall Workshop photos on Page 3).
Fall Campus Visits
3
Judy Says ...
Fall workshop
Photos
3
Summer 2016:
Save the Dates
4
Seasons Greetings! Despite the lack of snow
There is nothing more
flurry action outside, there has been a flurry of delightful than summer
activity at Upward Bound.
session planning to shovel away the wintery
This past month, the Upward Bound staff has
frightful.
been snowed under with submitting its annual
performance report, conducting recruitment
Since it 'tis the season of
presentations, and meeting with parents, trav- giving, my gift to you are some tips to ease test
eling to target schools and completing tasks in anxiety. I know these tips are not the most
preparation for the 2016 summer session.
exciting gift you could find stuffed into a stock(Continued on page 2)
PAGE 2
Judy Says … Continued
ing or wrapped under a tree. However,
after this jolly time of year speeds by and
you have run through all of your eggnog
and ways to overcome holiday break boredom, semester final exam season will descend like an avalanche. Some anxiety
related to taking final exams is natural.
However, here are some ways to minimize
this stress and anxiety:
Be prepared! Learn course material thoroughly by keeping organized notes and
reviewing them well in advance of the
exam date. Avoid thinking that you will
only get through finals by just cramming.
Approach exams with confidence. Use
whatever strategies you can to personalize success: visualization, positive self-talk,
journaling etc.
Strive for a relaxed state of concentration. Avoid speaking with any fellow students who have not prepared, who express negativity or who will distract your
preparation.
Regular exercise and good nutrition
(fruits and veggies!) are said to sharpen
the mind and reduce stress. Avoid going
into an exam on an empty stomach!
Choose a comfortable study location with Get a good night's sleep the night before
good lighting and minimal distractions.
the exam.
During the test, read directions carefully,
budget your test taking time and use relaxation techniques. Take slow, deep
breaths, pause, think about the next step
and keep on task. If you go blank, skip the
question and go on.
Use positive reinforcement with yourself.
Acknowledge that you have done, are
doing, your best.
Judy Young is the Coordinator/Academic
Advisor at Upward Bound. When she's
not at UB, you may find Judy relaxing in
her new hot tub with a Netflix remote in
one hand and a bowl of M&Ms in the
other.
Meet Your New Upward Bound Staff
Cindy Jordan,
Operations Program Associate
Recently retired after teaching high school math in Westfield for 31 years, Cindy apparently couldn't get enough of
working with teenagers, so she joined Upward Bound in October as the part-time Operations Program Associate.
She knows both UWSP and Upward Bound well: she obtained both her bachelor's and master's degrees at our fine
institution, and her husband, John, is a longtime computer teacher with the Upward Bound summer program. The
couple has a son, Reid, who is a math teacher in Sturgeon Bay. Since retiring from full-time teaching and taking on
her new part-time position at UB, Cindy has found more time for her passions: playing church handbells, quilting, swimming at the
Y … and taking afternoon naps.
Heather Morgan,
Business/Marketing Specialist
Heather, who has a journalism background and previously helped coordinate programs for Portage County foster
teens and young adults who recently aged out of foster care, joined Upward Bound in September. In her spare time,
she spends as much time as possible going for walks and gardening so that she can avoid laundry and house cleaning. Heather and her husband Dave, who works at the Stevens Point Area YMCA, have three children, ages 13, 18
and 20. Her real baby is the family's goldendoodle puppy, who her 20-year-old son named Gigi (coincidentally, there is a famous
fashion model named Gigi Hadid).
Do You "Like" to Know
What's Going on at
Upward Bound?
Facebook.com/
UWSPUpwardBound
Text Alerts:
Coming Soon
Upward Bound will soon be launching a mass texting app
that will enable staff to communicate with students and parents about scheduling and other updates.
To sign up, contact Heather Morgan at hmorgan@uwsp.edu.
Bus
at
8 a.m.
PAGE 3
Fall Campus Visits, Oct. 28-30
UW-Fox Valley * Ripon * UWSP
Glossy admissions brochures are great, but
if you really want to know what it would be
like to attend a college, there is nothing
better than visiting when school is in session. A group of Upward Bound juniors and
seniors experienced that firsthand when
they toured UW-Fox Valley, Ripon College
and UWSP in October. Students also
learned about admission standards, course
offerings, financial aid admission policies,
and unique things each school has to offer.
Featured Career
Audiologist
Job Description:
• Examine patients who have hearing,
balance, or related ear problem.
• Assess the results of the examination
and diagnose problems
• Determine and administer treatment
• Administer relief procedures for various
forms of vertigo
• Fit and dispense hearing aids
• Counsel patients and their families on
ways to listen and communicate, such
as by lip reading or through American
Sign Language
• See patients regularly to check on
hearing and balance and to continue or
change the treatment plan
• Keep records on the progress of
patients
• Conduct research related to the causes
and treatment of hearing and balance
disorders
Work Environment:
Most audiologists work in healthcare
facilities, such as hospitals, physicians'
offices, and audiology clinics. Some work
in schools or for school districts and travel
between facilities. Audiologists work
closely with registered nurses, audiology
assistants, and other healthcare
professionals.
Education:
Fall Workshop Fun: UWSP & Skate City
Volunteers
The doctoral degree in audiology (Au.D.) is
a graduate program typically lasting 4
years. A bachelor's degree in any field is
needed to enter one of these programs.
All states required licensure.
Friends
Job Outlook and Salary:
Employment of audiologists is projected
to grow 34 percent from 2012 to 2022,
much faster than the average for all occupations. However, because it is a small
occupation, the fast growth will result in
only about 4,300 new jobs over the 10year period. Median annual wage is
$69,720.
Taken from the Occupational Outlook
Handbook
F
U
N
Learning
UPWARD BOUND PROGRAM prj95rt
University of Wisconsin-Stevens Point
204 Nelson Hall
1209 Fremont Street
Stevens Point, WI 54481-3897
The Upward Bound staff is already
hard at work planning a memorable summer for the more than 60
Upward Bound high school students who will spend six weeks
living and learning on UWSP's campus.
In addition to academics in the
classroom, purposeful field trips
will enhance students' cultural
awareness and help them develop
social and leadership skills. Mark
your calendars now for these important summer dates:
June 17-18:
June 19:
June 20:
June 24-26:
July 2-4:
Summer Staff Orientation
Students Arrive
Classes Begin
First Weekend Fieldtrip
Holiday Break
July 8-10:
July 16:
July 22:
July 23:
July 26:
Camping Trip
Fundraising Saturday
Last Day of Classes
Final Fieldtrip Departs
Final Fieldtrip Returns
Now
Summ Hiring
er 2
Staff 016
!