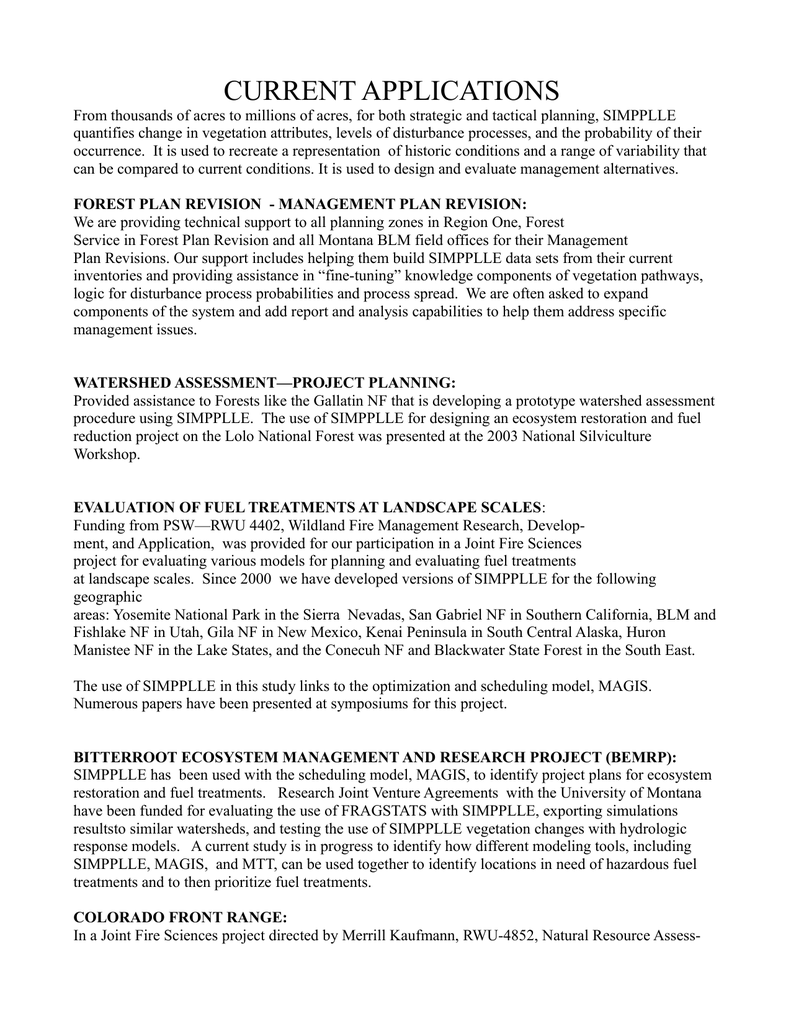 CURRENT APPLICATIONS
From thousands of acres to millions of acres, for both strategic and tactical planning, SIMPPLLE
quantifies change in vegetation attributes, levels of disturbance processes, and the probability of their
occurrence. It is used to recreate a representation of historic conditions and a range of variability that
can be compared to current conditions. It is used to design and evaluate management alternatives.
FOREST PLAN REVISION - MANAGEMENT PLAN REVISION:
We are providing technical support to all planning zones in Region One, Forest
Service in Forest Plan Revision and all Montana BLM field offices for their Management
Plan Revisions. Our support includes helping them build SIMPPLLE data sets from their current
inventories and providing assistance in "fine-tuning" knowledge components of vegetation pathways,
logic for disturbance process probabilities and process spread. We are often asked to expand
components of the system and add report and analysis capabilities to help them address specific
management issues.
WATERSHED ASSESSMENT—PROJECT PLANNING:
Provided assistance to Forests like the Gallatin NF that is developing a prototype watershed assessment
procedure using SIMPPLLE. The use of SIMPPLLE for designing an ecosystem restoration and fuel
reduction project on the Lolo National Forest was presented at the 2003 National Silviculture
Workshop.
EVALUATION OF FUEL TREATMENTS AT LANDSCAPE SCALES:
Funding from PSW—RWU 4402, Wildland Fire Management Research, Development, and Application, was provided for our participation in a Joint Fire Sciences
project for evaluating various models for planning and evaluating fuel treatments
at landscape scales. Since 2000 we have developed versions of SIMPPLLE for the following
geographic
areas: Yosemite National Park in the Sierra Nevadas, San Gabriel NF in Southern California, BLM and
Fishlake NF in Utah, Gila NF in New Mexico, Kenai Peninsula in South Central Alaska, Huron
Manistee NF in the Lake States, and the Conecuh NF and Blackwater State Forest in the South East.
The use of SIMPPLLE in this study links to the optimization and scheduling model, MAGIS.
Numerous papers have been presented at symposiums for this project.
BITTERROOT ECOSYSTEM MANAGEMENT AND RESEARCH PROJECT (BEMRP):
SIMPPLLE has been used with the scheduling model, MAGIS, to identify project plans for ecosystem
restoration and fuel treatments. Research Joint Venture Agreements with the University of Montana
have been funded for evaluating the use of FRAGSTATS with SIMPPLLE, exporting simulations
resultsto similar watersheds, and testing the use of SIMPPLLE vegetation changes with hydrologic
response models. A current study is in progress to identify how different modeling tools, including
SIMPPLLE, MAGIS, and MTT, can be used together to identify locations in need of hazardous fuel
treatments and to then prioritize fuel treatments.
COLORADO FRONT RANGE:
In a Joint Fire Sciences project directed by Merrill Kaufmann, RWU-4852, Natural Resource Assess-
ment, Ecology, and Management Science, SIMPPLLE and MAGIS are being used together to prioritize
fuel treatments in a study area in the South Platte watershed. In additional the Front Range Fuel
Partnership provided funding to for development of a version of SIMPPLLE that can be used along the
entire Colorado Front Range.
FIRE PLAN FUNDING — DECISION SUPPORT SYSTEM DEVELOPMENT:
A joint study with RWU– 4802, Economic Aspects of Forest Management on Public Lands, has been
developing a " Decision Support System for Spatial Analysis of Fuel Treatment Options and Effects at
Landscape Scales" (NFP Project 01.RMS.A.1). Development in both SIMPPLLE and MAGIS has
progressed to make it easier for the user to use the two modeling systems (together or separately) as a
decision support tool.