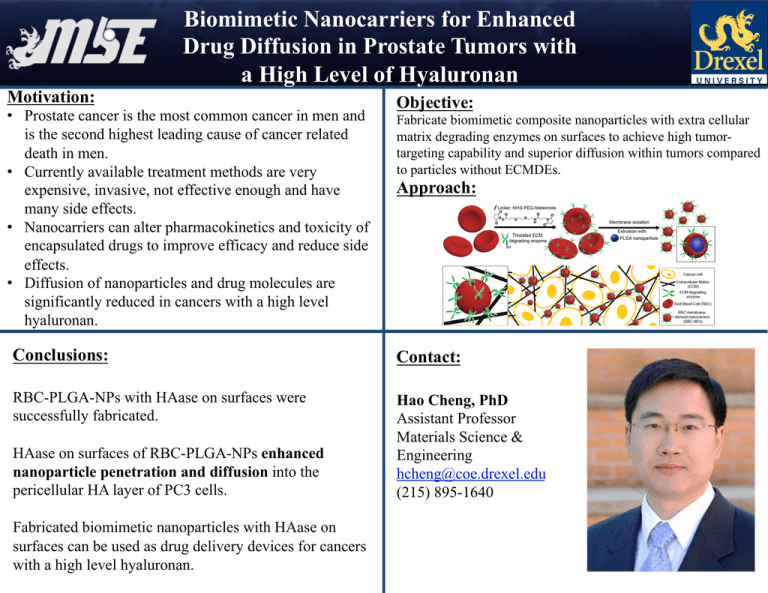 Motivation:
Biomimetic Nanocarriers for Enhanced
Drug Diffusion in Prostate Tumors with
a High Level of Hyaluronan
•  Prostate cancer is the most common cancer in men and
is the second highest leading cause of cancer related
death in men.
•  Currently available treatment methods are very
expensive, invasive, not effective enough and have
many side effects.
•  Nanocarriers can alter pharmacokinetics and toxicity of
encapsulated drugs to improve efficacy and reduce side
effects.
•  Diffusion of nanoparticles and drug molecules are
significantly reduced in cancers with a high level
hyaluronan.
Objective:
Fabricate biomimetic composite nanoparticles with extra cellular
matrix degrading enzymes on surfaces to achieve high tumortargeting capability and superior diffusion within tumors compared
to particles without ECMDEs.
Approach:
Conclusions:
Contact:
RBC-PLGA-NPs with HAase on surfaces were
successfully fabricated.
Hao Cheng, PhD
Assistant Professor
Materials Science &
Engineering
hcheng@coe.drexel.edu
(215) 895-1640
HAase on surfaces of RBC-PLGA-NPs enhanced
nanoparticle penetration and diffusion into the
pericellular HA layer of PC3 cells.
Fabricated biomimetic nanoparticles with HAase on
surfaces can be used as drug delivery devices for cancers
with a high level hyaluronan.