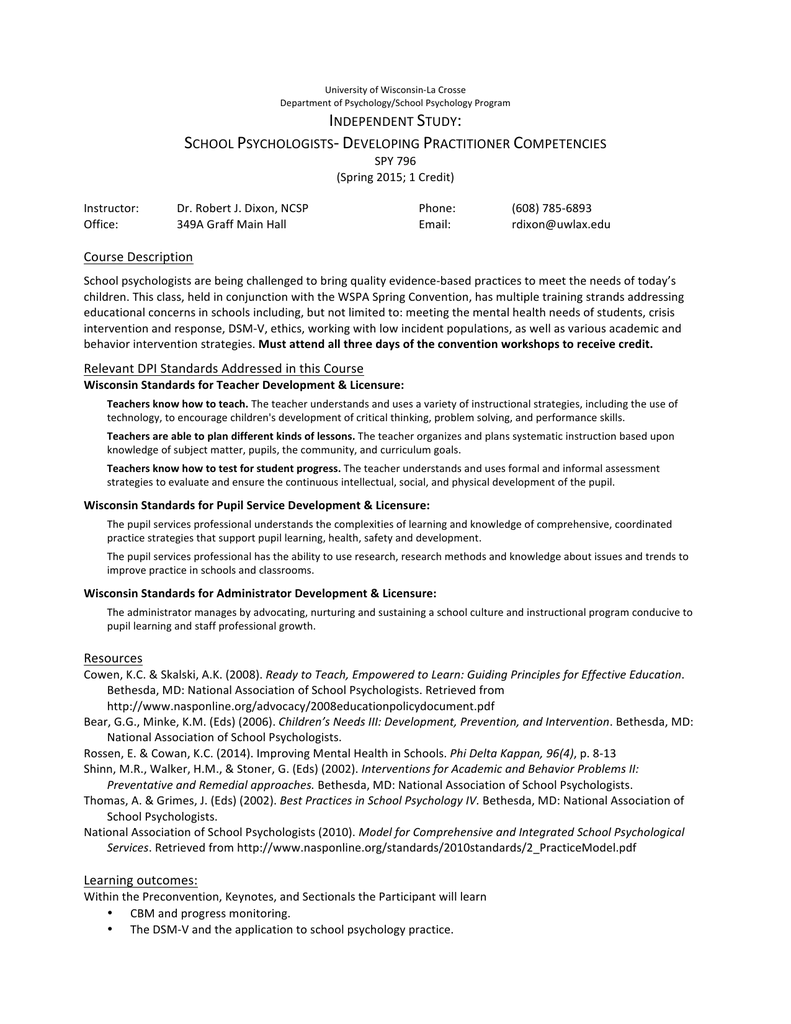 University of Wisconsin-­‐La Crosse Department of Psychology/School Psychology Program INDEPENDENT STUDY: SCHOOL PSYCHOLOGISTS-­‐ DEVELOPING PRACTITIONER COMPETENCIES SPY 796 (Spring 2015; 1 Credit) Instructor: Office: Dr. Robert J. Dixon, NCSP 349A Graff Main Hall Phone: Email: (608) 785-­‐6893 [email protected] Course Description School psychologists are being challenged to bring quality evidence-­‐based practices to meet the needs of today's children. This class, held in conjunction with the WSPA Spring Convention, has multiple training strands addressing educational concerns in schools including, but not limited to: meeting the mental health needs of students, crisis intervention and response, DSM-­‐V, ethics, working with low incident populations, as well as various academic and behavior intervention strategies. Must attend all three days of the convention workshops to receive credit. Relevant DPI Standards Addressed in this Course Wisconsin Standards for Teacher Development & Licensure: Teachers know how to teach. The teacher understands and uses a variety of instructional strategies, including the use of technology, to encourage children's development of critical thinking, problem solving, and performance skills. Teachers are able to plan different kinds of lessons. The teacher organizes and plans systematic instruction based upon knowledge of subject matter, pupils, the community, and curriculum goals. Teachers know how to test for student progress. The teacher understands and uses formal and informal assessment strategies to evaluate and ensure the continuous intellectual, social, and physical development of the pupil. Wisconsin Standards for Pupil Service Development & Licensure: The pupil services professional understands the complexities of learning and knowledge of comprehensive, coordinated practice strategies that support pupil learning, health, safety and development. The pupil services professional has the ability to use research, research methods and knowledge about issues and trends to improve practice in schools and classrooms. Wisconsin Standards for Administrator Development & Licensure: The administrator manages by advocating, nurturing and sustaining a school culture and instructional program conducive to pupil learning and staff professional growth. Resources Cowen, K.C. & Skalski, A.K. (2008). Ready to Teach, Empowered to Learn: Guiding Principles for Effective Education. Bethesda, MD: National Association of School Psychologists. Retrieved from http://www.nasponline.org/advocacy/2008educationpolicydocument.pdf Bear, G.G., Minke, K.M. (Eds) (2006). Children's Needs III: Development, Prevention, and Intervention. Bethesda, MD: National Association of School Psychologists. Rossen, E. & Cowan, K.C. (2014). Improving Mental Health in Schools. Phi Delta Kappan, 96(4), p. 8-­‐13 Shinn, M.R., Walker, H.M., & Stoner, G. (Eds) (2002). Interventions for Academic and Behavior Problems II: Preventative and Remedial approaches. Bethesda, MD: National Association of School Psychologists. Thomas, A. & Grimes, J. (Eds) (2002). Best Practices in School Psychology IV. Bethesda, MD: National Association of School Psychologists. National Association of School Psychologists (2010). Model for Comprehensive and Integrated School Psychological Services. Retrieved from http://www.nasponline.org/standards/2010standards/2_PracticeModel.pdf Learning outcomes: Within the Preconvention, Keynotes, and Sectionals the Participant will learn • CBM and progress monitoring. • The DSM-­‐V and the application to school psychology practice. •
•
•
•
•
•
•
•
•
•
•
The role that school psychologists can play to positively impact the mental health of students. st
Job interview and 1 year survival skills for new school psychologists. The professional roles that school psychologists take to meet the needs of children in the schools. Wisconsin RtI Center's training for reviewing Tier II and Tier III levels of support. Knowledge and skills to attend to the aftermath of a crisis event in the schools. Responding to chronic truancy and school refusal within an RtI model. Understanding from a neuropsychological basis the social, emotional and behavioral challenges and how to respond to them. A comprehensive approach to basic data skills data-­‐based decision making with a focus on screening, eligibility determination, and progress monitoring Assessment strategies for the culturally and linguistically diverse. Strategies to support students with complex academic and functional needs. Current ethical dilemmas facing school psychologists and appropriate action steps to resolve them. Course Expectations Attendance (50%) • Attend the entire conference -­‐ attendance verification will be conducted with the sign in and evaluation sheets for each sectional. Participants must attend an entire pre-­‐conference session on Wednesday, sectionals that account for the entire day Thursday, and half the day on Friday to receive credit for attendance. Paper (50%) • 3-­‐5 page paper on how you are going to apply the concepts learned at the conference to your local education authority (e.g., school or district, etc.). Papers can focus on all the information presented over the three days or focus specifically certain topics that are more relevant or applicable to the LEA. Keep in mind the goals of the conference and the relevant teacher, pupil service and administrative education standards for licensure. All materials must be received via email or snail mail by April 30. Grades will be posted May 15. Grading Procedure Completing the attendance and paper requirement will receive an A. Failure to complete attendance verification and/or assignments will result in a course grade of an F. Late papers will be reduced by a half grade. Tentative Course Outline (Any changes will be announced Wednesday Morning) March 25, 2015 (Wednesday) Pre-­‐conference Workshop 8:30 a.m. – 4:00 •
Progress Monitoring: Do you want the Good News or Bad News First? p.m. •
DSM-­‐5: Implications for School Psychologists March 26, 2015 (Thursday) Conference Workshop 9 – 10:15 a.m. Keynote: Student Success: Mental Health Matters •
Student Session: "You're Hired!" Tips to a Successful First Year as a School Psychologist 10:30 a.m. – •
Plan 2020: A Colloquium to Chart WSPA's Future 12 p.m. •
School Mental Health in Wisconsin: An Exploration of New Initiatives, Barriers and Promise 1:30 – 4:45 •
Reviewing your Selected and Intensive Levels of Support in a Culturally Responsive Multi-­‐Level System p.m. of Support •
Advanced Skills in School-­‐Based Crisis Prevention and Intervention •
Neuropsychology of Social, Emotional and Behavior Challenges •
Evidence-­‐Based Practices for Identifying and Addressing School Refusal and Truancy 5-­‐6 p.m. Student Poster Session and Networking March 27, 2015 (Friday) Conference Workshop •
K-­‐12 Data-­‐Based Decision Making Within a Model of Multi-­‐Tiered Systems of Support/Response to Intervention (RtI) 9:00-­‐12:15 p.m. •
Diversity in Our Schools: Examining the Relationship between Culture, Language and Assessment •
Supporting Students with Complex Needs in the School Environment •
Mental Health Support and Ethical Practice for School Psychologists You are expected to be on time and attend the full-­‐allotted time period. Please do not repeat any sessions. Failure to attend any of the specified times for any reason will result in a failing grade. You are responsible for signing in and out of each sectional Miscellaneous Academic Integrity Academic integrity is essential to the life of a student and the educational process. Academic misconduct is an act in which a student: (a) Seeks to claim credit for the work or efforts of another without authorization or citation; (b) Uses unauthorized materials or fabricated data in any academic exercise; (c) Forges or falsifies academic documents or records; (d) Intentionally impedes or damages the academic work of others; (e) Engages in conduct aimed at making false representation of a student's academic performance; or (f) Assists other students in any of these acts. For a detailed description of the university's policies refer to: http://www.uwlax.edu/stuserv/OSL/main2.html Disability Any student with a documented disability (e.g., physical, learning, psychiatric, vision, or hearing, etc.) who needs to arrange reasonable accommodations must contact the instructor and the Disability Resource Services Office, 165 Murphy Library (785-­‐6900) at the beginning of the semester. Students who are currently using the Disability Resource Services office will have a copy of a contract that verifies they are qualified students with disabilities who have documentation on file in the Disability Resource Services office.