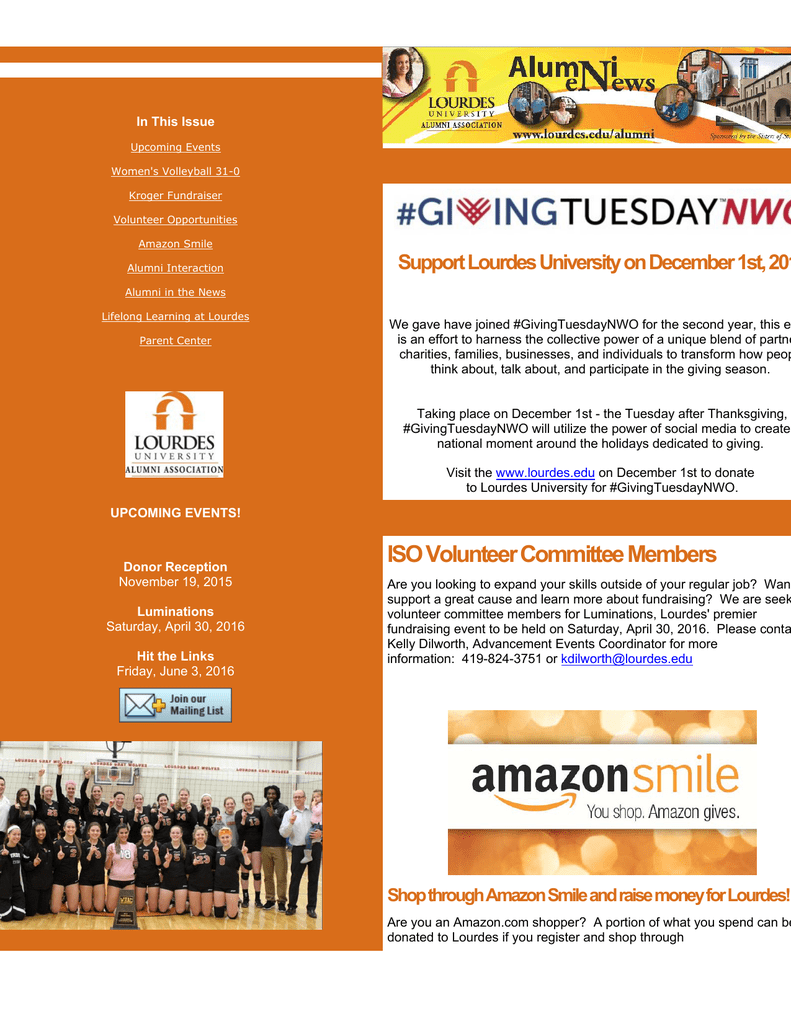 In This Issue
Upcoming Events
Women's Volleyball 31-0
Kroger Fundraiser
Volunteer Opportunities
Amazon Smile
Alumni Interaction
Support Lourdes University on December 1st, 201
Alumni in the News
Lifelong Learning at Lourdes
Parent Center
We gave have joined #GivingTuesdayNWO for the second year, this e
is an effort to harness the collective power of a unique blend of partne
charities, families, businesses, and individuals to transform how peop
think about, talk about, and participate in the giving season.
Taking place on December 1st - the Tuesday after Thanksgiving,
#GivingTuesdayNWO will utilize the power of social media to create
national moment around the holidays dedicated to giving.
Visit the www.lourdes.edu on December 1st to donate
to Lourdes University for #GivingTuesdayNWO.
UPCOMING EVENTS!
Donor Reception
November 19, 2015
Luminations
Saturday, April 30, 2016
Hit the Links
Friday, June 3, 2016
ISO Volunteer Committee Members
Are you looking to expand your skills outside of your regular job? Wan
support a great cause and learn more about fundraising? We are seek
volunteer committee members for Luminations, Lourdes' premier
fundraising event to be held on Saturday, April 30, 2016. Please conta
Kelly Dilworth, Advancement Events Coordinator for more
information: 419-824-3751 or [email protected]
Shop through Amazon Smile and raise money for Lourdes!
Are you an Amazon.com shopper? A portion of what you spend can be
donated to Lourdes if you register and shop through
fection at 31-0! Lourdes sweeps Madonna for WHAC Tourney
Title.
smile.amazon.com. This will not affect the price of what you buy and if
are an Amazon Prime member, you will still receive your Prime benefits
/www.lourdesathletics.com/news/2015/11/14/WVB_1114152958.aspx?path=wvball
Click here to get started.
Please note we are listed as Lourdes College instead of Lourdes
University. We are working to have this corrected.
Requesting Alumni Interaction
Lourdes University, Office of University Relations, is seeking help from
alumni by engaging in social media. Please like the Lourdes University
LinkedIn page. This is a great opportunity to stay connected to the
Institution, discuss your Lourdes experience, and interact with prospect
and current students.
There is a difference between the Lourdes "company" page and the
Lourdes "university" page. The company page is an outlet for users to g
acquainted with Lourdes University. University Relations also posts pre
releases onto this page. The University page allows for interaction or
networking between members; similar to Facebook.
If you have questions, please contact Ori Rife at 419-517-8971 or
[email protected]
Alumni in the News
Share your news with in eNews. Send your updates to
[email protected]
Lifelong Learning at Lourdes
Lifelong Learning is an exciting educational program at
Lourdes.
Open to all interested men and women, the only
requirement for participation is an interest in
ongoing learning! Participants enjoy:



Classes in a wide variety of academic
subjects
Day Trips of educational interest
Monthly Lectures featuring outstanding speakers, held on the t
Friday of each month from September through May
All classes are offered for the sheer joy of learning with no tests, exams
grades. Many are taught by Lourdes instructors or Lifelong Learning
members who have a particular area of expertise. As alumni, you are
granted a membership to Lifelong Learning, so you can take classes at
member rate.
For more information, contact Laura Megeath, Lifelong Learning
Coordinator at 419-517-8897 or [email protected]
Parent Center at Lourdes University
You may have seen the article in various news outlets about the openin
the Parent Center at Lourdes. For more information, click here.
Judge Andy Devine's book Parents: The Perspective of a Juvenile Cou
Judge is available for $12.95. To purchase the book, download the for
here and send to Mary Arquette, Vice President, Institutional
Advancement, 6832 Convent Blvd, Sylvania, OH 43560.
Forward this email
This email was sent to [email protected] by [email protected] |
Update Profile/Email Address | Rapid removal with SafeUnsubscribe™ | About our service provider.