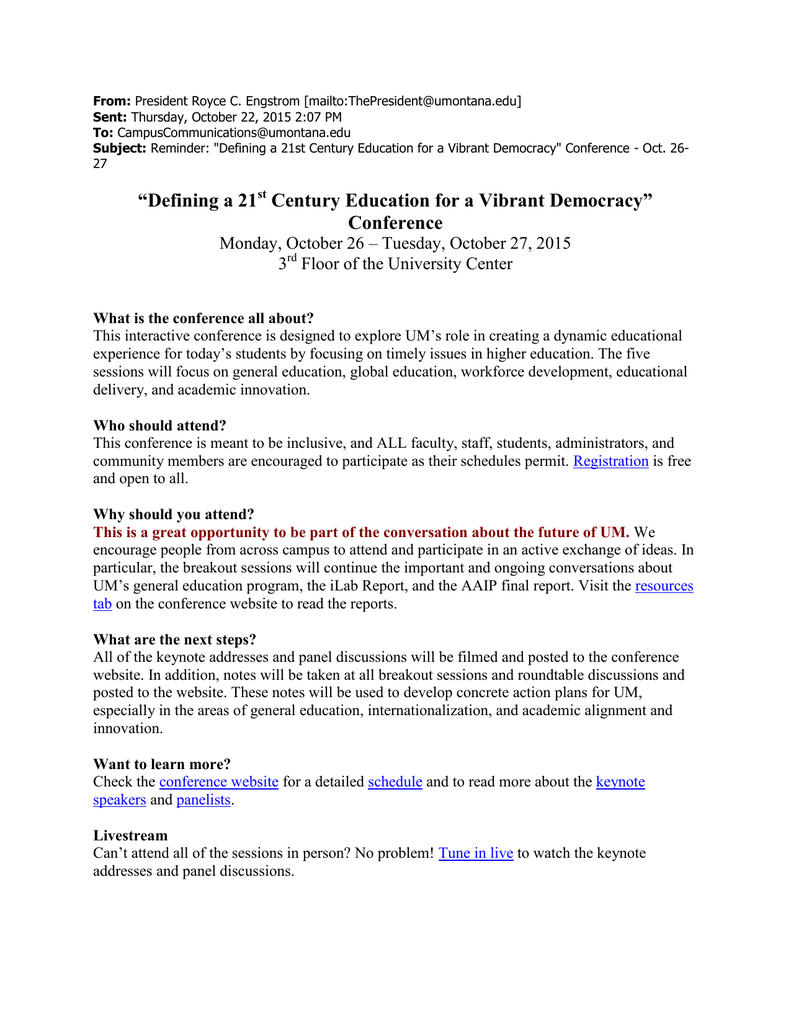 From: President Royce C. Engstrom [mailto:[email protected]]
Sent: Thursday, October 22, 2015 2:07 PM
To: [email protected]
Subject: Reminder: "Defining a 21st Century Education for a Vibrant Democracy" Conference - Oct. 2627
"Defining a 21st Century Education for a Vibrant Democracy"
Conference
Monday, October 26 – Tuesday, October 27, 2015
3rd Floor of the University Center
What is the conference all about?
This interactive conference is designed to explore UM's role in creating a dynamic educational
experience for today's students by focusing on timely issues in higher education. The five
sessions will focus on general education, global education, workforce development, educational
delivery, and academic innovation.
Who should attend?
This conference is meant to be inclusive, and ALL faculty, staff, students, administrators, and
community members are encouraged to participate as their schedules permit. Registration is free
and open to all.
Why should you attend?
This is a great opportunity to be part of the conversation about the future of UM. We
encourage people from across campus to attend and participate in an active exchange of ideas. In
particular, the breakout sessions will continue the important and ongoing conversations about
UM's general education program, the iLab Report, and the AAIP final report. Visit the resources
tab on the conference website to read the reports.
What are the next steps?
All of the keynote addresses and panel discussions will be filmed and posted to the conference
website. In addition, notes will be taken at all breakout sessions and roundtable discussions and
posted to the website. These notes will be used to develop concrete action plans for UM,
especially in the areas of general education, internationalization, and academic alignment and
innovation.
Want to learn more?
Check the conference website for a detailed schedule and to read more about the keynote
speakers and panelists.
Livestream
Can't attend all of the sessions in person? No problem! Tune in live to watch the keynote
addresses and panel discussions.
This message was sent by the Office of the President to all University of Montana students, faculty, staff, administrators, and
affiliates.