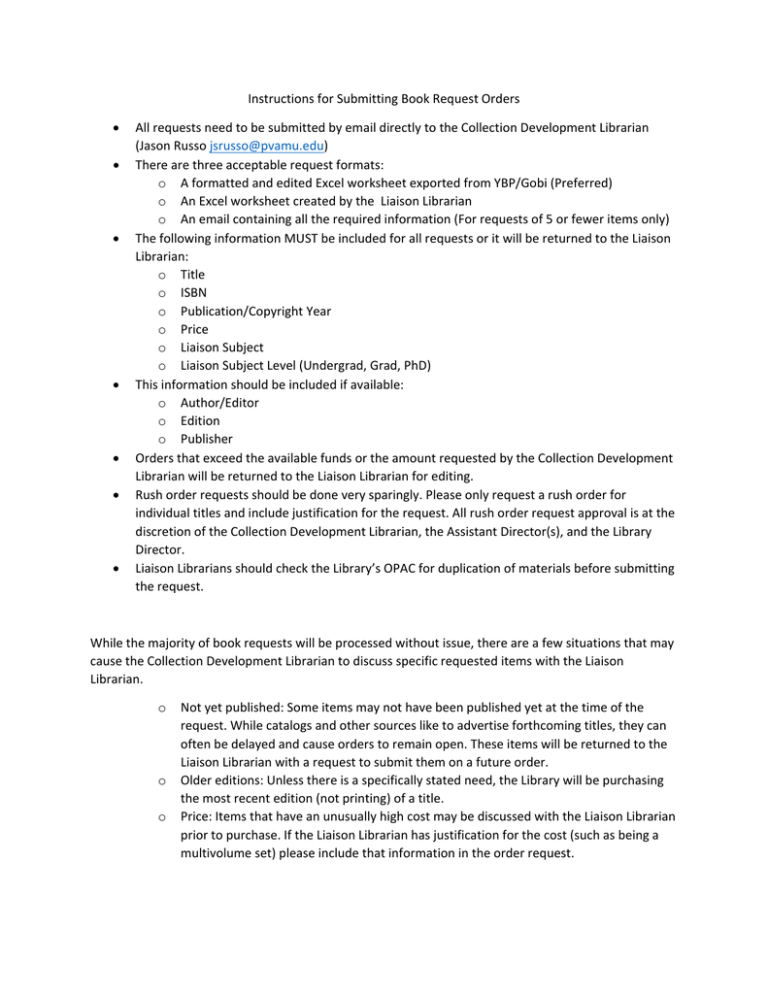 Instructions for Submitting Book Request Orders 






All requests need to be submitted by email directly to the Collection Development Librarian (Jason Russo jsrusso@pvamu.edu) There are three acceptable request formats: o A formatted and edited Excel worksheet exported from YBP/Gobi (Preferred) o An Excel worksheet created by the Liaison Librarian o An email containing all the required information (For requests of 5 or fewer items only) The following information MUST be included for all requests or it will be returned to the Liaison Librarian: o Title o ISBN o Publication/Copyright Year o Price o Liaison Subject o Liaison Subject Level (Undergrad, Grad, PhD) This information should be included if available: o Author/Editor o Edition o Publisher Orders that exceed the available funds or the amount requested by the Collection Development Librarian will be returned to the Liaison Librarian for editing. Rush order requests should be done very sparingly. Please only request a rush order for individual titles and include justification for the request. All rush order request approval is at the discretion of the Collection Development Librarian, the Assistant Director(s), and the Library Director. Liaison Librarians should check the Library's OPAC for duplication of materials before submitting the request. While the majority of book requests will be processed without issue, there are a few situations that may cause the Collection Development Librarian to discuss specific requested items with the Liaison Librarian. o
o
o
Not yet published: Some items may not have been published yet at the time of the request. While catalogs and other sources like to advertise forthcoming titles, they can often be delayed and cause orders to remain open. These items will be returned to the Liaison Librarian with a request to submit them on a future order. Older editions: Unless there is a specifically stated need, the Library will be purchasing the most recent edition (not printing) of a title. Price: Items that have an unusually high cost may be discussed with the Liaison Librarian prior to purchase. If the Liaison Librarian has justification for the cost (such as being a multivolume set) please include that information in the order request. o
o
o
o
o
Out of print: While an item being out of print does not automatically mean that the Library is unable to order it, it may be that better more current options are available before sending the order to our other vendors. Format: Do not order ebook or microform materials. Any formats other than print monographs may be flagged for discussion. Textbooks: The library does not intentionally purchase current PVAMU textbooks. Liaison Librarians should check the Course Listings page on the University website. Other textbooks should be requested on a very limited basis. Duplication: The Library usually only purchases one copy of each item for the main circulating collection. Other: The above are the most common issues that may cause an item to be questioned and possibly removed from an order, but there may be others. Any items that raise concern will be discussed with the Liaison Librarian prior to being ordered or removed from the order.