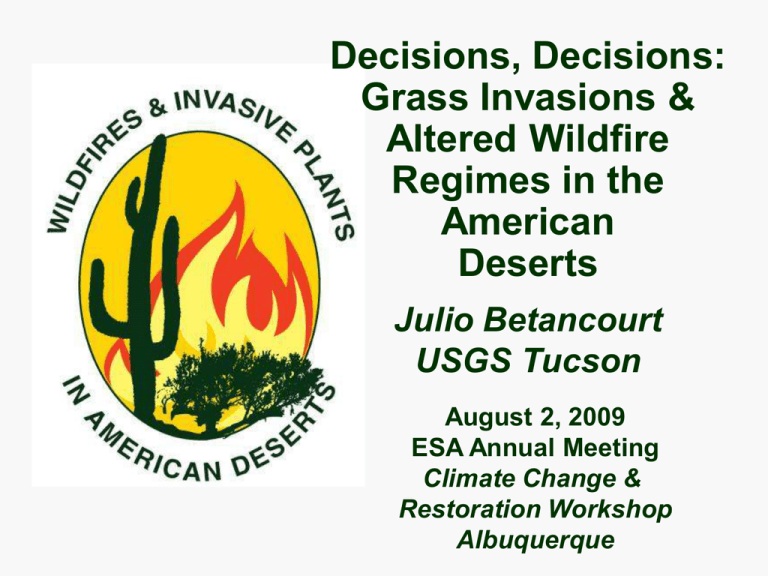 Decisions, Decisions:
Grass Invasions &
Altered Wildfire
Regimes in the
American
Deserts
Julio Betancourt
USGS Tucson
August 2, 2009
ESA Annual Meeting
Climate Change &
Restoration Workshop
Albuquerque
Principal Invasive
Grasses Fueling
Wildfires in the
American Deserts
Schismus arabicus
Schismus barbatus
Mediterranean grass
Bromus
tectorum
cheatgrass
Bromus madritensis
var. rubens
red brome
Pennisetum
ciliare buffelgrass
The Grass-Fire
Cycle
Average fire size
Invader Abundance, Fuel Connectivity & Wildfire Size
Nonlinear
due to
increasing
connectivity
Invader Abundance
(Time)
Recent Invasives-Driven Wildfires in the Western U.S.
Fire
Desert
Year State
Size
Murphy Complex Great Basin
2007 Nevada/
Idaho
653,000
acres
Milford Flat
Complex
Great Basin
2007 Utah
363,000
acres
Winters Fire
Great Basin
2006 Nevada
238,000
acres
Southern Nevada Mojave
Complex
2005 Nevada
735,000
acres
Cave Creek
Complex
2005 Arizona
248,000
acres
Sonoran
Expansion and Logistic Growth Curve for Red Brome in
western North America (Salo 2005 Biological Invasions)
160
140
Fast
1976-1998
Cum. New 50-km Areas
120
Slow
1943-1975
100
80
Fast
1930-1942
Bromus
madritensis
var. rubens
60
PDO
40
Y=7.39+124.11/(1+EXP(-(X-1936.3)/10.29))
DF Adj r2 = 0.979
Inflection = 1936.3
20
0
1890
1910
1930
1950
Year
1970
1990
2010
Grassland/shrubland fires have different climatologies than forest fires.
With increasing frequency, size and intensity of invasives-driven fires,
expect desert fires to become forest fires, and fire climatologies to change.
Grass/Shrub fires
FOLLOW WET years
Forests burn
DURING DRY years
Years before Fire
Year of Fire
Courtesy of Tony Westerling, UC-Merced
Ignition front, Beatty Fire 2006
Grass Invasions are changing the relationship between
climate and fire in the West
2005
2002
Log of Annual Area Burned in
FS Region 3 (AZ + NM) during El
Niño vs. La Niña years
Swetnam, T. W., and J. L. Betancourt. 1990. Fire-Southern Oscillation
relations in the southwestern United States. Science 249:1017-1020
June 2005
Cave Creek Complex Fire, AZ
248,000 acres
July 2006
Southern Nevada Complex
735,000 acres
Decisions, Decisions…
Do we save the deserts or resign ourselves to these
combustible grasslands?
Which species do we control and which desert do we save?
Who makes this decision, with what consensus and authority?
How do we overcome political obstacles & garner political will?
How much will this cost and what are we willing to pay?
Who bears the cost and responsibility?
What framework do we use to organize ourselves?
How do we know if we are failing or succeeding?
How long is our commitment?
If we fail or decide to do nothing, how will we adapt?
Santa Catalina Mts
The Foothills:Tucson's "Beachfront"Property
Saguaros imbedded in
flammable buffelgrass
on south slope of
Catalina Mts
Saturation
Phase
Quarantine Eradication
Priority
Priority
Stage
Stage
Control
Priority
Stage
Effective Control
Unlikely without
Massive resource
Inputs
Fire
Colonization
Phase
Expansion
Phase
Time
Control costs
Invader abundance
Gotta know where you are?
Gotta Prioritize and Fund the Right Science
• Mapping, monitoring, and remote sensing
• Decision support and economic analysis
• Control methods- Life cycle of treatments
• Habitat suitability models & sensitivity simulations
• Fuel load & fire spread models
• Post-fire restoration
• Long-term effects of invasion & forecasting of
environmental consequences should mitigation fail
• Ecological & economic benefits of invasive
• Political ecology: Policy and practices
Gotta be able to herd cats!
Gotta Engage the Business Community!
Inside Tucson Business, April 6, 2009
Courtesy of Wes Hargis
Gotta have deciders!
• Sarah Smallhouse, Pres., T. R. Brown Foundations
• Jim Kiser, VP, So. Arizona Leadership Council
• Erik Bakken, VP, Tucson Electric Power
• Lisa Lovallo, VP, Cox Communications-SoAz
• Teresa Olson, Tucson Assoc. of Realtors
• Chuck Huckelberry, Pima County Administrator
• Mike Letcher, City Manager, City of Tucson
• Claire Zucker, Pima Association of Govt's
• Tom Brandhuber, Fire Chief, Pima Rural Metro
• Lisa Graumlich, SNR, University of Arizona
• Carolyn Campbell, Coalition for Sonoran Desert
Protection
• Marilyn Hanson, Sonoran Desert Weedwackers
• Rick Brusca, Arizona-Sonora Desert Museum
• Julio Betancourt, U. S. Geological Survey
• Darla Sidles, Supt., Saguaro National Park
• Jeanine Derby, Sup., Coronado National Forest
• Michael Taylor, Deputy Director, BLM, AZ
Gotta have a Plan!
http://www.buffelgrass .org
• Minimize spread in areas
where buffelgrass not yet
established
• Implement control priorities
based on actual & potential
impacts
• Restore treated areas in
ways that increase resilience
against future invasion
• In areas where control is no
longer feasible, mitigate fire
risks to life & property
• Motivate legislation aimed at
sustaining the control effort
• Create a template for
invasive spp mgmt in AZ
Gotta have a Framework!
Step 1: Define the decision support domain, including management
objectives and potential alternative management strategies
Weed Management
Strategies
Examples:
Bio-control
Chemical treatment
Mechanical removal
Fire Management
Strategies
Examples:
Fuel reduction
Fire breaks
Prescribed burns
Step 2: Measurement & Modeling
• Monitoring of existing infestations and
previous fires
• Mapping of potential habitat
• State and Transition model for control
efforts, fire and invasions
(Including explicit modeling of uncertainties)
• Modeling of the impacts of potential
management strategies on:
State & transition models
Management objectives
Management Objectives
Examples:
• Increase capacity to
sustain military training
and testing
• Maintain habitat of listed
and at-risk species
• Enable appropriate and
achievable recovery of
degraded ecological
systems.
Step 3: Integrated decision
support modeling
Step 4: Decision-making, implementation, and adaptive
management
• Use the decision support tool to select one or more strategies for specific management objectives.
• Implement those strategies within a program of careful monitoring and management.
• Adapt the management strategies and update the decision support models based on what is learned
through implementation and monitoring.
Gotta have the right tools to make informed decisions
Tumamoc Hill, Tucson
Static
Treatment
CostEffectiveness
Weighted
Potential
Damage
Equal weighting to ecological
resources & infrastructure
Reduction in damage index
per $ of treatment
Frisvold, Olsson, Orr, Bean & Betancourt, USDA-PREISM
Gotta be able to chew gum
& walk at same time
Plan B: Adaptation:
What we should start
doing to minimize
impacts as deserts
become more flammable
Plan A- Mitigation:
What we must do to
prevent deserts from
becoming more
flammable
Gotta Have Appropriate Level of Funding
TUCSON, Ariz. (AP) - A plan to spray a weed killer on buffelgrass has been
scrapped by Pima County officials. The county had planned to use a helicopter
to spray 12 roughly one acre sized parcels in a rugged area west of Kennedy
Park near Ajo Way. However, County Supervisors grounded the operation
because of safety concerns raised by the public. July 30, 2009
Gotta be able to quickly resolve conflicts
Scientists have to reach
reasonable consensus or
be prepared to back up
any dissent
We tend to get "a little hysterical" about such things (i.e.,buffelgrass), it is
too established and difficult to remove, and we should stop fighting it
At the risk of sounding "hysterical," if we do nothing, in a few decades
our fireproof desert will be overrun by flammable grass …The
predictable costs of letting buffelgrass spread indefinitely will greatly
exceed the price of controlling it now.
How did increasing springtime temperatures affect grass invasions?
http://doubletroublebulletin.wordpress.com
The Double Trouble electronic news bulletin is published by the
Australian Invasive Species Council as part of its Pests and
Climate Change Project
Aimed at convincing decision & policy makers of the urgent need
to prepare for the combined dangers of climate change &
invasive species
Help increase awareness of the growing need to recognize
invasive species as a major component of the climate change
problem,
Grass Invasions & altered wildfire regimes are well on their way
to causing irreversible ecosystem transformation in the West
This would probably would have happened with or without
climate change
Despite considerable & abrupt warming since 1980s, no
changes in rates of invasion attributed to early stages of climate
change
We are failing miserably at managing grass invasions and
associated wildfires
Our goal should be to break the cycle between non-native
invasive grasses and the fire regimes they promote
Mitigate the adverse ecological effects that might result from the
synergy of invasives, altered wildfire regimes, and climate
change.
Post-fire seeding after invasives-driven wildfires in the
American deserts: Do we know what we're doing?
How should climate
change affect our
approach?
Issues & Opportunities for the Seed Industry
• Climate variability & climate change will affect
opportunities for post-fire seeding and its success
• Most successful seed ventures probably will be the
ones that best assimilate short and long-lead climatic
ecological forecasts and anticipate regional needs
• Seed Tranfer Zones are going to change
• Long-term success of post-fire seeding in the American
deserts will require novel mixes of species,
phenotypes, and genotypes adapted to future, not past,
climates
What Our Main Objectives Should Be
• Break the cycle between non-native
invasive plants and the fire regimes they
promote
• Mitigate the adverse ecological effects
that might result from the synergy of
invasives, altered wildfire regimes, and
climate change.