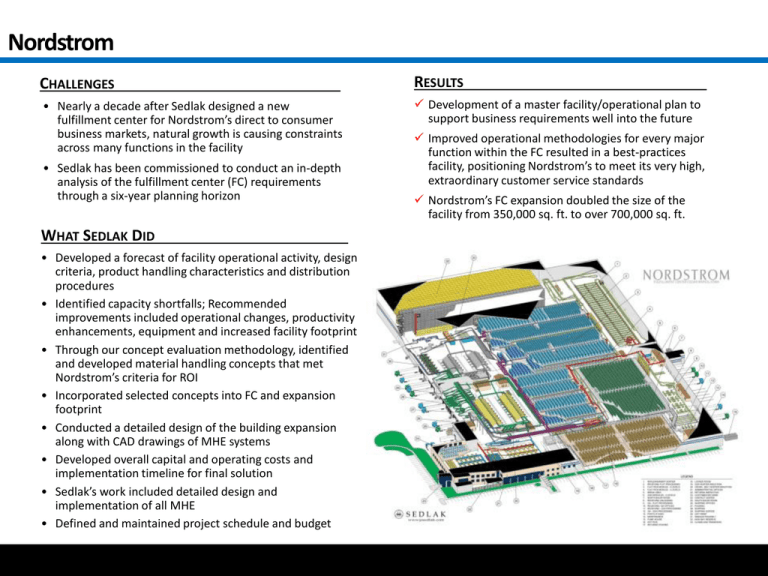 Nordstrom
CHALLENGES
RESULTS
• Nearly a decade after Sedlak designed a new
fulfillment center for Nordstrom's direct to consumer
business markets, natural growth is causing constraints
across many functions in the facility
 Development of a master facility/operational plan to
support business requirements well into the future
• Sedlak has been commissioned to conduct an in-depth
analysis of the fulfillment center (FC) requirements
through a six-year planning horizon
WHAT SEDLAK DID
• Developed a forecast of facility operational activity, design
criteria, product handling characteristics and distribution
procedures
• Identified capacity shortfalls; Recommended
improvements included operational changes, productivity
enhancements, equipment and increased facility footprint
• Through our concept evaluation methodology, identified
and developed material handling concepts that met
Nordstrom's criteria for ROI
• Incorporated selected concepts into FC and expansion
footprint
• Conducted a detailed design of the building expansion
along with CAD drawings of MHE systems
• Developed overall capital and operating costs and
implementation timeline for final solution
• Sedlak's work included detailed design and
implementation of all MHE
• Defined and maintained project schedule and budget
 Improved operational methodologies for every major
function within the FC resulted in a best-practices
facility, positioning Nordstrom's to meet its very high,
extraordinary customer service standards
 Nordstrom's FC expansion doubled the size of the
facility from 350,000 sq. ft. to over 700,000 sq. ft.