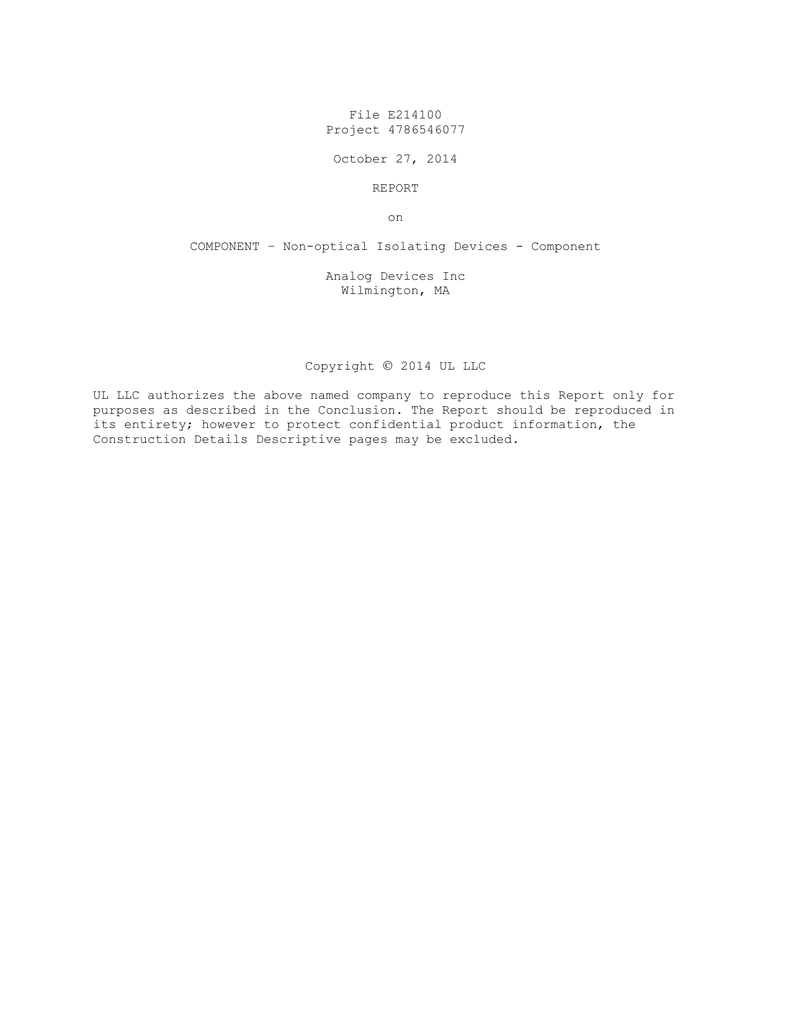 File E214100
Project 4786546077
October 27, 2014
REPORT
on
COMPONENT – Non-optical Isolating Devices - Component
Analog Devices Inc
Wilmington, MA
Copyright  2014 UL LLC
UL LLC authorizes the above named company to reproduce this Report only for
purposes as described in the Conclusion. The Report should be reproduced in
its entirety; however to protect confidential product information, the
Construction Details Descriptive pages may be excluded.
File E214100
Vol. 1
Sec. 9
Page 1
Issued:
2014-10-27
DESCRIPTION
PRODUCT COVERED:
USR – Single Protection Non-Optical Isolator, Model ADM3260. All models may
have additional suffixes.
MAXIMUM RATINGS PER CHANNEL (at 25°C ambient) ($):
Current (mA)
Encoder
Power (mW)
Decoder
Encoder
Decoder
Model
ADM3260
(data)
ADM3260
(power)
Isolatio
n
Voltage
at 60
sec Vrms
Max
Operatin
g
Ambient
Temp
(°C)
Max
Junctio
n
Temp
(°C)
Max
Storag
e
Temp
(°C)
Max
Data
Rate
Mbps
65
11
51.5
32.9
2500
105
150
150
2
104
3.6
572
18
2500
105
150
150
n/a
($) - For ambient temperatures higher than 25°C and up to Tmoa, refer to
manufacturer's specifications and/or thermal derating curve data for complete
electrical ratings.
GENERAL:
These devices are non-optical isolators consisting of an encoder and decoder.
The encoder and decoder are separated by a transformer. Internal "chips" are
connected to lead frames that are molded into the enclosure.
TECHNICAL CONSIDERATIONS (NOT FOR FIELD REPRESENTATIVE'S USE):
Use - For use only in products where the acceptability of the combination is
determined by UL LLC.
USR indicates this product was investigated under the UL Standard for Safety
for Optical Isolators, UL 1577, Fifth Edition.
File E214100
Vol. 1
Sec. 9
Page 2
Issued:
2014-10-27
Conditions of Acceptability - Each device shall be reviewed with respect to
the following conditions of acceptability:
1.
The capability of the device to control a load has not been
investigated.
2.
These devices should be installed in a suitable end product enclosure.
3.
The maximum junction temperature shall not be exceeded.
4.
For single protection devices, the insulation to the case has not been
evaluated. For double protection devices, the insulation to the case
has been evaluated to the isolation voltage specified in the ratings
table.
CONSTRUCTION DETAILS:
General - The product shall be constructed in accordance with the following
description. All dimensions are approximate, unless specified as "max" or
"min".
Markings – As specified in the Section General.
File E214100
Vol. 1
Sec. 9
Page 3
Issued:
2014-10-27
MODEL ADM3260
General
1.
Encoder – FET input.
2.
Decoder – FET output.
3.
Lead Frame and Bond Wire – Metal employed for current carrying parts
shall be of stainless steel, silver, gold, copper, nickel, aluminum, an
alloy of the same, or an equivalent material.
4.
Insulation Transformer Compound Coupling – Polyimide film by Asahi Kasei
EMD as noted in the following table.
Location
Material Model
Power coils
Data coils
BL-130B
I-8124ER
5.
Through Insulation
Thickness, mm
0.017
0.017
Insulation Encapsulant – Epoxy Type G600C by Sumitomo.