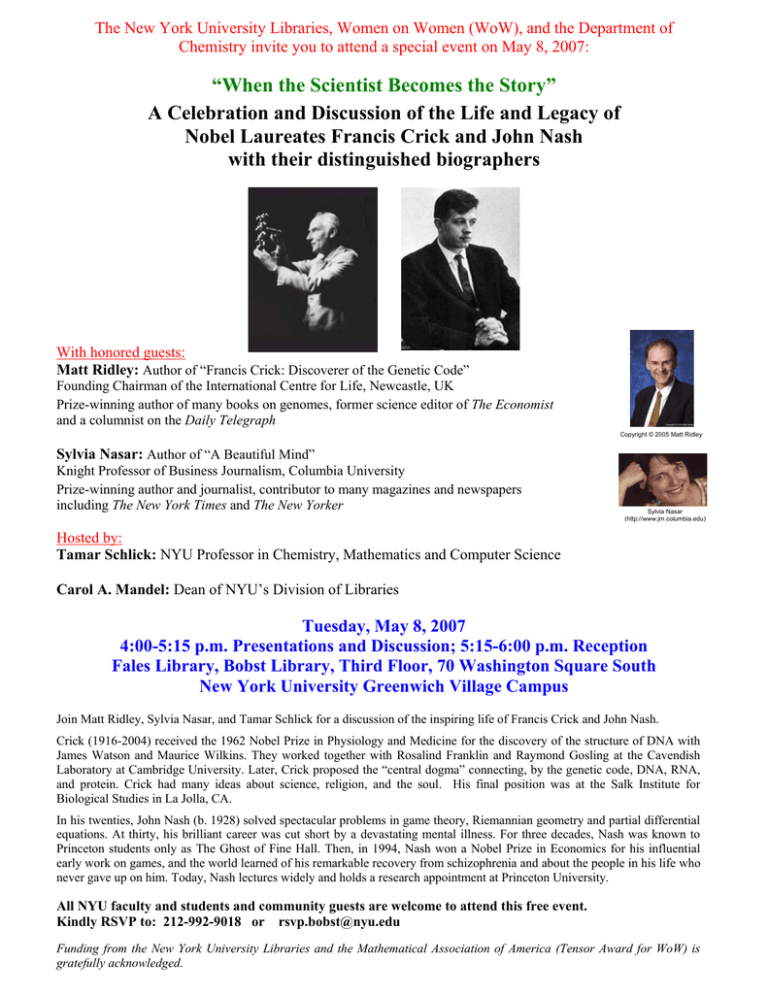 The New York University Libraries, Women on Women (WoW), and the Department of
Chemistry invite you to attend a special event on May 8, 2007:
"When the Scientist Becomes the Story"
A Celebration and Discussion of the Life and Legacy of
Nobel Laureates Francis Crick and John Nash
with their distinguished biographers
With honored guests:
Matt Ridley: Author of "Francis Crick: Discoverer of the Genetic Code"
Founding Chairman of the International Centre for Life, Newcastle, UK
Prize-winning author of many books on genomes, former science editor of The Economist
and a columnist on the Daily Telegraph
Copyright © 2005 Matt Ridley
Sylvia Nasar: Author of "A Beautiful Mind"
Knight Professor of Business Journalism, Columbia University
Prize-winning author and journalist, contributor to many magazines and newspapers
including The New York Times and The New Yorker
Sylvia Nasar
(http://www.jm.columbia.edu)
Hosted by:
Tamar Schlick: NYU Professor in Chemistry, Mathematics and Computer Science
Carol A. Mandel: Dean of NYU's Division of Libraries
Tuesday, May 8, 2007
4:00-5:15 p.m. Presentations and Discussion; 5:15-6:00 p.m. Reception
Fales Library, Bobst Library, Third Floor, 70 Washington Square South
New York University Greenwich Village Campus
Join Matt Ridley, Sylvia Nasar, and Tamar Schlick for a discussion of the inspiring life of Francis Crick and John Nash.
Crick (1916-2004) received the 1962 Nobel Prize in Physiology and Medicine for the discovery of the structure of DNA with
James Watson and Maurice Wilkins. They worked together with Rosalind Franklin and Raymond Gosling at the Cavendish
Laboratory at Cambridge University. Later, Crick proposed the "central dogma" connecting, by the genetic code, DNA, RNA,
and protein. Crick had many ideas about science, religion, and the soul. His final position was at the Salk Institute for
Biological Studies in La Jolla, CA.
In his twenties, John Nash (b. 1928) solved spectacular problems in game theory, Riemannian geometry and partial differential
equations. At thirty, his brilliant career was cut short by a devastating mental illness. For three decades, Nash was known to
Princeton students only as The Ghost of Fine Hall. Then, in 1994, Nash won a Nobel Prize in Economics for his influential
early work on games, and the world learned of his remarkable recovery from schizophrenia and about the people in his life who
never gave up on him. Today, Nash lectures widely and holds a research appointment at Princeton University.
All NYU faculty and students and community guests are welcome to attend this free event.
Kindly RSVP to: 212-992-9018 or rsvp.bobst@nyu.edu
Funding from the New York University Libraries and the Mathematical Association of America (Tensor Award for WoW) is
gratefully acknowledged.